There are 19 nationalities in Ukraine. According to the latest census of 2001, 78% of Ukrainian citizens are ethnic Ukrainians, and the largest ethnic minority – Russian – 17% of the population. The rest of the minorities constitute the other five percent, and there are not so many Hungarians among them – 156,000 or 0.3% of the total population. After the Hungarian government's sharp reaction to the adoption of a new educational law in Ukraine, the whole world learned that Hungarians live in Ukraine. We decided to find out how Hungarians live in Ukraine and whether there really is a threat of Hungarian separatism.
Demography
Hungarians have lived in the territory of Ukraine since the ninth century. Most of them are concentrated in the Transcarpathian region, in the territory bordered with Hungary. Overall, Hungarians make up 12% of the Transcarpathian population. The town of Berehove is traditionally considered a "Hungarian capital of Ukraine", as almost half of the townspeople are of Hungarian descent. Three-quarters of the population in Berehove district are Hungarians. Uzhhorod district is the second in terms of the number of Hungarians – 33%. The number of Hungarians in other parts of Transcarpathia is much smaller, and another 5,000 Hungarians are unevenly scattered across different regions of Ukraine.
Regarding the language issue, 12.7% of the Transcarpathian population considers Hungarian their native language. The native language of 95% of Ukrainian Hungarians is Hungarian. Half of Hungarians in Ukraine are fluent in Ukrainian and a third in Russian.
Cherishing Hungarian culture in Ukraine
Hungarians in Ukraine extensively develop their educational infrastructure, which presently includes a full vertical from pre-school institutions to universities. As of the 2008/2009 academic year, Ukraine had 99 institutions with the Hungarian language of instruction. There are groups with the Hungarian language of instruction at four Transcarpathian universities. Education in Berehove Pedagogical Institute named after Ferenc II is provided entirely in Hungarian. There are two Hungarian ethnic political parties and over 20 different NGOs. There are also Hungarian-language newspapers and magazines: 88 periodicals are registered, which are partial funded by local budgets. Hungarians extensively develop a book publishing business and have a professional drama theater named after G.Illyés. The Transcarpathian Regional State TV and Radio Company has Hungarian broadcasting department, programs are broadcast in Hungarian.
What does Hungary's support for Hungarians in Ukraine lead to?
There are Hungarian government programs financing educational institutions with the Hungarian language of instruction and Hungarian-speaking doctors in Transcarpathia, thus supporting and developing linguistic and cultural ties between Hungarians of Ukraine and their ethnic homeland. But Hungary does not stop there. According to Árpád János Potápi, Hungarian Secretary of State, 94,000 Transcarpathian Hungarians received Hungarian citizenship in February 2015, which facilitates labor migration of Ukrainian Hungarians to EU countries and provides for obtaining Hungarian pensions.
According to Elmir Kevsegi, editor of the Transcarpathian Hungarian-language newspaper Karpati Igaz Szo, about a third of Transcarpathian Hungarians are currently abroad. Over 10,000 ethnic Hungarians have migrated to Hungary over the years of Ukraine's independence. Leader of the Hungarian political life in Transcarpathia, MP Vasyl Brenzovych believes that due to labor migration, the Hungarian minority in the region is "on the brink of a real disaster."
About ten thousand pensioners of Transcarpathia began to receive a Hungarian pension. Under intergovernmental agreements, any other citizenship must be renounced to preclude them from receiving two pensions at the same time. Although most of them are living in Transcarpathia, by this means Ukraine is losing tens of thousands of its citizens. In particular, they no longer have the right to take part in the elections.
The Hungarian minority in Ukraine is also decreasing because young people after graduating from school are usually determined to leave the country in search of better pay. The lack of economic ties with Ukraine also results in losing cultural ties. There are no quality textbooks in Ukraine in which Hungarian children can learn Slavic language that is not used by them in their everyday lives. Most young people in villages with prevailing Hungarians do not speak Ukrainian sufficiently to take their school exams.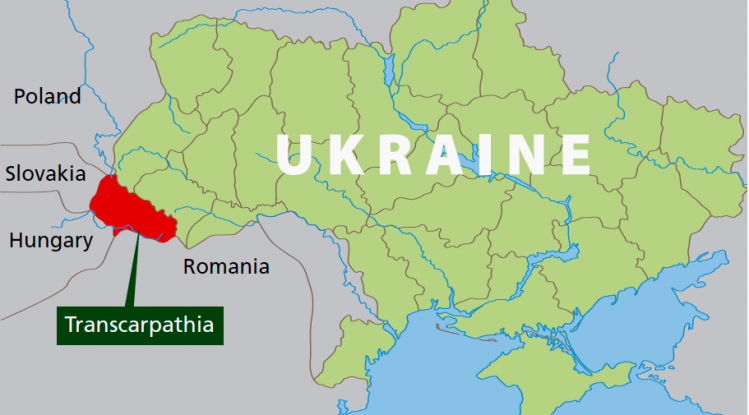 Is there actually any Hungarian separatism?
Gábor Vona, head of the right-wing Hungarian party "Jobbik," emphasizes that their main goal is to create a Hungarian-Rusyn autonomy on the territory of Transcarpathia. Transcarpathian Rusyns consider themselves a separate nation, but do not have the status of a national minority. By involving one more party in their movement for autonomy "Jobbik" lends more weight to it. The party claims that together with "Transcarpathian Rusyns" Hungarians represent more than half of the population of the region. In fact, the 2001 census revealed that 80.5% of the population in Transcarpathia are Ukrainians, 12% – Hungarians, 2.5% – Romanians, 2.4% – Russians, 1.1% – Gypsies, 0.4% – Slovaks; not numerous are Germans, Byelorussians, Jews and Poles. Only about 10 thousand persons called themselves Rusyns.
Ildiko Molnar, an employee of the Hungarian department of the regional television, assures: "It will be quiet and calm in Transcarpathia. They are special people, and it is a special part of Ukraine. Different nationalities live here for thousands of years. There is no need for autonomy. Perhaps, someone thinks about autonomy, but this is not a trend. I do not know what can cause a riot in Transcarpathia. This is a quiet and peaceful people. We are accustomed to each other. "The separatist campaigns held in Hungary in response to the new law on education in early October 2017, as well as the sharp statements by the Government of Hungary, did not find any response among the Hungarians of Ukraine. "Ukrainians and Hungarians can sleep peacefully, because most Hungarians living in Ukraine want Transcarpathia to be Ukrainian," said Deputy Chairman of the Kyiv Society of the Hungarians Tibor Tompa.
Conclusions
As of today, we see that the Hungarians of Transcarpathian region have all the opportunities to develop their culture and have no problems with the study of the Hungarian language. Besides, there is no active and comprehensive movement for the autonomy of the region or its accession to Hungary. However, there is a problem with integration in Ukrainian society and, as a result, a large emigration flow to neighboring countries. The Ukrainian state should give Hungarians equal chances not only in fostering their ethnic culture, but also in realizing their civil rights, duties and freedoms. And for this, as the least, it should give the Hungarians the opportunity to study the Ukrainian language.