Over two and a half years, after the outbreak of the war, the volunteer movement in Ukraine has spread to such an extent that it has actually become one of the symbols of Ukraine. This movement involves thousands and thousands of people, and the merits of some of them are so great that they are known throughout the country. One of such people is Armen Shakhariants, a former military man, who lives in a small town of Yahotyn in Kyiv region. Since the very beginning of the Russian-Ukrainian war, Armen has been organizing humanitarian aid collection throughout the region to supply it to the front. He has sent loads of products, medicines, and equipment to the front over three and a half years of war.
---
"In 2015, I dispatched 8-9 crews daily. Now it's less: three or four a day. My only requirement is that the aid must go only to the front line. Neither to the rear, nor to military bases, only to the forefront. If I find out that this requirement is violated, I stop contacting these volunteers. All the aid I collect goes only to the front line. Why? Because it is more necessary there, because they do not steal there. But in the rear and on the bases they steal, sell, exchange for vodka. Therefore, I collect only for the front lines. Sometimes, if there is a possibility, I help the IDPs, sometimes I give food to a café providing free meals to soldiers, and sometimes I send it to a hospice where old people from Donbas live. But most of the aid goes to the front line," says Armen.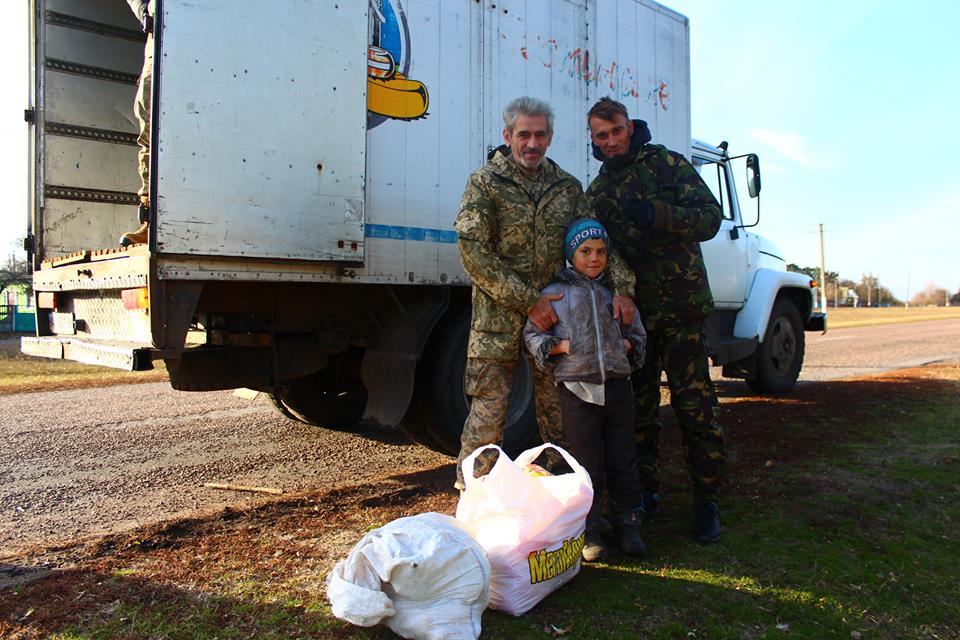 Today, a team of Yahotyn volunteers is going to nearby villages, to collect aid for soldiers at the front. Villages in Yahotyn district are not very populous, young people leave for cities because there are no jobs; only elderly people remain and they survive thanks to their gardens and orchards rather than their tiny pensions. And they share with soldiers whatever they have: potatoes, onions, apples, home-made preserves.
Petro and Nadiya is an elderly couple, who have lived all their life in a village in Yahotyn district. They have been waiting for a volunteer car since the morning. There are several cans of vegetables, a bag of potatoes on a bench near their little old house. Giving the food to volunteers, Nadiya wipes away tears with her faded headscarf, "I'm so sorry for our boys at the front. It's autumn now, it's cold, it rains, and they're in the trenches, hungry." Her husband says, "We have been helping since the first day and we will help till our victory, of course."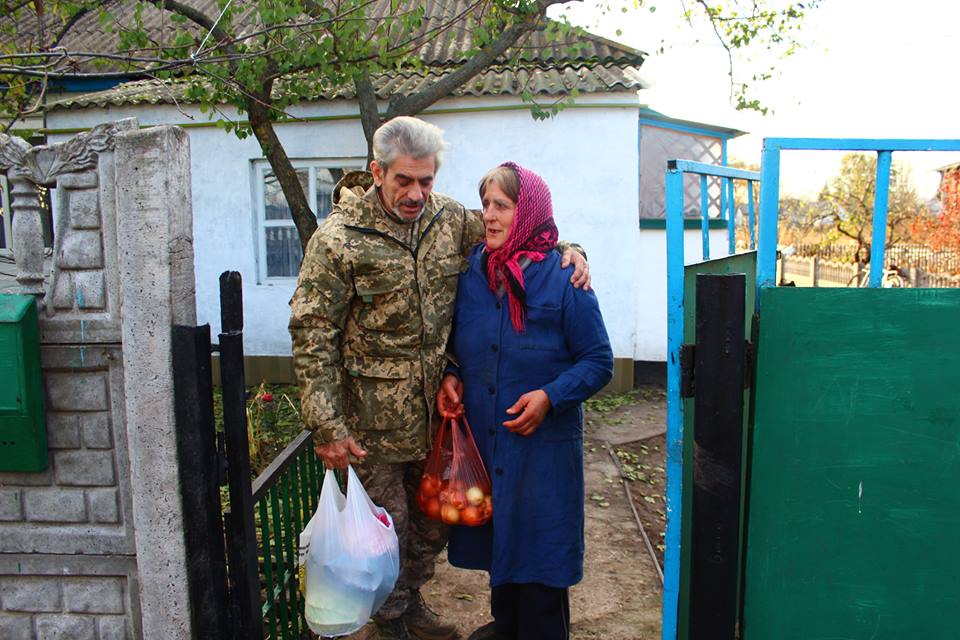 Oleksandr is waiting for volunteers a few houses further. He was a military man, and he knows how important the support of people they protect is for soldiers. He takes out several bags of potatoes and onions, bottles of milk from his cows.
Volunteers continue the trip. They make it several times a month, almost from the beginning of the war. Armen says, "I organize the collection of products through a local newspaper: I announce that we are going to collect food products for the army in a certain village or neighborhood. I do this almost every week. And my assistants print leaflets and deliver them to people's homes, and then people share the news with each other. At first we asked everyone to take food and things to a certain place: a central square or a village council, but then realized that this method was not good. Products are often brought by elderly people for whom it is very hard to move around and carry heavy things. So I began to practice trips to people's homes. It takes more time, but it is better for those who give, and, what is very important, this is live communication with people. Communication is crucially important. Every time after we collected the products, I give an article to the newspaper with thanks to everyone who helped. It was then that I promised myself never to take other people's money. I never ask for money. If someone wants to help, I just say what he should buy: cigarettes, petrol, medicines. Greatest help comes from those who need help themselves. And this is natural, since the one who is in need really feels for others. Although they themselves are starving, they will share their last crust with other starving people. And those who have everything, as a rule, are greedy and hard-hearted …. However, there are exceptions. Who gives money for purchasing equipment, cars and thermal imagers for the army? Surely not elderly people. Wealthy people are giving money. But as to our region, unfortunately, this is seldom the case."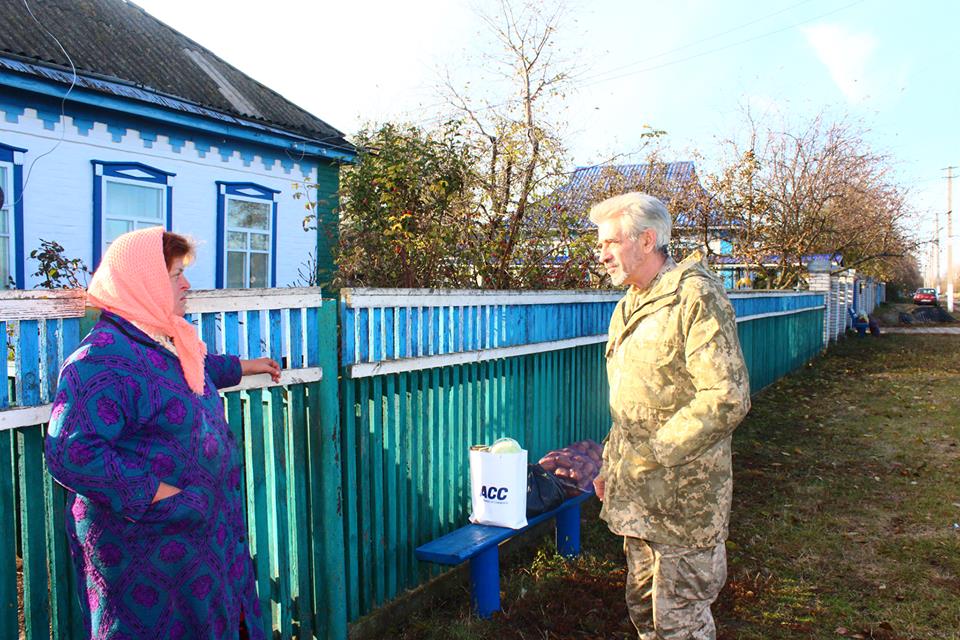 Armen served in the Soviet Army for 20 years, of which three and a half years – in Afghanistan – as weapon repair technician and fire brigade chief. "Our unit was located close to the oil pipeline, which transported oil to Kabul. One night mujahideen disrupted the pipeline, set fire to oil and attacked us from ambush. All the guys from my brigade were injured, but no one was killed. And all of them were discharged from the army with awards."
After the end of his service in Afghanistan, Armen moved to Ukraine. He opened his business in Yagotin. But when the war began, he devoted himself entirely to volunteering activities. In the last local elections, Armen nominated his candidacy for the post of deputy of the Kyiv Regional Council and won. Thousands of residents of Yahotyn district voted for him.
"To tell the truth, I was persuaded to run for a seat by volunteers. But just a month after I became a deputy, I had a strong desire to give up my deputy mandate. I had no desire to stay further in this den. But my mandate of a deputy allows me to help people and the army more. My daughter told me: "If you vacate your seat, you will just spit in the face of the thousands of people who have voted for you." So, I decided to stay. For the present, we will lobby the draft law on recognizing volunteers as combat veterans. This is the most important project so far. Then we will work on the next projects for Yahotyn. You see how many lakes we have. The area of ​​lakes is equal to the land area. In fact, Yahotyn is a small Venice. There are multimeter layers of sapropel and silt at the bottom of all these lakes. These substances are organic fertilizers. If we manage to develop sapropel production, our city will have a lot of money. So, I will do everything that is beneficial to our community, and I will do my best to defend our community from those who impede its development. We have to build up everything over again in Yahotyn district. All the nearby villages become depopulated. Only old people stay in them. We should attract young, active and energetic people and give them the opportunity to organize farm business there."
---
The second, third, and fourth village …. The big truck given by the director of the Yahotyn dairy factory is filled quickly. Volunteers end their journey late, but they do not plan to rest. First they will deliver everything they have gathered to the logistics center. Then they will unload and sort it out. And later in the evening, the volunteers who are going to the front will come to the center. They will take part of the products and next day in the evening, hand them over to Ukrainian soldiers on the front line.