Senior soldier Olha Benda lost her leg on the frontline in the combat zone in eastern Ukraine almost a year ago. [Senior soldier is a rank in the Ukrainian Armed Forces that stands between a soldier and junior sergeant, an equivalent of private first class in the US – UCMC]. A month later the girl made her first steps with a prosthesis. After the treatment, she returned to the military service demonstrating through her own example that a true desire to live wins over everything else. Lately, Olha has been interviewed by several Ukrainian media, UCMC drew on these interviews to come up with the following material. To know how not to lose the faith in life while at war, how to stay optimistic after a life-changing trauma, and how love saves lives – read on.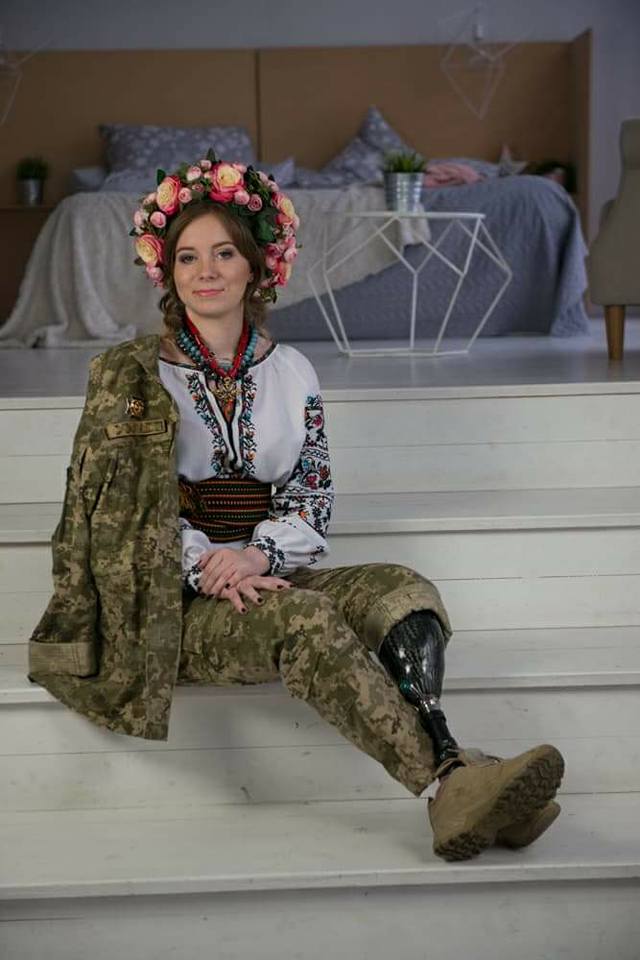 Photo: Facebook Повернись живим
Start of the war
When combat actions started in Donbas, Olha was living in Vinnytsia (Central Ukraine). She received her diploma as a secretary-operator of postal communications but was working as a chef in a pizza restaurant. Shortly before the war started, the young woman divorced her first husband and stayed with her newborn son. In early 2016 she signed a contract with the Ukrainian Armed Forces.
Olha underwent preparatory military training at the International Peacekeeping and Security Center in Yavoriv. She was sent to the frontline for the first time in autumn 2016 when several units were redeployed to Avdiivka.
"By that time, my son grew up a bit: Dmytro was a year and seven months old; I left him with my mother. Although, I must confess, being away from my son became a true torture to me… At the same time, I wanted to protect Dmytro, to let him grow up in an independent European state. To achieve that, I thought, I should contribute," Olha told Ukrainian media "Tsenzor.Net"
Olha became one of the several thousands of women who enlisted in the Ukrainian army.
---

Women in the Ukrainian army

Every year increasingly more Ukrainian women join the military. Between 2014 and 2017, over six thousand women took part in combat actions directly, 107 female combat veterans were decorated with the state awards, three of them posthumously. As of November 2017, 55,629 women were in service with the Ukrainian Armed Forces, 24,298 of them were directly in military service (about 8,5 percent from the general number). In June 2016, the Ministry of Defense of Ukraine amended its order no.337 to allow servicewomen to be appointed to the combat positions with the Ukrainian Armed Forces seen as more risky and responsible. It thus enabled women to legally serve in the Ukrainian army as reconnaissance staff, snipers, and commanders of fighting vehicles. Before that, women who were actually fighting in the combat zone were registered as cooks or bath attendants.

---


"What is it that I was doing on the frontline? What I did best in my peaceful life – cooking," Olha says. "My job was to cook tasty food and serve it to the servicemen in time. I was waking up at 6 am and rushing to the kitchen. I cooked three times a day, a typical meal would be enough to serve to a small wedding (of about seventy people)". 
The injury
On May 14, 2017, that fateful attack took place.
"I was in my room in a private house. I was waked up by a blast: a shell exploded right by the house. Being still sleepy I did not understand what happened. The blast wave stunned me and threw me almost up to the ceiling. When it all became clear in my head and my eyesight returned to me, I realized I was sitting on the floor. The window that used to be covered by bricks disappeared, instead there was a big hole in the wall going down to the floor. (…) I wanted to scream, to call for help, but my mouth and nose were full of clay. Then I fainted," Olha proceeds. 
When she regained consciousness, the serviceman with the call sign Socrates found her. Her left leg was wounded, part of it was cut, having just a piece of skin holding it. They were unable to save the leg. The girl had her foot and bigger part of the leg amputated. Three days after the amputation Olha was transferred to the hospital in Dnipro, then to the Kyiv military hospital where she underwent surgery five more times. Olha was recovering quite well from the trauma. A month after the injury she was sent for rehabilitation to the military hospital in Irpin. She quickly started walking with the prosthesis, in just a few weeks. Earlier Olha was being seriously trained as a track and field athlete, it really helped at that point.
Love in times of war
By the moment when Olha was wounded, she had already been dating Oleksiy Benda, a serviceman who used to operate grenade launchers in the same brigade.
"We did not have a beautiful romantic love story. We simply liked each other at first sight. (…) Before I was wounded we saw each other just a few times. Then we were apart for many months talking over the phone. I knew that Oleksiy is a worthy man, but I must confess I was doubtful as to whether he would like to get into a relationship with me. Who needs a woman with a disability, with a child in addition to that?" Olha says. 
Oleksiy had another point of view. Right after she got wounded, he stayed close 24/7. When she recovered, he insisted that she moved to Kyiv with her son to live together with his mother.


"Oleksiy's mother treats me as if I was her own daughter. She was constantly visiting me in Kyiv hospital and them in the hospital of Irpin. Now, when I have completely mastered the prosthesis, she is taking me to do the shopping. (…) I was very much worried that she would turn hostile upon learning that I have a son from my first marriage. But on the opposite, she was glad," Olha said. The woman calls herself a grandmother of Olha's son.
Over the time, Oleksiy left the service on the frontline and was transferred to serve with the unit located not far from the capital. He is spending each weekend with his family. Oleksiy and Olha got married.
Rehabilitation: new life after the war
Olha made every effort to get back to normal life. In contrast to many veterans, she succeeded to return from the frontline not only physically but also mentally. She is not ashamed of her prosthesis and does not hide it under her clothes. Not to provoke, but it is just more comfortable to walk like that.
At the same time, the girl's fate is not a typical one of a combat veteran, as many are facing post-traumatic stress disorder, suffer from depression or commit suicides. 
---

Lost: Post-traumatic stress disorder and suicides among combat veterans

About 500 veterans of the war in eastern Ukraine committed a suicide upon their return home. In four years of war, the state program set to address the post-traumatic stress disorder never came into operation. The war does not leave the veterans at home – some abuse alcohol, other commit a suicide. 
A group of researchers of the National Institute of Social and Forensic Psychiatry of the Ministry of Healthcare of Ukraine published a research in 2016 based on the examination of 249 servicemen. They discovered that singles over 30 are the most likely to commit suicide. They lead a lonely life and communicate with others very little, often feel anxiety and mistrust, dramatize and see things in a negative way. They have low self-esteem and feel very much guilt as to those killed. The researchers also assessed the questionnaires of the 88 servicemen who committed a suicide between May 1, 2015, and October 20, 2016, to come up with the psychological portrait of such people. According to the experts, 85 percent of those who committed a suicide were combat veterans under 40, almost a half of them were men under 30. The majority of them were single, 27 were family men, six were divorced, and 26 had children.

---
Today Olha takes her son to the kindergarten and goes to work, she was hired by a military enlistment office in Kyiv. It was her dream, even after the injury she did not want to leave the army and thought that this work would be the best solution. She is also preparing to pass the driving test. Then she plans to be back to sports training, she wants to take part in the Invictus Games next year. She would like to move to a separate apartment and have a second child eventually. 
Olha claims she regrets nothing. "Would I go to serve in the army had I known it would make such a spin? Yes, without any doubts. I did lose a leg on the frontline. But I also gained a lot: I met the man I love, the one I can rely on as well as my faithful friends, my brothers-in-arms. Military brotherhood is something very special, very solid. Such relationships probably do not exist In peaceful life …"