Despite numerous requests to prompt Adidas to recall their product line adorned with USSR symbols, the company continues to sell them through their official website to customers in Great Britain and then distributes this collection through resellers – including Farfetch – to a wider global consumer audience.
UCMC has now begun publishing visual reminders to Adidas on a daily basis – until Adidas withdraws it 'USSR' clothing line and CEO Kasper Rørsted publicly apologizes for this morally repugnant sales tactic.
We encourage everyone to join this campaign and to use their network of contacts to deliver this message to the world.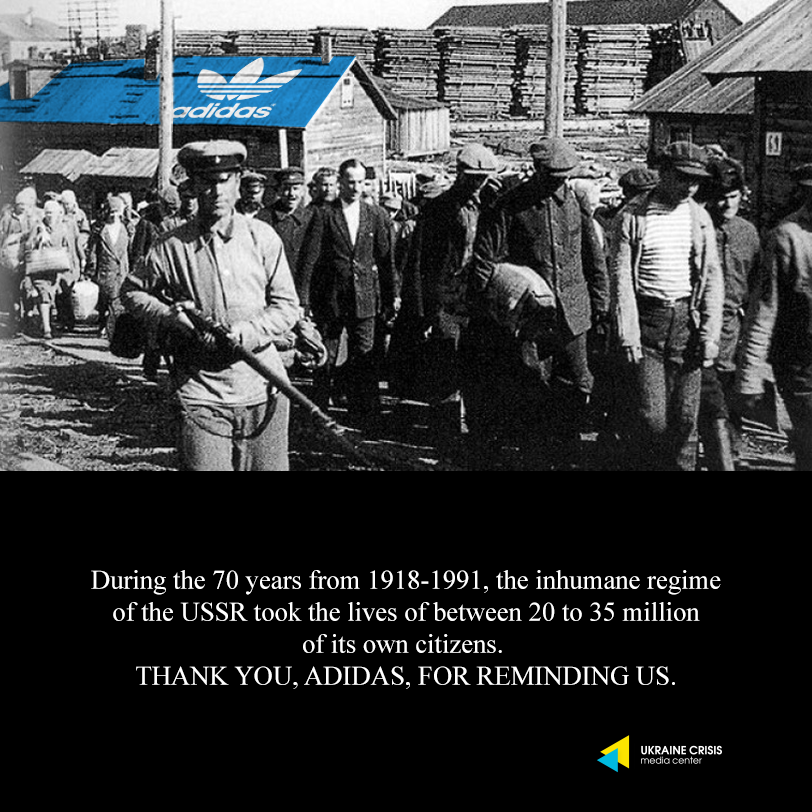 For many in former Soviet republics and countries of the Eastern Bloc, USSR symbols represent the Evil Empire they and their families lived under. Across 70 years of Soviet rule, the populations of many nations were decimated, displaced, killed by artificial famine, tortured, persecuted, their lives, cultures, and livelihoods destroyed. The victims of the Soviet communist regime are estimated at 20 to 35M – Ukrainians, Crimean Tatars, Lithuanians, Latvians, Estonians, Georgians, Armenians, Moldovans, Kazakhs, and many other nations suffered at the hands of the USSR.
Resurrecting Soviet symbols can only be compared to reviving Nazi symbols, as only the Nazi regime competed with the Soviet Union as far as the numbers of victims it claimed. Profiting from the sale of Soviet symbols is also tantamount to politically supporting Russia's current aggression against Ukraine and violation of international law, namely the illegal annexation of Crimea and occupation of eastern Ukraine beginning in 2014. Since then over 10,000 people have been killed and over 1,7M internally displaced precisely as a result of Russia's attempts to resurrect the USSR. Adidas, as a multinational business, needs to carefully examine its policy of associating itself with a regime that disregards international law, or it will be faced with the condemnation of millions of people around the world who suffered at the hands of the USSR.
We demand that Adidas recalls these products immediately from its online and offline stores and distribution centers, and issues a swift and profound apology to all those affected by its morally repugnant sales tactic.