Three years ago the play "Some Men Must Die" by Swiss stage director Thomas Mettler – a dance performance in the genre of physical theatre premiered at Ukraine's GogolFest. The play narrates the war in eastern Ukraine with gesture language and dance. The same-name feature length film based on the play is to premiere in spring 2019. To discover how Ukraine got into the spotlight by the Swiss artist, how the play was evolving into a film and why despite the name the story is not about death but about hope, UCMC talks to Thomas Mettler and the core of his project team – choreographer and producer Olha Kebas, film director and poet Lyuba Yakymchuk, writer and journalist Olena Zadorozhna and director of photography Pavlo Boiko. 
What is physical theatre?
Thomas Mettler, theatre and film director: "Many people in Europe use the word physical theatre. Some also include in it pantomime or acrobatics and say it is physical theatre because that's physical. But the way I use it was started by two companies who use the same word – physical theatre, in London and in Montreal about 35-40 years ago. The founders were attacking social standards of the time. They were speaking about the things which were usually not seen on stage, like nudity and sexuality. For me, it is a mixture of dance and theatre, but where we don't speak only about the beauty of the body or just a beautiful text. There must be a moment when you hit the public in their stomach with the truth they maybe don't want to hear. In the next moment you might have a scene of humor and make them laugh. Physical theatre is also a lot of absurdity, black humor and really attacking things you wouldn't speak about. For the one who comes and sees it for the first time it's a lot. It's emotional, it's tender, it's violent, it's daring, it involves dance and text."
How the film team got together?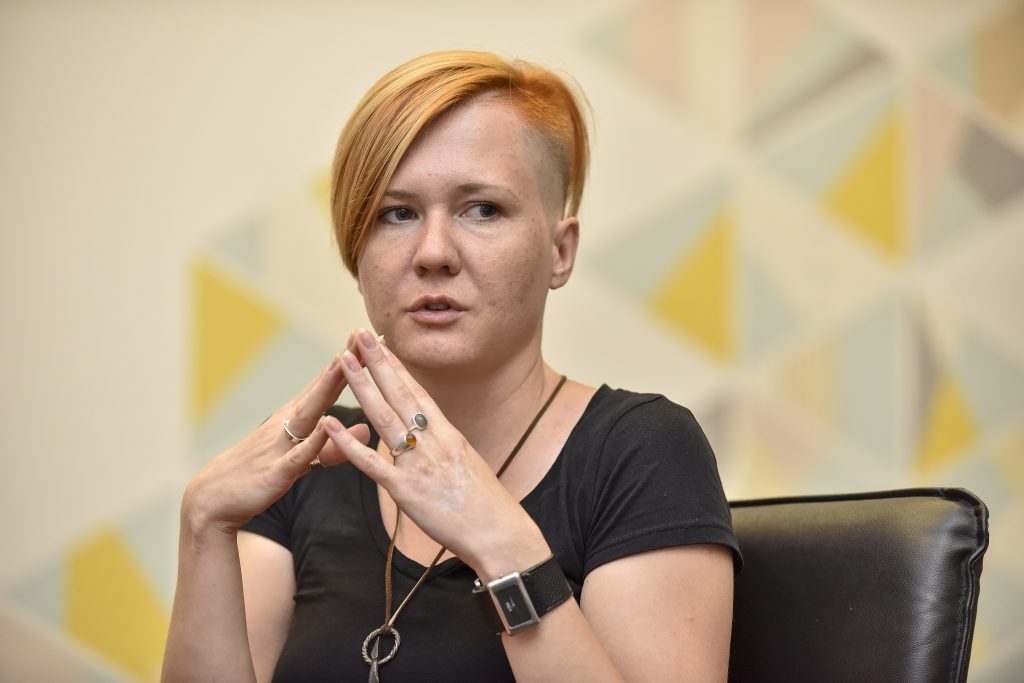 Journalist Olena Zadorozhna: "I saw the project at GogolFest in 2015. Back then I was an army supply volunteer and often went to the frontline. (…) I was deeply impressed by the play (…). So I decided to write up a column about it on my blog. Several months after a friend of mine who was translating for the project and collecting the feedback about it, translated it for Thomas. He then wrote a long letter to me saying that he would like to meet up and answer all my possible questions although he thinks I would not have any. At that point it was already decided to make a play-based film. Thomas invited me to join the project. I am now doing communications and step into the situations when there is an urgent need to find something."
Olha Kebas, choreographer and producer: "I was curating one of the GogolFest programs for several years. In its 2015 edition I very much wanted to show physical theatre to Ukrainian audience and so I started searching for interesting theatres to invite. I came across the videos by Thomas, got interested and suggested him to come to Kyiv to stage a performance at GogolFest – the one that he already spoke about. I remember the audience feedback – it touched people strongly. The film script was made based on this performance."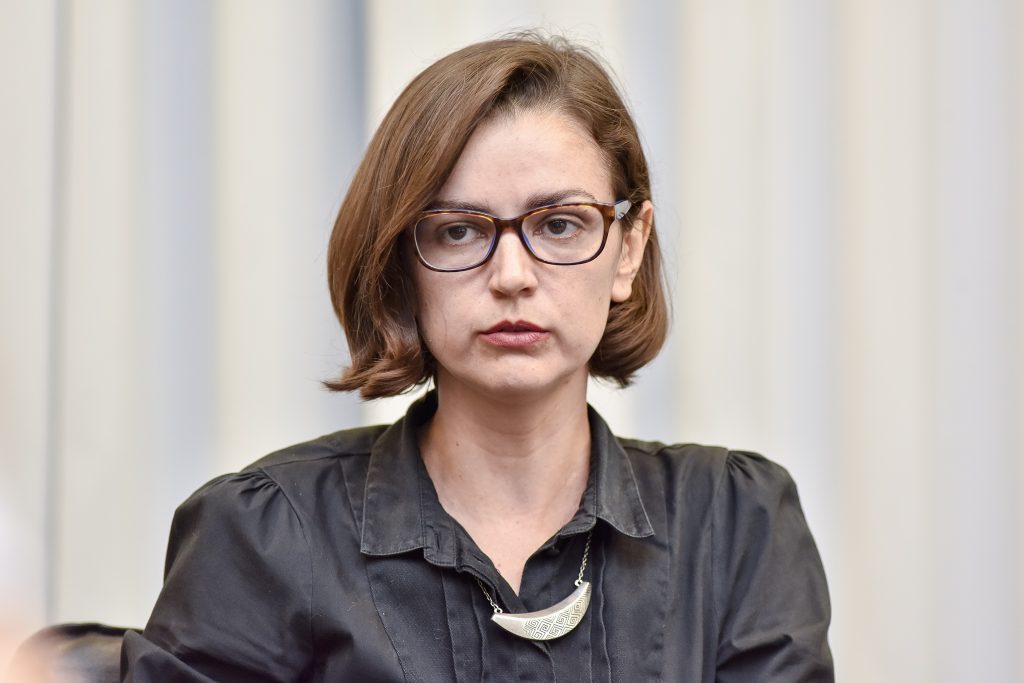 Lyuba Yakymchuk, writer: "Thomas found me through my poetry. At his masterclass in Dnipro one of the participants was reading poems from my book 'Apricots of Donbas' (Abrykosy Donbasu). Thomas does not speak Ukrainian and could not understand what they are about but saw how people were reacting and got interested in the book. At first he thought that its author was that girl. He then made a photo of the book and showed it to Olena, she said she knows the author and gave him my contact details. It so happened in the end that the texts in the project are my texts. Some of them were written earlier, some I wrote especially for the project."
How did the idea to turn the play into a film came to be?
Thomas Mettler, theatre and film director: "At some point I spoke to my wife (with whom we work for 12 years) about this powerful project we had at GogolFest, we could play it one year later at another festival. But for the majority of people it is too expensive to tour, and it was impossible to bring it to Switzerland. Some dancers are soloists of Kyiv modern ballet, and they started rehearsing again. At some point my wife said: why don't you make a movie out of this piece. At first I was hesitating that it's not gonna work, but then I started to think that. Sometimes you cannot explain where it goes and how it goes, but then you start writing, and there come images and pictures on the walls here and there. So after three month it was clear that it just came, and I saw it is possible to do it."
How the film is different from the play?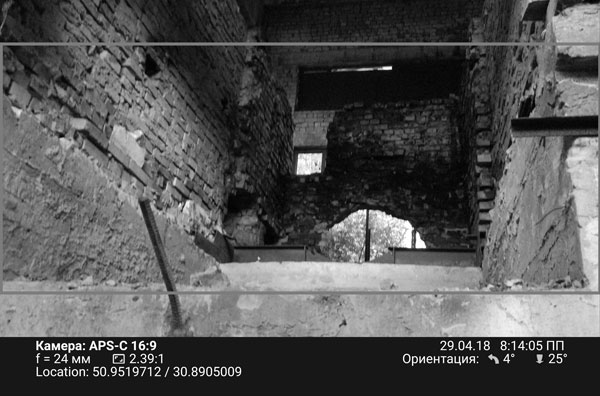 Thomas Mettler, theatre and film director: "The performance for GogolFest was a play based on movement and emotions, it had no characters and was not supposed to have the storyline.In a film you need a character or two-three ones and that was the biggest transformation. One of the characters is a Ukrainian director of dance and theatre, who has not been at war, but the husband of his daughter is at war. And he thinks how he can do something with that, maybe a piece of dance about the war, hope, sadness. There are several more characters, the military. One is a soldier, one is an officer. One is breaking down from happy marriage to despair, another one is going on and becomes stronger.
Folk singer Nalalia Khomenko touched the heart of everyone. This person is essential for the film, I gave her a stronger position – she went through the transformation from a refugee woman to the Ukrainian soul-mother who appears in the authentic costume. There are moments of very emotional songs, like a lullaby to dead people.
The film is playing with a lot of emotions, but it's a film about hope. It was important to me how to find hope in a situation where many people may lose it. Last time when I gave an interview, there was a journalist, a beautiful lady, and a man behind a camera. They were also asking me why I came from Switzerland to make a film about the war. I sad that the film is not about dying, there is a lot of hope in it, and actually during Maidan I'm sure people were falling in love, children were born, it was a hope for someone. At the end of the interview the lady said to me 'You know, this man and me we met at Maidan, and now we are a couple and we are expecting a baby'. That is one of the most beautiful stories for me to tell. There is always love and hope happening, even in the worst times."
Long takes: the film's visual findings
Pavlo Boiko, director of photography: "We made many takes drawing on the example of Stanislavski, when one take may last for four minutes. For example, a person is just sitting in the car, looking out of the window or is walking. This technique provokes the viewer to have thoughts and make conclusions. We have many scenes shot in a single continuous take. One of the very important takes that makes part of the final scene is when we start moving from the middle of the river, then get to the long shot on the river bank with the protagonist, we then close the take with the close-up of the protagonist's face. The take lasts two and a half minutes. It was very difficult to get off the boat so that no one takes note of it.
Another interesting technical point is how the text will sound in the film. Before we started filming we were reading Lyuba's poetry aloud to figure out the rhyme and how long the take should last. The text rhyme defines if the take is slow or fast, if there's action inside the take or if the take is just observing nature and something happens in the end."
When is the film to premiere?
Thomas Mettler, theatre and film director: "We are going to finish the film in spring 2019 and then I'll think where we can show it. I'm trying to find distributors. If the work is good I think it will find its ways to different countries.
For me it is important that the media in Germany, England, France and Italy that don't speak much about Ukraine hear that the war is still going on and people are trying to speak about it.
I also want that they speak more frequently about the person who same as myself is a film director – Oleg Sentsov. I come from a country where you can get to the street and shout out loud something like 'our government people are scoundrels'. But somehow in many countries it is not possible. It is hard for me to realize that a person who was shooting films could be sent to prison as an 'extremist'. It is unacceptable that today you cannot express what you are thinking."