Situation in the combat zone
Last week Russia-backed militants kept violating the ceasefire using Minsk-proscribed 120-mm and 82-mm mortars. Russian proxies also fired upon the Ukrainian troops from the weapons mounted on infantry-fighting vehicles, antitank missiles, grenade launchers, heavy machine guns and small arms.
---
Inauguration of President Zelenskyi: full text of the address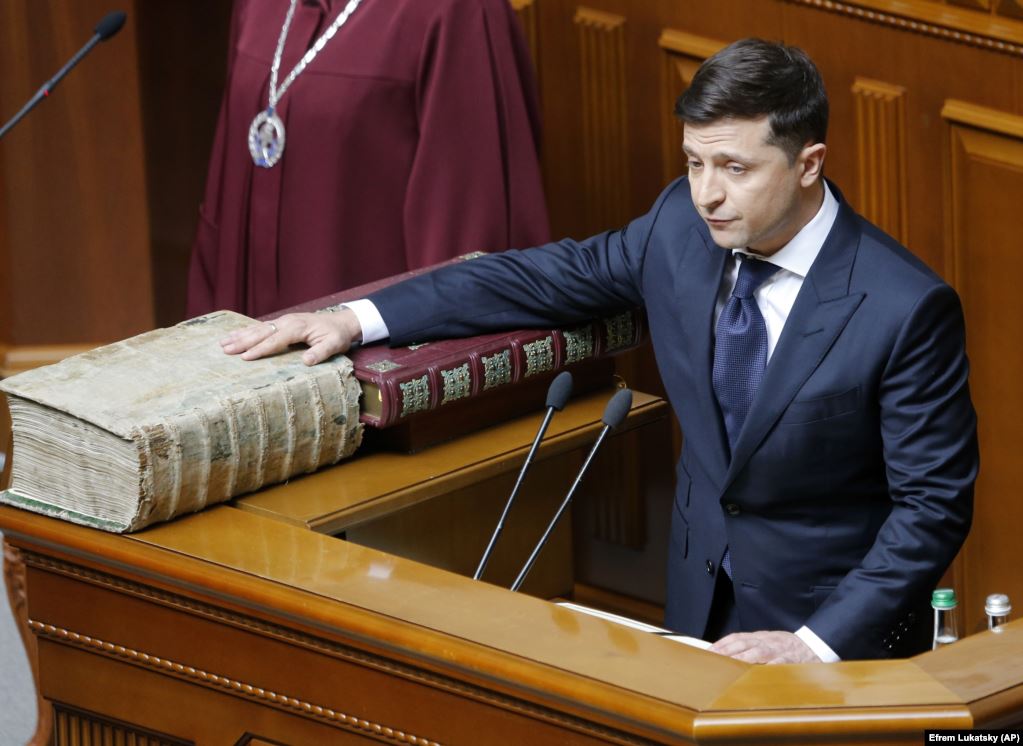 Every one of us is a President. After the elections my six-year-old son said: "Pa, I saw them saying on TV that Zelenskyi is the President. So I am President, too." Back then it looked like a joke of a child. It now looks true. Each one of us is a President, not the 73 per cent that voted for me but the 100 per cent of Ukrainians. It is our joint responsibility.
This victory is not just mine but our joint victory, it is also our joint chance that we are jointly responsible for. It's not just me who has just been sworn in. Every one of us has just put their hand on the Constitution and sworn allegiance to Ukraine.
Just imagine these outrageous headlines: the President is not paying taxes, the President was driving drunk, the President is stealing bit by bit. It's what everyone does. You agree that it's a shame. It is what I mean when I say that every one of us is a President. Starting from today every one of us is responsible for what they can do where they are.
A European state starts with everyone. Yes, we have chosen our way towards Europe, but Europe is not somewhere there, Europe is here (pointing a finger to his head). And when Europe will be right here, it will be in Ukraine. It is our joint dream. We also have our joint pain. Every one of us has died in Donbas. Every day we keep losing every one of us and every one of us is an internally displaced person, the one who lost their own house and the ones who opened their houses to them and shared their pain. Every one of us is a migrant worker, those who have not found the opportunities at home but did found them in a foreign land. We are all Ukrainians. From Uzhhorod to Luhansk, from Chernihiv to Simferopol. And we have to be united. Today I address all Ukrainians in the world. We are 65 million, born by the Ukrainian land in Europe, Asia and America. We need you very much. I will grant citizenship to all ready to build a new, strong and successful Ukraine!
Migrant workers need to return home. You have to be coming to Ukraine not to visit but to stay at home. We are waiting for you. No need to bring the souvenirs. Bring us your knowledge and your experience. Sceptics say it is impossible. Maybe it is actually our national idea – to make the impossible by uniting ourselves. Please recall the Iceland national football team at the UEFA European Championship when a dentist and a cleaner fought and did what no one believed they could do. It is what our chance is. We have to become what Icelanders are in football, Japanese in technology, Israeli in our ability to defend our land despite any differences. Our priority task is the ceasefire in Donbas.
I am ready to be losing public support. I stand ready to be losing my public support and my rankings. I am ready to lose my post if only peace will come.
I was frequently asked: what are you ready to do to have the fire ceased. What a strange question. Ukrainians, what are you ready to do when the lives of your dearest people are at stakes? I can reassure you: I am ready to do anything to stop our heroes from being killed. I am ready to be losing my ranking, public support, to lose my post for the peace to come, without losing our territories. Ever. History is unjust. It's not us who started this war but we are to finish it. We are ready for the dialogue but I am convinced that the first step to start this dialogue will be the return of Ukrainian prisoners*. (*pronounced in Russian).   
Return of territories. Our next challenge is the return of the lost territories. To be honest, I think it is not quite correct as it is impossible to return what is ours by rights. Both Crimea and Donbas are our land. Today we have to, I am sure they hear us, they have to return their consciousness. We are all Ukrainians. Ukrainian is not in the passport. Ukrainian is at heart.I know it for sure. I am ready to be protecting Ukraine and our heroes. No strong army is possible where the army does not feel that the authorities respect them. It is about decent and stable remuneration, living conditions, lawful leaves for you. One should not be talking NATO standards but creating these standards. Of course, besides the war there are many troubles making Ukrainians unhappy – tariffs, salaries and pensions. There's also healthcare and the roads that are being repaired in someone's head only.
"Government is our problem". Now let me quote an American actor who became a cool US President: "Government is not the solution to our problem, government is the problem." It is just a quote. And I honestly don't understand our government that is just shrugging shoulders. You can take a piece of paper and a pen and free up your offices for those who will be thinking about the next generation not the next election. My election proves that the citizens are tired of experienced politicians from within the system. We will build a country of different opportunities, where everyone is equal before the law, where there are rules of the game that are honest and transparent. To achieve that, the people who will serve the nation need to come.
I very much want that there are no portraits of mine in your offices. The President is not an icon or a portrait. Put there the pictures of your children and look them in the eyes before you make decisions.
"I dissolve the Verkhovna Rada of Ukraine." I can say a lot, but Ukrainians want actions not words. Dear MPs, it was you who scheduled the inauguration for Monday, a work day. I see a positive side of it. It means there will be no parties today, we have to work. So I am asking you to adopt the law on revocation of the parliamentary immunity, on criminal liability for illicit enrichment, the long-discussed Election Code and introduce the open lists. I ask you to dismiss the head of the Security Service of Ukraine, the Prosecutor General of Ukraine and the Defense Minister. It is not an exhaustive list of what you can do. You will have two more months to go. Do it and award yourselves medals. Good points for the early parliamentary elections. I dissolve the Verkhovna Rada (Ukrainian Parliament) of the eighth convocation. Glory to Ukraine!
Thank you. Wrapping up, I'll be brief. Dear people, my whole life I was trying to make everything so that Ukrainians laugh. It was not only my job but also my mission. In the next five years I will make everything for you not to cry.
---
Are there grounds for early parliamentary elections?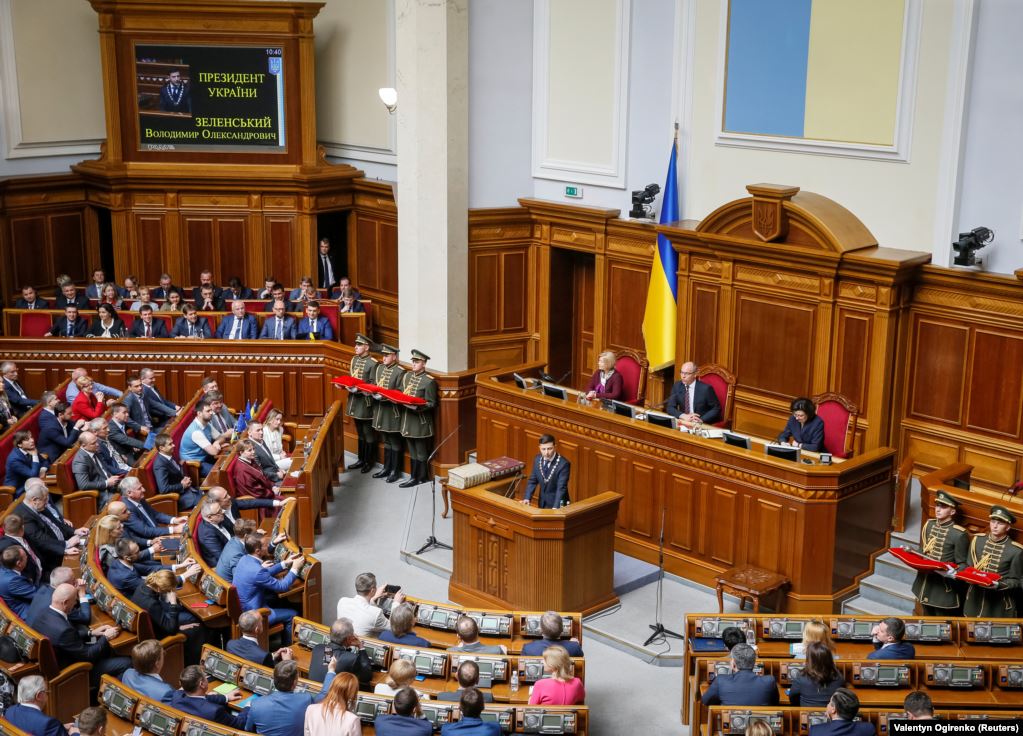 Coalition dissolved. On May 17 – the last working day of the Rada before Volodymyr Zelenskyi's inauguration, the MPs announced that the coalition "European Ukraine" created in 2014 after the parliamentary elections was dissolved. In 2016 it was formed by two factions – the Petro Poroshenko Bloc (BPP) and "Narodnyi Front" (People's Front). "Narodnyi Front" quit the coalition, so there is no majority in the Rada. The Head of the Parliament Andriy Parubiy said the coalition ceased existing.
The Constitution stipulates that MPs have a month to reunite into a new majority. This deadline ends on June 17. According to the law, the President can dissolve the Parliament if the coalition is not formed within 30 days. There is a detail though.
Legal casuistry for dates. Lawyers are not unanimous about when the powers of the actual Parliament end. One version says it's on November 27, five years after the Rada of the current convocation started its work. Another one has December 14 as the final date – an approximate start date of the next convocation of the Parliament. Thirty days to create a new coalition, as stipulated by the law, end on June 17. Even six months before the latest of the dates – December 14, the dissolution of the Parliament is already not possible.       
Has Zelenskyi lost a chance of dissolving the Parliament? No. "Today one of the factions in the Verkhovna Rada has decided to quit the 'coalition'. Is it possible to step out of something that does not exist?" reads Zelenskyi's statement. What does he mean? The coalition should number a minimum of 226 MPs. But back in 2016 a few MPs left the BPP faction, so that a total number of MPs in BPP and "Narodnyi Front" factions is under 226. The inner circle of the new President insists that the coalition is inexistent for three years now and Zelenskyi does not have to wait for 30 days to dissolve the Parliament, he can do it immediately after he is sworn in.
Zelenskyi's team says the legal ground for it is the court's decision. Earlier the Kyiv District Administrative Court asked the secretariat of the Verkhovna Rada to submit the information on the coalition's composition as of February 28, 2019. The two factions, BPP and "Narodniy Front" numbered 215 MPs. It is a sufficient ground for the court to rule that the President can dissolve the Rada.
Why will Zelenskyi benefit from dissolving the Parliament? Because the ranking of his party "Servant of People" (Sluha Narodu) is now the highest. According to the joint public opinion poll held by the "Social Monitoring" center, the Yaremenko Ukrainian Institute for Social Research and the sociological group "Rating", the party would have scored 40 per cent of votes among those who intend voting and decided whom to cast their votes for.
What comes next? A political crisis is quite possible. The President will be demanding that the Central Election Commission sets the date for early elections. The actual Rada will continue working and can still insist it's legitimate. It is still not clear how many MPs will decide to confront the President.  
---
Kolomoyskyi makes a comeback: what assets does he have in Ukraine?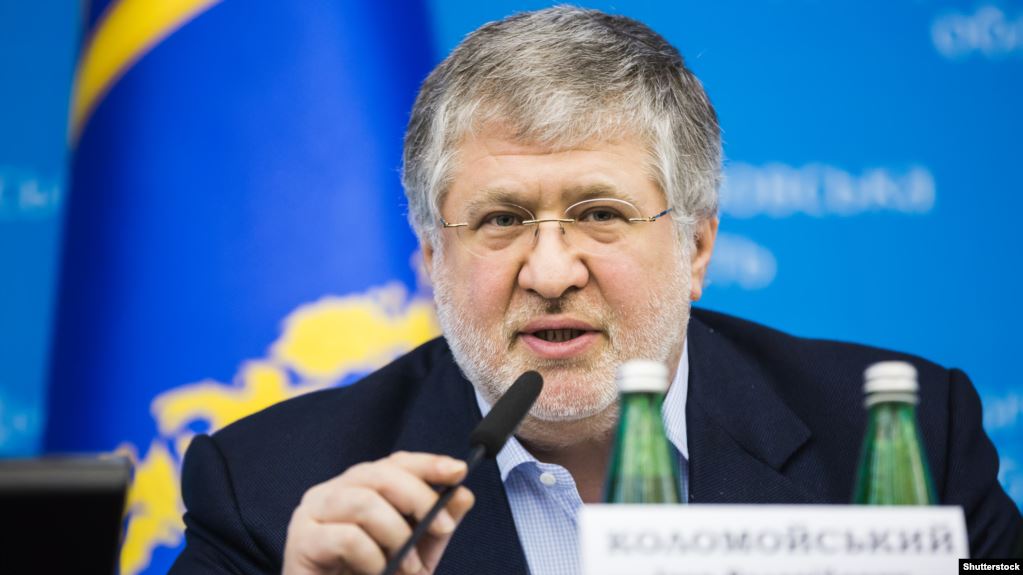 In the evening on May 16 a private jet landed at the airport of Dnipro. On board there was a businessman and oligarch who lived in Israel for the past six months, before that he was staying in Switzerland. He was taking care of his Ukrainian business from afar. On the same day the jet traveled to Kyiv's Boryspil airport. It's Ihor Kolomoyskyi who is back in Ukraine. Forbes said his 2018 assets were worth of over USD 1 billion.
Pryvat group without Pryvatbank. YouControl, a civic initiative using open source data, links about 975 companies and 37 persons to Kolomoyskyi's "Pryvat" business group. Pryvatbank nationalized in 2016 is not in it anymore, but the group still bears the name. It is not officially registered, does not exist de jure but does exist de facto. The group also unites the assets that are not formally registered with Kolomoyskyi.
Key figures of the "Pryvat" group are Hennadiy Boholyubov, Ihor Kolomoyskyi and Oleksiy Martynov. Boholyubov returned back in Ukraine a few days earlier than Kolomoyskyi.
Metallurgy and ferroalloys.The range of business activities of the Kolomoyskyi-Boholyubov group is vast. These are mainly metal and ferroalloy plants, ore beneficiation plants and plants in the fuel and energy sector (including oil extraction companies, oil refineries and trading companies dealing with finished oil products).
Regional energy companies.Kolomoyskyi and Boholyubov are minority shareholders of regional energy companies of Poltava, Chernihiv, Sumy and Khmelnitskyi where they hold large shares, they also have minor shares in the regional energy companies Dniprooblenergo and Zaporizhzhiaoblenergo.
Port-centered business. The port-based business of the "Privat" group is also quite significant. It includes the grain processing group of companies "Borivazh" and the Odesa oil transshipment group of companies.
Agriculture. The "Pryvat" group also has assets in agriculture and food industry. PryvatAgroHolding is active on over 100 thousand hectares of land in Ukraine's agricultural sector. "Shchedro" trademark has a range of food products produced by Lviv, Kharkiv and Zaporizhzhia oils and fats plants. "Biola" trademark includes juices and soft drinks.
The group's light industry assets include Zhydachivskyi and Izmailskyi cellulose and cardboard plants as well as Dniproplast – a factory that produces semi-finished goods for plastic bottle production.
Media. Kolomoyskyi owns "1+1 media" – a large television group of companies comprising TV channels 1+1, 2+2, TET, PlusPlus and Ukraine Today. The tycoon's other media assets include the "Bigudi" women's magazine and UNIAN news agency. Online media outlet "The Babel" is also financed by the "Pryvat" group.
Crimean assets.Kolomoyskyi and the "Pryvat" group incurred considerable losses with the annexation of Crimea. Russia has "nationalized" 87 companies in hotel and construction sector as well as a network of petrol stations and an oil depot. According to the decision of the Hague-based Permanent Court of Arbitration, Russia has to pay USD 159 million of compensation to the "Pryvat" group. Kolomoyskyi's estimation of the assets' value seized in Crimea is USD two billion.
Nevertheless the tycoon has lots of assets in tourism sector left in mainland Ukraine including the well-known "Bukovel" ski resort.