Situation in the combat zone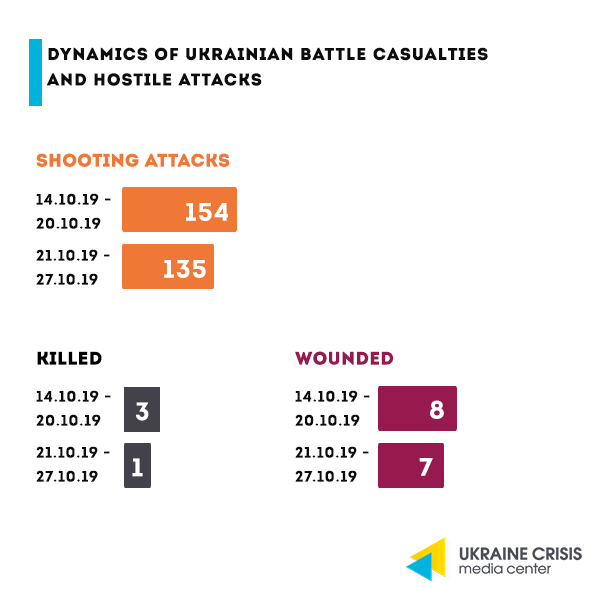 Over the last week in the combat zone in eastern Ukraine Russia-backed militants fired upon the Joint Forces' positions from Minsk-proscribed 82-mm and 120-mm mortars, grenade launchers, heavy machine guns, weapons mounted on infantry fighting vehicles and small arms. The Joint Forces Operation Staff also recorded several incidents of hostile sniper fire.
On October 23 Russian proxies fired from 122-mm artillery near Vodyane in the Azov Sea area. The day before they utilized antitank guided missiles nearby – close to Pavlopil. In Donetsk region Joint Forces' positions also came under fire near Pyschevyk, Talakivka, Maryinka, Krasnohorivka, Luhanske, Zaitseve and Novoluhanske. In Luhansk region they were fired upon near Zolote.
On October 26 President Zelenskyi made an official visit to the disengagement site of forces and weapons in Zolote. OSCE Special Monitoring Mission reported difficulties in observing another disengagement site – that in Petrivske in the uncontrolled area. Thus, on October 24 the mission's unmanned aerial vehicle (UAV) lost its signal being possibly jammed when flying over Petrivske. On October 26 their UAV in the area was fired upon with small arms from the uncontrolled territory.
---
Ukraine-NATO: relations reloaded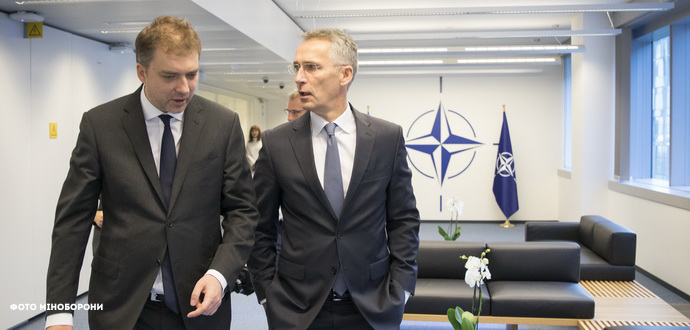 Last week a meeting of defense ministers of NATO member states and the organization's partners took place in Brussels. The meeting mainly focused on developments in Afghanistan, Syria, Turkey etc.
Shortly before the meeting NATO Secretary General Jens Stoltenberg suddenly said that they will be also discussing Ukraine. The Alliance has an intention to agree new assistance programs for Ukraine, the official added. It was later revealed that on the table are truly large-scale changes. Ukraine's Defense Minister Andriy Zahorodnyuk who took part in the Brussels meetings said a new framework was agreed for Ukraine-NATO relations.
Statement by the Defense Minister of Ukraine. Defense Minister of Ukraine Andriy Zahorodnyuk stated that the cooperation framework with NATO will be reloaded in order to practically implement the Alliance's standards in the nearest time. Minister Zahorodnyuk met with Ukrainian journalists in Brussels on Friday after the meeting of defense ministers of NATO member states with their partners in the Afghanistan operation. "Our goal for this visit is to envisage our positions on the future accession to NATO and on our Euro-Atlantic integration as well as our further steps in this direction in the nearest future. We are reloading the working framework with NATO, we are making it oriented towards practical achievements. The focus will not be on signing of documents but on concrete implementation of standards in a defined perspective," Minister Zahorodnyuk said.
What is the true meaning of the new framework? "Yevropeiska Pravda" (European Truth) outlines two directions based on the information available. The first one is the change in format of assistance to Ukraine by NATO. The second one is the change in approaches to how Ukraine will be implementing NATO standards in its Armed Forces and, what's especially important, how the Alliance will be verifying Ukraine's achievements in interoperability and adherence to NATO standards.    
It has not been defined to date how many NATO standards (Standardized Agreements or STANAGs) Ukraine has to implement to achieve full interoperability of its Armed Forces with those of NATO. NATO has about 2,000 recommended standards while their implementation status varies from state to state (that's why not a single NATO member state has incorporated all STANAGs into its legislation).
Three main changes will apply to the new framework of relations between Ukraine and NATO. Firstly, Ukraine and NATO will have to decide together which standards require implementation. Secondly, "roadmaps" need to be designed with NATO for implementation of each standard recommended for Ukraine. These documents will be public meaning that in the majority of the cases parallel civic monitoring will be also possible. Ukraine's Defense Minister also promised that each standard will have the implementation timeframe. Thirdly, a mechanism is foreseen for joint evaluation of implementation of each of the standards by Ukraine.
NATO Membership Action Plan on hold. At the same time activation of the Membership Action Plan (MAP) for Ukraine is not on the Alliance's agenda. The new framework will not change it. Ukraine's official position suggesting that Kyiv will not be asking the Alliance for MAP in the nearest future stays in force.
Ukraine's officials say they consider the old application for MAP submitted back in 2008 "to be in force" and do not plan to submit another one. This explanation is not very solid, it rather looks like an attempt to repulse the accusations by the opposition. (In 2008 Ukraine did apply for MAP, since then everything has changed and without that old application re-confirmed in will not be considered.)
What's next? During thevisit of the North Atlantic Council to Ukraine on October 30-31, NATO Secretary General Jens Stoltenberg will address the Ukrainian Parliament, Vice Prime Minister on European and Euro-Atlantic Integration of Ukraine Dmytro Kuleba told "Segodnya" in an interview. A sitting of the NATO-Ukraine Commission is also planned.
---
National team of the Ukrainian Armed Forces wins 33 medals at the Military World Games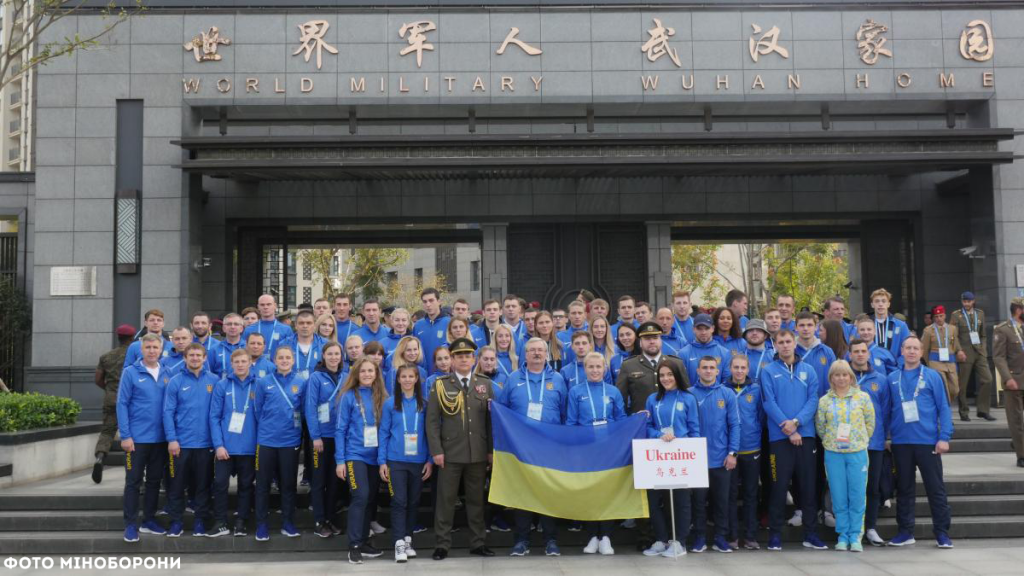 National team of the Ukrainian Armed Forces won 33 medalsincluding five gold medals at the 7thMilitary World Games held for military personnel in Wuhan, China. The games took place on October 18-28.
Team Ukraine won five gold, 13 silver and 15 bronze medals. This year over 100 countries participated. Ukraine was represented by 87 military athletes who competed in 12 categories.
National team of the Ukrainian Armed Forces is in the top ten of all teams – competition participants.
---
Young Ukrainian high jumper receives two European awards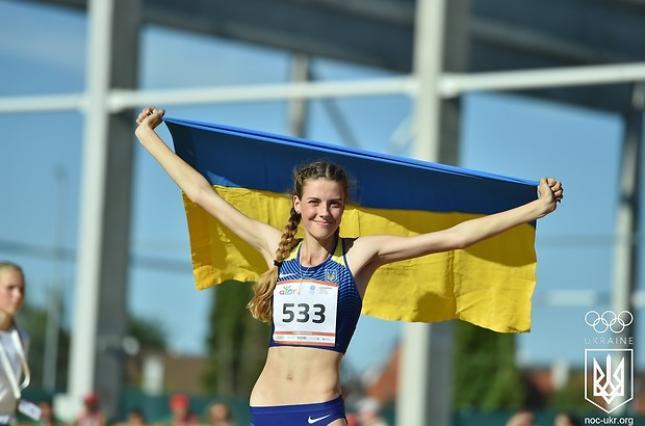 Last week eighteen-year-old high jumper Yaroslava Mahuchikh received two European prizes – the Rising Star award by the European Athletic Association and the Piotr Nurowski Best Young Athlete prize by the European Olympic Committees.
Mahuchikh is a Youth Olympic, World Youth and European Junior champion. The Ukrainian won silver at the recent 2019 World Athletics Championships in Doha where she also set a new World junior record. In January 2019 she also set the European indoor U20 record.
---
The possibility of peace in Donbas and of an end to the occupation of Crimea
On October 10th to 12th, 2019 the fourth The fourth "Truth, Justice and Peacebuilding Commission" meeting was held in Paris. The Declaration of Intellectuals, adopted in Paris. Peace in the Donbas and the de-occupation of Crimea are possible and necessary. The members of the commission "TJP", organized by the Ukrainian Catholic University (Lviv), the Mohyla Academy (Kyiv), the international association "Memorial" (Moscow) and the College of the Bernardines (Paris) believe that, for the establishment of a lasting peace, it is necessary to identify and eliminate the basic reasons for the conflict between Russia and Ukraine, and also between Russia and the West. Read more >>>.