Situation in the combat zone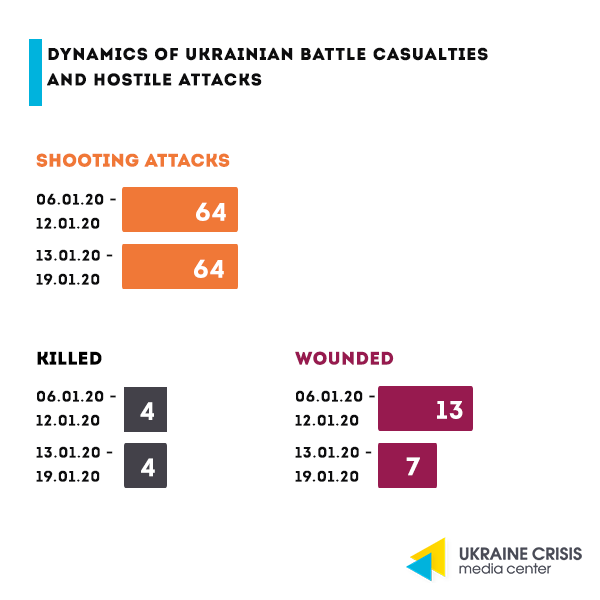 Russia-backed militants keep violating the ceasefire. Russian proxies fired upon Ukrainian troops' positions from Minsk-proscribed 122-mm artillery, 82-mm and 120-mm mortars as well as from antitank missile systems, grenade launchers, heavy machine guns and small arms. Ukraine's Joint Forces also recorded hostile sniper fire.
On January 26 at 18:15 in the disengagement area near Bohdanivka Russia-backed militants fired from small arms.
---
Putin's new advisor on Ukraine: where is it going?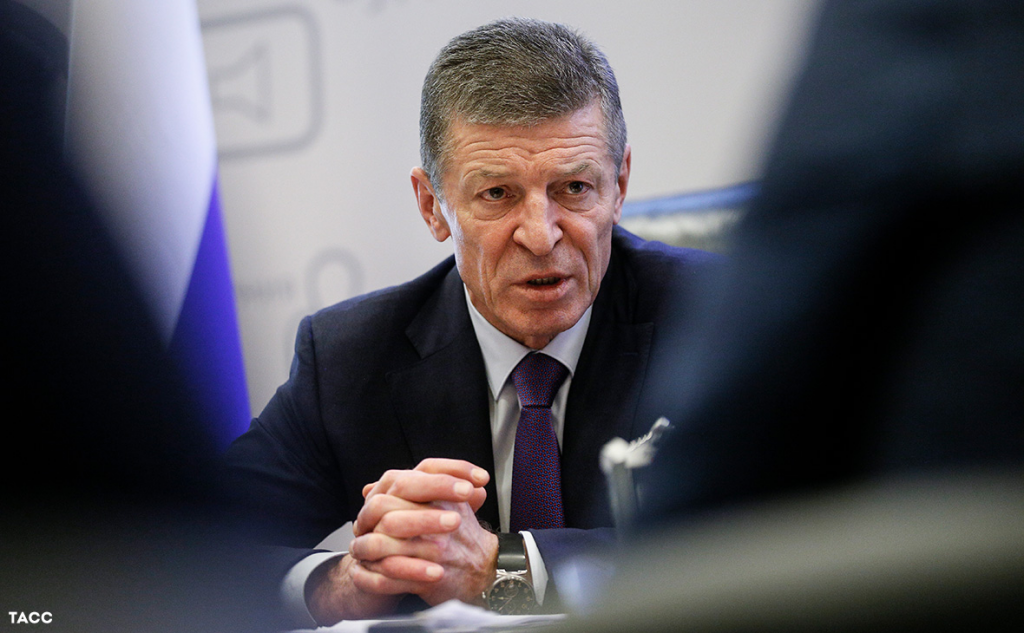 On January 24 the President of the Russian Federation Vladimir Putin appointed former Vice Premier Dmitriy Kozak to the post of the Deputy Head of the Presidential Administration. "Kommersant" quoting two sources close to Kremlin wrote that Kozak can be possibly granted some of the powers that Kremlin's actual aide on Ukraine Surkov is now holding.
Ukraine assumes that Kozak will become the new Ukraine advisor to Putin substituting Vladislav Surkov who is in conflict with Kyiv.
What was Surkov's role? De-facto Surkov used to be the political mastermind of terrorists in eastern Ukraine. He was picking the puppet leaders, staging the imitation of political life, he has created the flag, anthem, coat of arms, media, Telegram channels and everything else set to demonstrate alleged sovereignty. This also includes monuments to militants and renaming of the streets in Donetsk. He was constantly losing – the information operations did not bring results (Russian television channels abroad started being shut down) while Surkov's puppet rulers were killed or removed (Zakharchenko in Donetsk and Khadzhimba in Abkhazia).
What are Russian media saying? At the same time the Director of the Center for Current Policy Alexei Chesnakov said that Vladislav Surkov left public service "because the political course on Ukraine had changed". Russian media outlet "Meduza" quoting a source says that after Volodymyr Zelenskyi won the presidential elections in Ukraine, Surkov's team in Ukraine almost ceased its activity.
Kremlin's commentary. Press secretary of the Russian President Dmitriy Peskov denied that Russia's policy on Ukraine had changed. "Any other assumptions in this regard are individual opinions," Peskov said. "No orders dismissing Surkov were issued. I am not in possession of this information," the Russian President's press secretary added.
Who is Dmitriy Kozak? Kozak is known as the mastermind of Moldova's federalization. Russia is not hiding its intention to implement a similar project in Ukraine. After Kozak was appointed the official aide overlooking both states in the Kremlin, one should expect these attempts to restart.  
From its Moldova experience Moscow has learnt that directly insisting on federalization meets a very decisive repulse, so it will be probably camouflaged when "sold" to Ukrainian partners and instead presented as "compromises for peace in Ukraine".
Taking into consideration Kozak's Ukrainian origins (he was born in Kirovohradskyi region) and him not being a high-conflict person in contrast to Surkov, there are those who believe in good intentions of the Russian official.
---
Ukrainians are 37 million, a recent nationwide count says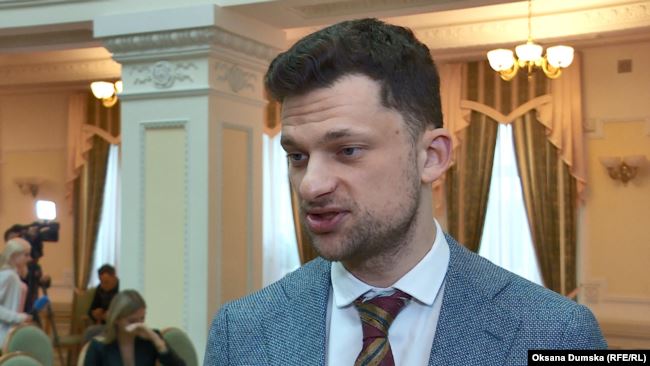 According to the count held by the Cabinet of Ministers of Ukraine, 37 million 289 thousand persons reside in Ukraine (excluding the temporarily occupied areas). The above data is often called "e-census" while it is actually the "estimated number of population". These are two different notions. The Minister of the Cabinet of Minister and the ideator of the "e-census" Dmytro Dubilet said the "estimated number" is enough to understand domestic processes, while experts in statistics and sociologists disagree.
The digital estimate of the Ukrainian population was held for the first time. Dmytro Dubilet said the count was completed in three months and the state bore no additional expenses to hold it.
The census of 2001. Thirty-seven million is quite a surprise even considering the illegal annexation of Crimea, the occupied territory in Donbas, migration and a low birth rate. The only official census ever held in independent Ukraine – that of 2001, recorded the population of Ukraine being 48 million 457 thousand persons. Ukraine's urban population was 32 million 574 thousand persons (67,2 per cent) and rural population was 15 million 883 thousand persons (32,8 per cent) resectively. There were 22 million 441 thousand men (46,3 per cent) and 26 million 16 thousand women (53,7 per cent).
The methodology of the estimation. Ukraine's residents were counted using three methods. One is a combination of mobile phone data, business statistics and state registries. The government asked mobile operators to provide anonymous data excluding subscribers that were online less than one month as well as modem device data. The government also researched how many mobile devices are in use by a certain age group. They then added data from registries calculating young and senior Ukrainians.
Other methods also used combined data from state registries. According to Dmytro Dubilet all three attempts brought almost one and the same result with the margin of error reaching 2,85 per cent – a number considered insignificant for such counts.
Why isn't it a census? Census involves more effort. It requires information from nearly each resident of the country. During Ukraine's independence a census took place just once, in 2001. Despite UN recommendations suggesting that it should be held once in ten year, in Ukraine it was postponed several times, last time in was rescheduled for late 2020. They plan to engage about 10 thousand people that will be collecting data door to door with tablets. A census will tentatively cost UAH 3-4 billion (USD 122,6-163,5 million).
Why are sociologists criticizing the estimation? Sociologists and experts in statistics consider that the digital estimation cannot completely substitute the census. "It is very useful for the census and would be even more useful after it is held. If we hold a traditional census, we will know the exact margin of error of this method and will be able to use it for monthly or daily assessments," said Volodymyr Sarioglo, head of the department on social and economic modelling of processes and structures at the Mykhailo Ptukha Institute of demographics and social studies of Ukraine's National Academy of Sciences.  
Sociologists are convinced that a census should be held. It is still unclear if it is held at the end of the year. Minister Dubilet said the decision will be made in two-three months.
---
Opinion polling: patriotism, Ukrainian language, the EU and NATO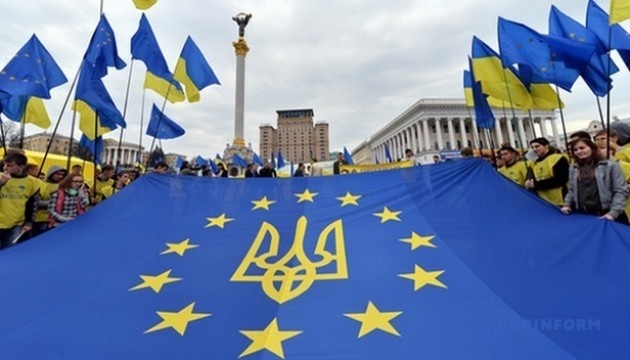 The Ilko Kucheriv Democratic Initiatives Foundation teamed up with the polling service of the Razumkov Center to hold a nationwide opinion poll on December 13-18, 2019. Over two thousand respondents (2017) over 18 years of age were interviewed. The margin of error does not exceed 2,3 per cent.
Key components of patriotism named by Ukrainians include love for their country in the first place (80 per cent), readiness to protect their country with weapons if needed (64 per cent), educating children to love and respect their country (58 per cent), respect of all state laws (56 per cent), knowledge of their country's history and culture (51 per cent). To a lesser extent respondents outlined as patriotism participation in elections (38 per cent), honest accomplishment of job responsibilities (36 per cent), use of the official language (35 per cent), paying taxes (30 per cent), civic activism (28 per cent), respect for the authorities (26 per cent) and participation in combatting corruption and other state drawbacks (21 per cent) – representing the smallest number.
A total of 81 per cent of respondents agree that the Ukrainian language is an integral part of Ukraine's independence (55 per cent absolutely agree and 26 per cent tend to agree).This opinion is shared nationwide: in Western (95 per cent), Central (86 per cent), Southern (71 per cent) and Eastern (64 per cent) Ukraine. 
The status of the Russian language. Majority of Ukrainians are convinced that Russian can be freely used in private life while Ukrainian should stay the only official language (69 per cent). Official regional status of the Russian language finds support with 15 per cent of respondents while 12 per cent would like to see it as the second official language in Ukraine.   
EU membership. Almost two thirds of Ukrainians (64 per cent) think that Ukraine's main integration goal is EU membership, membership in the Eurasian Economic Union is seen as key by 13 per cent, 23 per cent are undecided. EU membership finds strongest support in the West (90 per cent) and in the Center (70 per cent) of Ukraine. In the South (44 per cent) and in the East (43 per cent) support to EU membership dominates while there is a share of respondents supporting membership in the Eurasian Economic Union (23 and 24 per cent respectively). The share of those undecided in the South and in the East is high: 33 per cent in each of the locations.  
NATO supported by 51 per cent. More than half of the population (51 per cent) is convinced that Ukraine's NATO membership would best guarantee its security. Neutral status is supported by 26 per cent, six per cent look out for a military union with Russia and former Soviet bloc countries.