Kyiv, September 12 2014 – "The President of Ukraine informed of simultaneous ratification of the EU-Ukraine Association Agreement by Verkhovna Rada and European Parliament planned for September 16. He stated that a similar decision has never been approved within such short period and thanked the president of European Parliament Martin Schulz", – reported Colonel Andriy Lysenko, the National Security and Defence Council Information Center spokesman at his briefing in Ukraine Crisis Media Center.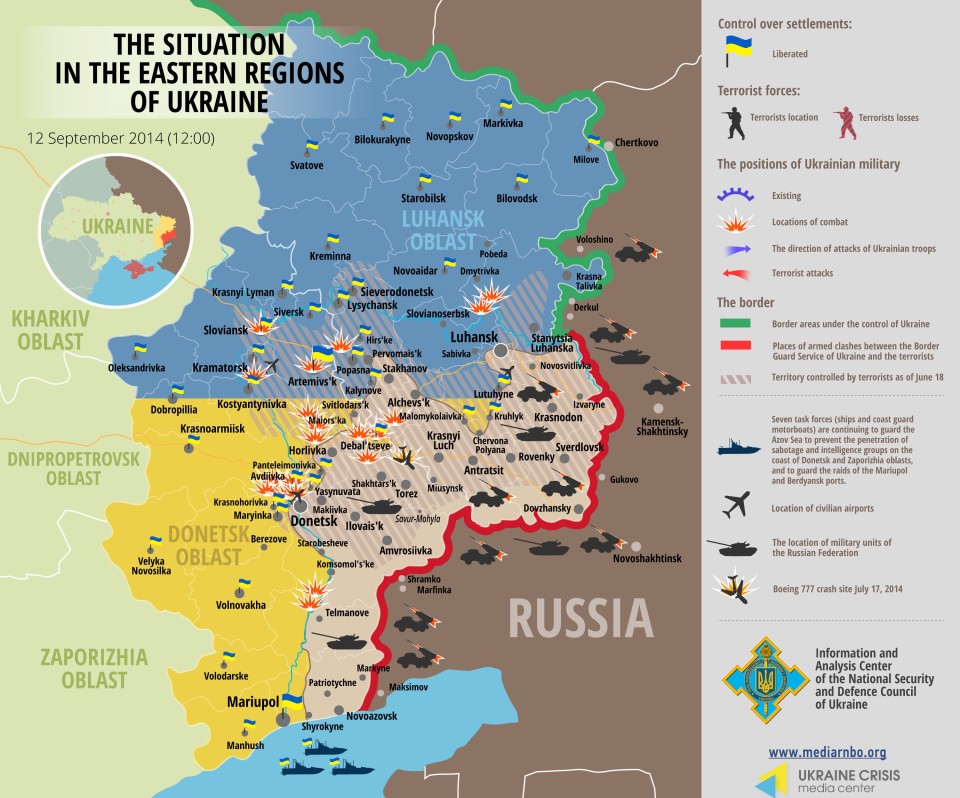 According to the NSDC spokesman situation in the ATO zone remains stringent. Ceasefire mode was being maintained within 24 hours, but individual violations were also recorded. There are no losses among Ukrainian servicemen in the last 24 hours. In particular, Donetsk airport was attacked by mortar fire, cannon fire and multiple-launch rocket systems fire.
Col. Lysenko said that in the last 24 hours within the Peace Plan of the President of Ukraine 57 Ukrainian servicemen detained by terrorists were set free. The work on hostages' liberation continues, we will keep you informed of the results.
At the same time, suspension in withdrawal if Russian troops from the territory of Ukraine has been recorded.
Concentration of terrorists' presence nearby Rozsypne and Pelahiyivka in Donetsk region has been recorded.
The NSDC spokesman informed of considerable decrease in militants' activity in Mariupol and Novoazovsk districts, which can be explained by OSCE mission work in this area.
NATO Deputy Assistant Secretary General for Political Affairs and Security James Appathurai notified of decrease in number of RF regular army servicemen. Nevertheless, he confirmed that special operation forces remain in the territory of Ukraine. At the same time, NATO Secretary Office believes that there are about 1 thousand Russian servicemen remaining in Ukraine and approximately 20 thousand in Russian-Ukrainian border. A specially equipped vehicle is constantly moving within Novoazovsk districts, jamming signals and tracking mobile communication subscribers.
During one week that passed after the Minsk Minutes of ceasefire signing, losses of Ukrainian troops amounted to 5 people. In particular, three border guards, one serviceman of the Armed Forces and one representative of the National Guard died. Besides, three soldiers of the Armed Forces of Ukraine died in hospitals of heavy wounds received prior to the start of the ceasefire mode. Total number of Ukrainian servicemen who died during ATO amounts to 873 people, 3275 were wounded.