Kyiv September 16, 2014 – "The Ukrainian armed forces aim at the implementation of the ceasefire signed on September 5 at 6 p.m. In the meantime, terrorists and Russian militants step up attacks at ATO forces positions and wage other provocative activities",  – reported Colonel Andriy Lysenko, the National Security and Defence Council Information Center spokesman at his briefing in Ukraine Crisis Media Center.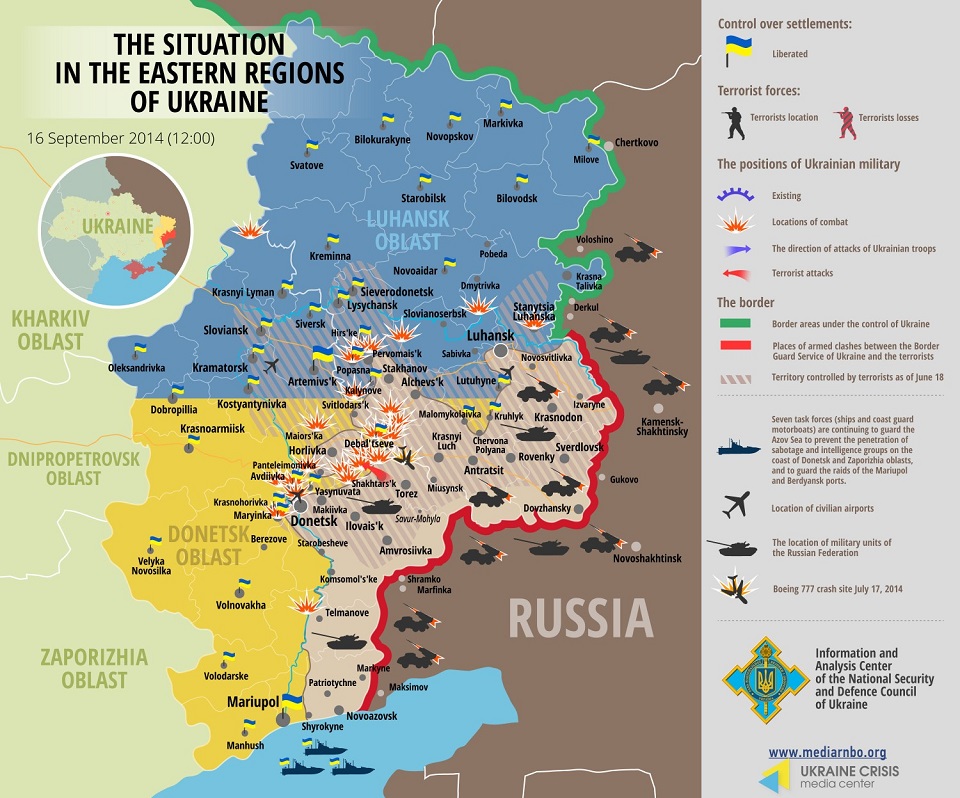 The settlements of the Donetsk region as Avdiivka, Zhdanivka, Nyzhnia Krynka, Tonenke, Slavne, Popasne, Olenivka, Mayorske, Verkhnotoretske, Debaltseve, Maloorlivka, Marjinka, Komyshuvaha, Krynychne, Puteprovid, Granitne, Ridkodub, Donetsk airport and Hostra Mohyla mound were shelled.
The settlements as Stanytsia Luhanska, Donetsky, Mius, Tsentralny, Shchastia, Chornuhine, Zolote of the Luhansk region were shelled.
The most active operations of the enemy are directed to Donetsk and Luhansk. The terrorists try to push Ukrainian units back from their positions in the localities of Donetsk, Avdiivka, Debaltseve and Shchastia.
According to the intelligence data, Mariupol-based Russian servicemen of the Slavic ethnicity are replaced be militants of other national identities as the former ones refuse to fight against Ukrainians.
Col. Lysenko informed that Russian armed forces continue navigating airspace of ATO positions using unmanned aerial vehicles (drones). Hence, over the past night, the border servicemen disclosed UAVs for two times: in Mariupol locality and over the Border Service checkpoint "Kuchurgan" that is on the board with Transnistria.
Interdepartmental center puts significant efforts under Ukrainian Security Service auspices to free the hostages and implement the Peace Plan suggested by the President of Ukraine. Yesterday, following durable and tense negotiation, the terrorists freed five border servicemen, 3 Ukrainian Armed Forces militaries and 4 National Guard militaries who were captured during the clashes near Novoazovsk on August, 25.
According to the NSDC, three Ukrainian soldiers were killed and 2 wounded in the last 24 hours.