Kyiv, September 17, 2014 – "Yesterday Verkhovna Rada of Ukraine adopted the laws "On special procedure of local self-governing in some districts of Donetsk and Luhansk regions» and «On prevention of prosecution and punishment of persons – participants of events in the territory of Donetsk and Luhansk regions». The laws were adopted to implement the Peace Plan of the President of Ukraine and in compliance with the Minsk Minutes of Trilateral contact group. These laws are a practical step of Ukrainian authorities towards establishment of peace and renewal of citizens' security in the territories of the east of Ukraine", – reported colonel Lysenko, the National Security and Defence Council Information Center spokesman at his briefing in Ukraine Crisis Media Center.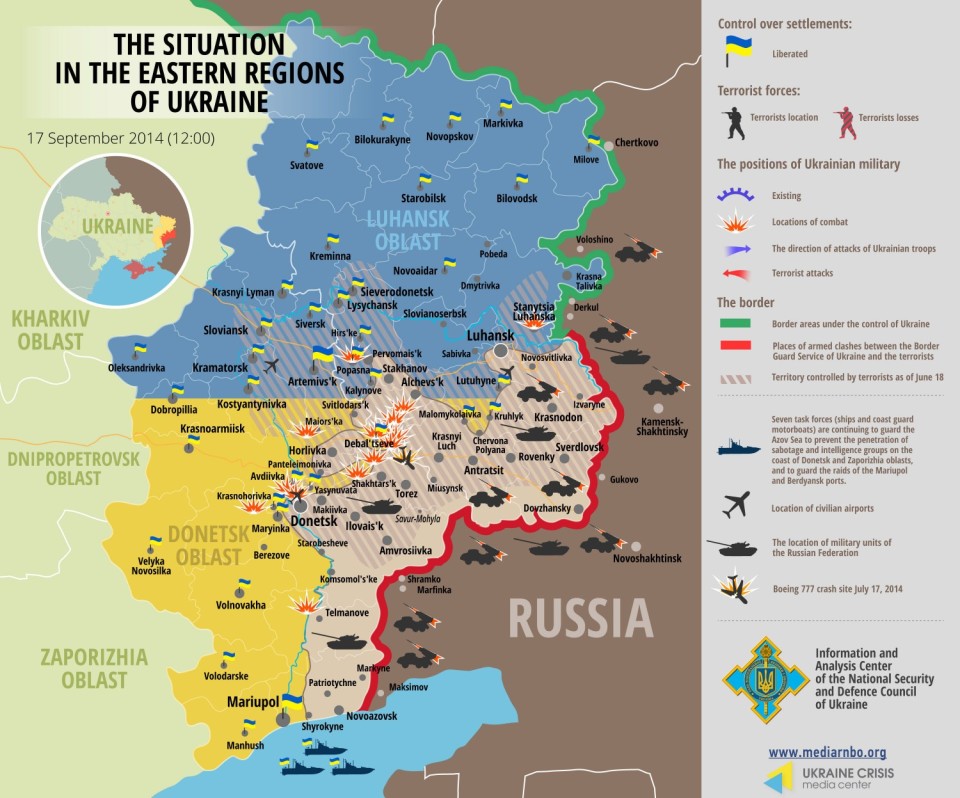 Opposed, time attacks of ATO forces positions with fire on the side of illegal armed groupings and Russian troops continue. For instance, within 12 hours positions of the Armed Forces of Ukraine in Donetsk region nearby Nyzhnya Krynka, Pisky, Donetsk airport, Ridkodub, Hranitne, Kuraohove, Novoorlivka, Debaltseve, Shumy populated localities came under fires. In Luhansk region terrorists outshot positions of Ukrainian troops in Popasna, Stanytsya Luhanska, Novoselivka, Tsentralnyi, Mius, Chornukhine populated localities.
According to Andriy Lysenko, there were no losses among Ukrainian troops in the last 24 hours.
The NSDC spokesman informed that in their regular report OSCE Special monitoring mission recorded numerous violations of ceasefire mode on the side of terrorists. They laid special emphasis on militants attacking the Ukrainian checkpoint by fire nearby Malorlivka populated locality, next to which members of OSCE monitoring group stayed. It is not improbable that militants engaged fire on Ukrainian troops in order to provoke them, as they were informed of the OSCE observers' trip in advance.
According to the intelligence data collected, movement of Russian troops and militants nearby Fashchivka, Krasnyi Luch populated localities in Luhansk region and Debaltseve in Donetsk region. Terrorists continue masking military equipment in residential quarters and in non-combatants' yards in the territories controlled by militants.
ATO forces are prepared to provocations and attack repulse. For instance, yesterday terrorists attacked and outshot ATO forces positions several times from Fashchivka populated locality in Luhansk region towards Debaltseve populated locality in Donetsk region and from the border of Kirovske town in Donetsk region towards Yunokomunarivska in Donetsk region.
Counterintelligence of the Security Service of Ukraine detained a chief of a subversive group "Donetsk Peoples' Republic", a former traffic police officer, who was committing acts of terrorism in Donetsk region together with his accomplices.
The group received tasks and detailed instructions on committing acts of terrorism directly from I. Girkin, to whom they were personally reporting on the crimes committed.
The gang was committing armed assaults of convoys of Ukrainian equipment, ATO checkpoints, explosive demolition of bridges, subversive acts in peaceful quarters of the cities.
At present urgent investigative actions continue.
According to Andriy Lysenko, air reconnaissance using pilotless aircrafts continues on the side of the Russian Federation. During 24 hours five cases of this kind at heights from 1 to 2 km were recorded.  Pilotless aircrafts were observed twice nearby Mariupol and three times on the administrative border with temporarily occupied Crimea.
During 24 hours border guards of "Krasna Talivka" detachment in Luhansk region recorded three facts of blast of mines, installed by Russian raiders. In one case inhabitant of one of the border villages tripped a mine and died. The blast circumstances in two cases more are being investigated. In is the evidence of "mine" war activation in that area and renewal of attempts on the side of Russian mercenaries to outflank the border guards from the border line. Terrorists are not conscious about the fact that non-combatants are dying during such war.
NSDC representative called upon local inhabitants of areas bordering with Russia and areas adjacent to the ATO zone to be careful and to refrain from mushrooming, when possible.