September 21, 2014, Kyiv – "Fulfilling the Peace Plan of the President of Ukraine, agreements reached in Minsk on September 5th and 19th, subdivisions of Ukraine's Armed Forces and other special forces have been maintaining the ceasefire agreement as of September 05, 2014, 18:00 pm. Opposed, terrorists and Russian troops continue attacking checkpoints of the Ukrainian Armed Forces in spite of the Memo on commitments signed in Minsk on Friday", – reported Colonel Lysenko, the National Security and Defence Council Information Center spokesman at his briefing in Ukraine Crisis Media Center.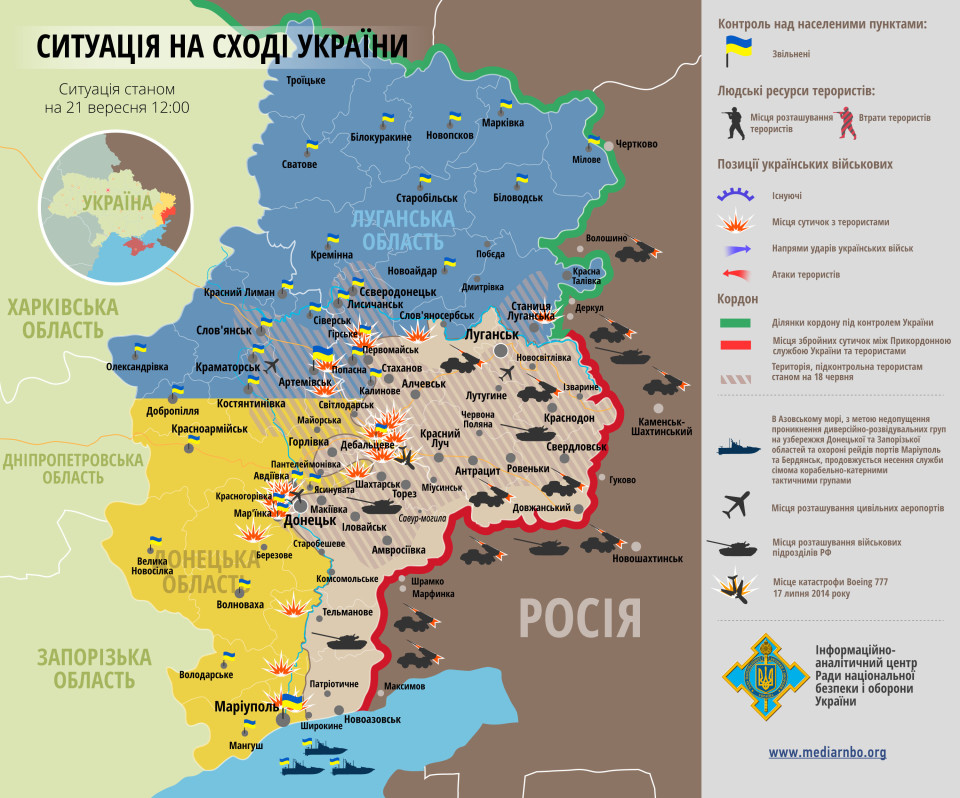 According to Colonel, in the last 24 hours illegal armed groupings outshot checkpoints and positions of the Armed Forces of Ukraine nearby Ridkodub, Zolote, Orlovo-Ivanivka, Vodyane, Pryovrazhne, Stepne, Frunze, Mius, Debaltseve, Hirske, Kalynivka, Maryinka, Mykolayivka, Makarove,  Hostra Mohyla hill, Myrnyi, Pokrovske, Tsentralnyi, Chornukhine, Nyzhnia Krynka, Krasnohorivka, Pisky localities.
Terrorists also carried out artillery assault at Donetsk airport.
NSDC spokesman stressed that Ukrainian servicemen respond with fire only for self-defence when direct threat to life arises. Up to 40 militants, one БМ-21 "Grad" multiple launch rocket system and two cannons were destroyed within 24 hours.
Despite the truce agreement, in the last 24 hours two Ukrainian servicemen died and 8 were wounded.
Andriy Lysenko informed that situation at Ukrainian borders remains tense. Yesterday around 18:00 pm a border detachment located in the area of Shevchenko populated locality nearby, Mariupol was outshot from small-arms weapon by a group of unidentified persons. The border guards stood on the defensive and responded with fire. Russian mercenaries were made to retreat.
According to Lysenko, Russian Federation continues active air reconnaissance using pilotless aircrafts and air power. In particular, border guards spotted a pilotless aircraft nearby Mariupol at the height of over one kilometer. Yesterday two helicopters of the Armed Forces of the Russian Federation (МІ-24 and МІ-8) proceeded along the border next to "Milove" division (Luhansk region), not infringing Ukrainian aerial domain. They turned to the support area of the Russian Federation next to Milove populated locality (Ukraine).