September 22, 2014, Kyiv: "Within the boundaries of the President's Poroshenko Peace plan about 1200 non-combatants and Ukrainian servicemen detained by terrorists were released. Within last 24 hours 28 Ukrainian servicemen from 30th and 93rd brigades, 40th battalion and 6th border detachment were liberated", – reported Colonel Lysenko, the National Security and Defence Council Information Center spokesman at his briefing in Ukraine Crisis Media Center.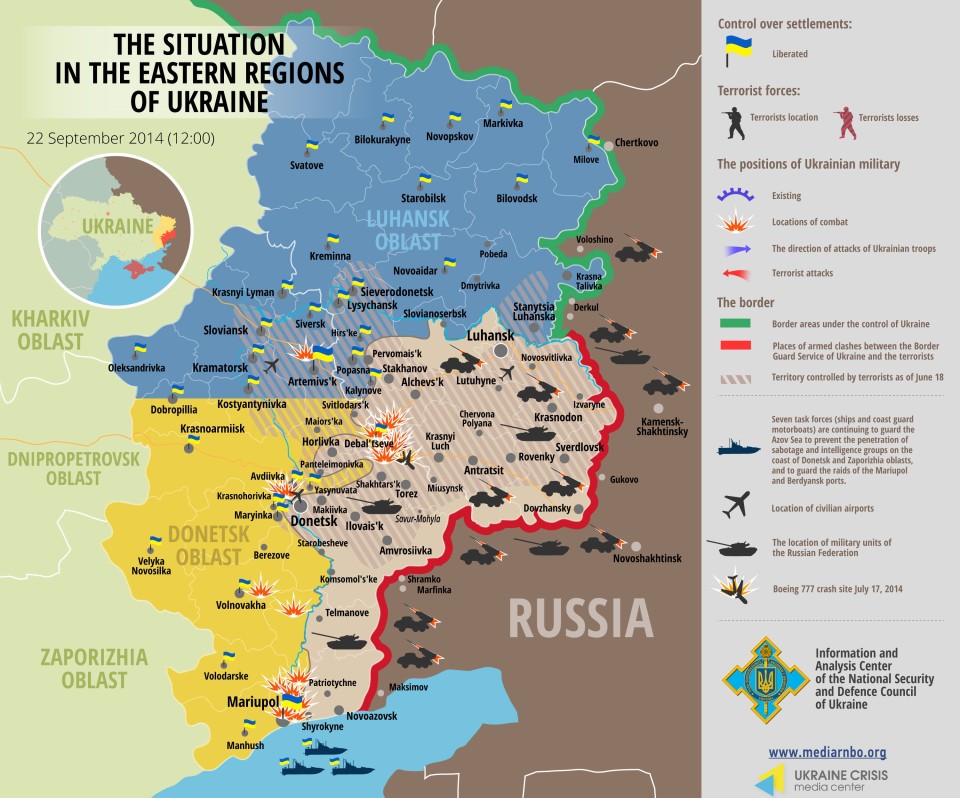 Beginning of the Peace plan implementation allowed to make several important steps for normalization of the situation in Donbas.
In particular, Consistent position of Ukraine directed at settlement of peace and protection of citizens received support of the international community which was reflected in official decisions of leading institutions – UN General Assembly, European Council, European Parliament, OSCE and others. A number of countries are providing real support in bilateral format.
In particular, giving comments on the results of his visit to the USA, Petro Poroshenko said that Ukraine had the highest status of defense cooperation with the United States of America among all the countries who are not NATO members.
«We received everything we needed – reconnaissance, radar, observational and other defence equipment which allow to raise our weapons efficiency ten times, modernizing it ", – said the President.
Owing to the Peace Plan of the President of Ukraine fulfillment, Ukrainian humanitarian aid has been delivered to terrorists-controlled Luhansk through the intermediary of the Committee of International Red Cross in full compliance with all the standards of this foundation.
Another batch is expected to be delivered, there are still almost 600 tons of humanitarian freight in stock in Starobyelsk and Siverodonetsk, such as tinned food, cereals, sugar, flour, hygienic items. We would like to remind that Ukrainian authorities passed this aid to the International Red Cross as early as in August.
At the press-briefing Andriy Lysenko informed that Ukrainian Armed Forces and other special force subdivisions started implementing agreements reached on September 5th and 19th in Minsk. Preparation to heavy weapons withdrawal to 15-kilometers line is made.
In general, the tendency of illegal armed groupings to decrease use of heavy arms is observed. At the same time, yesterday terrorists and uncontrolled armed groupings outshot checkpoints and positions of the Armed Forces of Ukraine nearby Donetsk airport as well as the following populated localities: Debaltseve, Vynohradne, Hnutove, Trudivske, Hranitne, Pisky and Hostra Mohyla hill.
Terrorists also carried out artillery assault at residential quarters in Putyvlskyi district of Maryinka town.
Ukrainian servicemen responded with fire only for self-defence when direct threat to life arose.
According to the NSDC spokesman, within the last 24 hours two Ukrainian servicemen died and 2 were wounded.
There were no facts of infringement of Ukrainian state border or aerial domain within last 24 hours on the ground controlled by Ukrainian border detachments. There were no bombardments from the territory of Russian Federation either.
Commenting on the situation in populated localities of the conflict zone, Colonel Lysenko reported that militants from illegal armed formations continue intensify pressure on local inhabitants in Donetsk region. In particular, they demand from administration of budget institution to provide them with lists of those who showed up for work, explaining it as though with readiness to pay out wages. At the same time, according to the information collected, militants are paying for work using foodstuffs from Russian so-called "humanitarian" convoy.
Officers of the Ministry of Internal Affairs on Kramatorsk launched an operation on finding illegal weapons and explosive objects, as local inhabitants massively own them. As of September 21, 2014 57 facts of illegal arms handling were registered. Police officers also confiscated 97 explosive hazards, over 1000 bullets to small-arms weapons, 27 guns, machine guns and РПГ-7 grenade guns. 18 administrative building were checked and cleared of mines with combat engineers and experts' participation.
Commenting response of the international community to the situation in Ukraine, Mr Lysenko quoted the US Minister of Finance Jack Lew saying that he expected steps towards conflict regulation in the east of Ukraine from Russia before G20 summit in Australia which would take place in November.
US Minister of Finance stated that the USA and Europe are ready to continue cooperation on the issue of sanctions against the Russian Federation until Russia stops threatening the sovereignty of Ukraine and participate, directly or indirectly, in combat activity in Ukrainian territory.