September 24, 2014, Kyiv – "Situation in the ATO zone remains complicated. Ukrainian subdivisions are maintaining ceasefire mode. Opposed, pro-Russian terrorists continue provocations. Our checkpoints and positions keep being outshot both in Luhansk and Donetsk directions. In particular, in Maloorlivka village of Shakhtarskyi district terrorists attacked the checkpoint with fire from "Grad" missile launcher, cannons, mortar launchers and tanks, following which an assault started. The attack was shattered with fire in response. A number of Donetsk airport and Debaltseve town outskirts bombardments was recorded. There are no casualties among Ukrainian military servicemen. 8 servicemen were wounded", – reported Colonel Lysenko, the National Security and Defence Council Information Center spokesman at his briefing in Ukraine Crisis Media Center.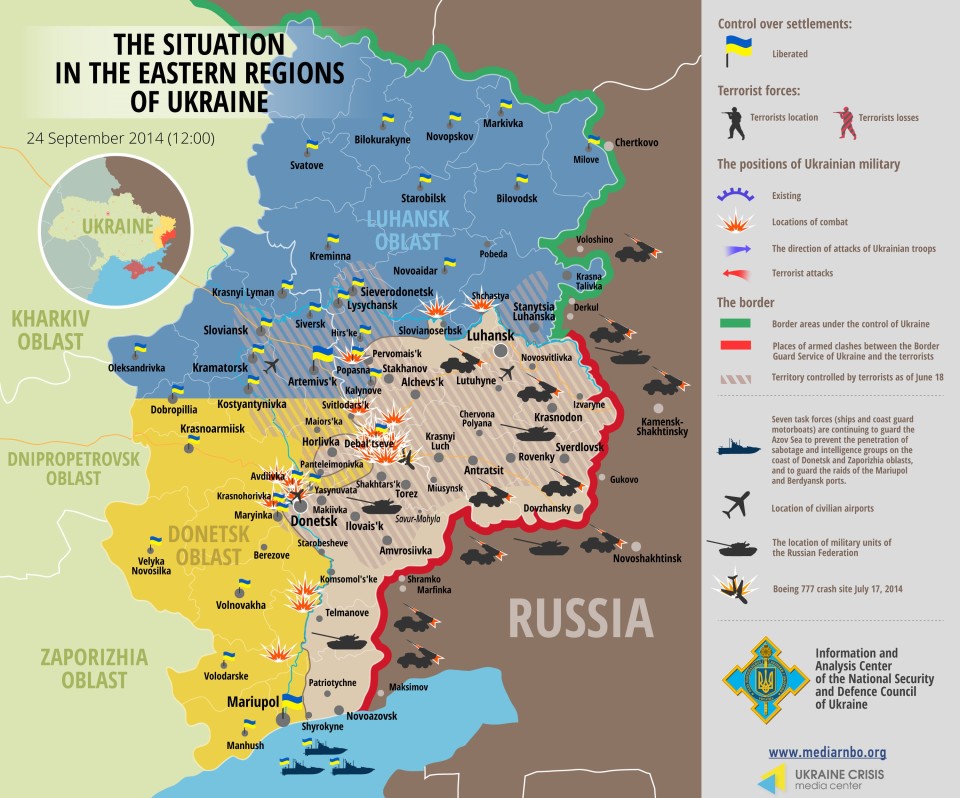 Andriy Lysenko also informed that a terrorist subversive group outshot an OSCE international mission vehicle using small weapons nearby Shchastya town on the bridge across Siverskyi Donets River (information from the Security Service of Ukraine). OSCE monitoring mission observers also recorded facts of armistice violation on the side of terrorists nearby Talakivka village (20 km northeastwards from Mariupol) and Debaltseve town.
According to Colonel, in the last 24 hours there were no military clashes on the border with illegal armed groupings and subdivisions of the Armed Forces of the Russian Federation. Ukrainian air domain infringements have not been recorded for the third day in advance (information from the State Border Guard Service of Ukraine).
Nevertheless, Russian armed forces are using range stations in the border districts, which are jamming mobile operators' signals in the territory of Ukraine and keep intermitting radio traffic of the State Border Service and Armed Forces of Ukraine subdivisions (information from the State Border Guard Service of Ukraine).
Basing on the results of workbench at the President's Administration Coordination Center for ATO zone relief service, a decision to create a unified base of DNA testing under the responsibility of the Ministry of Internal Affair of Ukraine was made. It will provide the possibility to accelerate the search considerably as well as guarantee free DNA testing to the relatives of the deceased. This work will be financed at the state expense.
Colonel Lysenko reported that yesterday 10 Ukrainian servicemen kept hostage were set free within the framework of the Peace Plan of the President on Ukraine, one officer being among the liberated.
Colonel Lysenko also informed on the situation in populated localities of the ATO zone.
Chiefs of illegal armed formations in Krasnodon district of Luhansk region keep squeezing money out of local inhabitants. Terrorist demand 2000 hryvnias for a certificate issued by a so-called commandant's office from military aged males going out to the territory of Russia. As we mentioned before, due to lack of money in so-called "Donetsk Peoples' Republic" and "Luhansk Peoples' Republic", terrorist are paying local inhabitants for their work with food rations.
Renewal works continue in the territories liberated from terrorists. For instance, in Slovyansk reconstruction of residential quarters takes place. Repairs of 7 multi-storey buildings out of 36 that had been ruined are over. At present the works continue at 12 objects (information from the Civil Coordination Center of the Ministry of Defence of Ukraine).
Increase in number of displaced pensioners returning to their homes has been recently recorded in Slovyansk. About 30 applications were registered every day at the beginning of the month and now this number exceeds 200. Only in September the town received more then 4 million hryvnias of additional financing for pension payment. As of today pension payment has been financed in 22 districts and towns in Donetsk regions and 13 districts and towns in Luhansk region.
Situation remains calm in Mariupol, final installation of checkpoints and town area of defence continues. Owing to close cooperation of joint ATO headquarters in Mariupol with assistance-giving volunteer and civil organizations, servicemen of special forces of the country, drawing their duty at the checkpoints, receive ward clothes, medicines and tents from volunteers.
Big industrial enterprises of the town are helping servicemen with solution to food issues, purchase of household detergents and boilers for water heating-up in their permanent posts (information from the National Guard of Ukraine).
Basing on the fact that the rector and the majority of students and teachers of Donetsk National University took a strong patriotic line, the Ministry of the Education and Science of Ukraine is preparing a project of transferring this educational establishment to another region of Ukraine. At present the Ministry is searching for premises suitable for work of the university.
Speaking of the response of international community to the events in Ukraine, NSDC representative informed that President Petro Poroshenko during his telephone conversation with the speaker of the House of Representatives of the USA Congress John Boehner pointed at unanimous passing the Act supporting freedom in Ukraine by the US Senate committee on Foreign Relations. In his opinion, this decision is extremely important for Ukraine supporting its territorial integrity, sovereignty and desire to reestablish peace (information from the Ministry of Foreign Affairs).
The Ministry of Foreign Affairs of Ukraine filed the Ministry of Foreign Affairs of the Russian Federation an official note of protest on abusive actions towards Ukraine as well as flagrant violations of its territorial integrity and sovereignty (information from the Ministry of Foreign Affairs).
European Parliament rapporteur on Ukraine, Jacek Saryusz-Wolski, called upon the European community to strengthen sanctions against the Russian Federation to prevent further military intrusion to Ukraine and start selling weapons to Ukraine (information from the External Intelligence Service of Ukraine).
The Ministry of Foreign Affairs of Norway stated that the official Oslo was going to join new EU sanctions against Russia. "Despite huge international pressure, Russia shows no readiness to stop its illegal actions in the east of Ukraine», – emphasized the head of the Norwegian Ministry of Foreign Affairs Boerge Brende.
Thus, according to him, Norway is going to introduce the same limiting measures that were introduced by the EU on September 12th.
Chief Cabinet Secretary of the Japanese Government Yoshihide Suga stated that Japan extended sanctions against Russia on September 23.
According to him, Tokyo is strengthning its positions against Russia in order to coordinate them with the measires taken by other countries and its key ally – the United States of America – in particular.
The sanctions envisage financial limitations for 5 Russian banks as well as more stringent limitations for arms export.