Missile strike on Chasiv Yar in Donetsk region kills 31
On the evening of July 9, Russian forces launched four missiles at Chasiv Yar, a town in Bakhmutskyi district of Donetsk region. The strike destroyed two sections of a five-story apartment building, head of the Donetsk regional military administration Pavlo Kyrylenko said. Search and rescue works, and debris clearance continue for the third day. As of the evening of July 11, rescue workers found 31 corpses.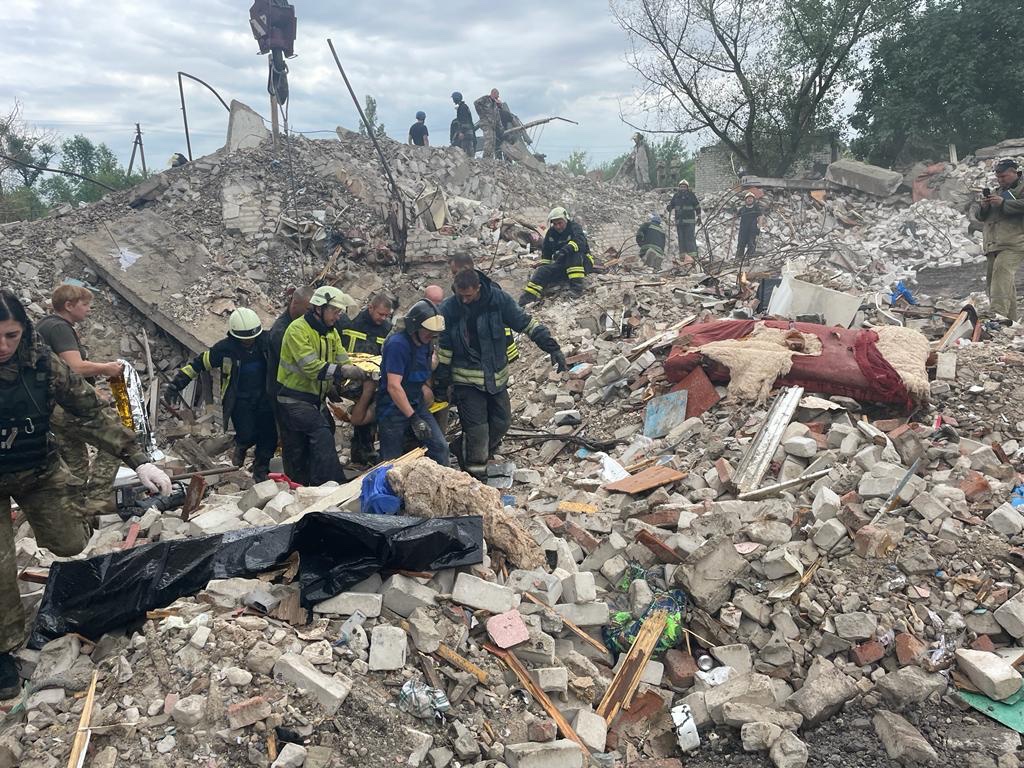 Missile strike on Kharkiv kills 6
"Six civilians were killed including a 17-year-old boy and his father. They were passing by a tire service station in a car. Their bodies were mutilated by explosion," the Office of the Prosecutor General in Kharkiv said. "That was a direct hit. They drove to get the boy a certificate to apply to the university. There is almost nothing left from the vehicle and the passengers," the statement reads.  
Russia struck Kharkiv's Kyivskyi, Saltivskyi, and Osnovyanskyi districts, head of Kharkiv's police investigation department earlier said. A trade center, apartment buildings, and personal vehicles were hit, he added.
Renowned Ukrainian human rights activist taken prisoner by Russia
Maksym Butkevych, Ukrainian human rights defender and journalist was taken prisoner by Russia. Maksym has been UCMC's partner and friend for many years. All of the team of UCMC take his further fate to heart. In March 2022, he volunteered to enlist in the Armed Forces of Ukraine. On June 24, he was taken prisoner by Russian forces near the villages of Hirske and Zolote. Since then, his family has not heard from him. His whereabouts are unknown.  
In the past 20 years, Butkevych actively fought against various types of discrimination in Ukraine. He co-founded and coordinated No Borders project to assist refugees and internally displaced people in Ukraine. No Borders was one of Ukraine's first organizations promoting anti-racism agenda and raising awareness against hate speech among the media and civil society.
Maksym co-founded ZMINA human rights center and Hromadske Radio. He worked as a journalist in 2013 and 2014 reporting from Euromaidan. He also collaborated with the BBC World Service and several Ukrainian TV channels.
Butkevych is a prominent public figure. He was a visiting professor at the National University Kyiv-Mohyla Academy, and a board member of the Amnesty International in Ukraine.
More than 7,000 Ukrainian service members missing
As of July 11, around 7,200 Ukrainian service members are reported missing, the Ukrainian Government's Commissioner on missing persons under special circumstances Oleh Kotenko told Suspilne in a comment. These are service members of various agencies including the border service and special operations force.    
Earlier reports from the Ukrainian Armed Forces said that as many as 2,000 service members had gone missing. "The Armed Forces of Ukraine, National Guard, Border Guard Service, Security Service – these are all different agencies. The Ukrainian Armed Forces only report their own numbers," the commissioner explained. The hotline of the Commissioner's Office received reports of around 7,200 service personnel missing.
Explaining Ukraine podcast. A shield of Kyiv: Chernihiv during the war
Chernihiv, a medieval city in Northern Ukraine, suffered heavily from Russian shelling and airstrikes in February and March. The city was without electricity and water for one month, and over 140 multi-storey buildings and over 2,000 private houses were damaged or destroyed. The number of dead could reach 1,000 people. If Chernihiv had fallen, the Russians were in position to take Kyiv next. We traveled to Chiernihiv, filmed the destruction, and talked to the local authorities and volunteers. – Hosts: Volodymyr Yermolenko, Ukrainian philosopher and journalist, chief editor of UkraineWorld.org, and Tetyana Ogarkova, Ukrainian scholar and journalist, in charge of international outreach at the Ukraine Crisis Media Centre.
Explaining Ukraine podcast. Ukrainians' new war tactics. Weekly digest, 3-10 July
Ukrainians are using Western-supplied high-tech weapons to destroy Russian ammunition stocks, thus undermining Russia's whole artillery-dependent warfighting strategy. We focus on this key development in this week's episode of the "Explaining Ukraine" podcast. Hosts: Volodymyr Yermolenko, Ukrainian philosopher and journalist, chief editor of UkraineWorld.org, and Tetyana Ogarkova, Ukrainian scholar and journalist, in charge of international outreach at the Ukraine Crisis Media Centre.
Ukraine and NATO partnership anniversary: joint achievements and challenges. Ukraine in Flames #121
While Russia is today's biggest threat to the whole civilized world, NATO stands with Ukraine and supports its sovereignty. Watch Ukraine in Flames #121 to learn how the relations of partnership between Ukraine and the alliance develop and how it helps Ukraine to conduct a defensive war.
Speakers:
Emine Dzheppar, First Deputy Minister of Foreign Affairs of Ukraine
Vineta Kleine, Director of NATO Information and Documentation Center in Kyiv
Baiba Braže, Assistant Secretary General for Public Diplomacy Karen McTear, Head of the NATO Representation in Ukraine
Volodymyr Ogryzko, Minister of Foreign Affairs of Ukraine (2007-2009)
Ivanna Klympush-Tsintsadze, Chair of the Committee on Ukraine's Integration into the EU
Valeriy Chaly, Chair of the UCMC Board, Ambassador Extraordinary and Plenipotentiary of Ukraine to the USA (2015-2019) 
How Ukrainian art rethinks Russian war. Ukraine in Flames #122
Ukrainian Kherson surviving Russian occupation. Ukraine in Flames #123