Ukraine marks 31st anniversary of independence
On August 24, Ukraine marks Independence Day as it also fights to protect its independence in the war with Russia. 
As of this writing, on Independence Day, an air raid alert was declared in Kyiv seven times. Throughout the day, Russian missile strikes hit Dnipro, military targets in Myrhorod, Poltava region, and Khmelnytskyi region. In Dnipro, two children were rescued from the rubble, and an 11-year-old child was killed. On Wednesday, an air raid alert was declared 10 times in Dnipro. Throughout the day, there were reports of Russian missiles shot down by Ukrainian air defense systems, in Cherkasy region, in particular.  
Ninety-three per cent of Ukrainians convinced Ukraine will win war with Russia, survey finds
Seventy-five per cent of Ukrainians say they are proud of their country, the survey "Identity. Patriotism. Values" conducted by the sociological group Rating on August 17 and 18 finds.
"Most of Ukrainians (75 per cent) say they experience feelings of pride while thinking of their country. They also feel sadness (29 per cent) and joy (26 per cent). About 10 per cent say they experience curiosity or fear," a statement released by the pollster says.
While thinking of themselves, equal shares of Ukrainians say they experience pride (34 per cent), sadness (31 per cent), curiosity (29 per cent), and joy (23 per cent).
Ninety-three per cent of Ukrainians say they believe that Ukraine will repel Russia's assault. About 60 per cent say Ukraine needs more time to win the war – more than a year (20 per cent), and six months to a year (40 per cent). A quarter of Ukrainians say the country will win the war in a few months.
Three-fourths of Ukrainians (74 per cent) say the country is moving in the right direction. Only 13 per cent say that Ukraine is on the wrong track. The same share of respondents found it hard to answer. This marks a rebound following a slight decrease in May.
Ukraine destroys Russian military equipment worth USD 16.6 billion – Forbes
In six months of Russia's full-scale war in Ukraine, Russia has lost 12,142 pieces of equipment worth USD 16.56 billion, excluding missiles, according to a calculation by Forbes Ukraine. The most significant loss of the Russian army was the sinking of the Moskva missile cruiser.
The Russian military's most valuable loss was the Moskva warship, the flagship of Russia's Black Sea Fleet, valued at USD 750 million that sank in April after being struck by Ukraine's Neptune missiles. The second most valuable loss is a USD 86 million Il-76 aircraft that the Ukrainian air defense forces shot down over Vasylkiv, in Kyiv region, in late February.
Third on the list is a USD 75 million amphibious assault ship Saratov. The Ukrainian troops struck the warship at the port of occupied Berdyansk as it delivered military equipment.
Apart from the Moskva warship, Ukraine destroyed Russian equipment and warships worth USD 165 million on and around the Zmiinyi Island, including air defense systems Tor, Pantsir and Strela worth more than USD 100 million.
In the past six months, Ukraine has sunk 15 Russian warships worth USD 82 million.
Russia has lost 234 aircraft worth USD 5.3 billion, the biggest share (32.1 per cent) in its overall losses.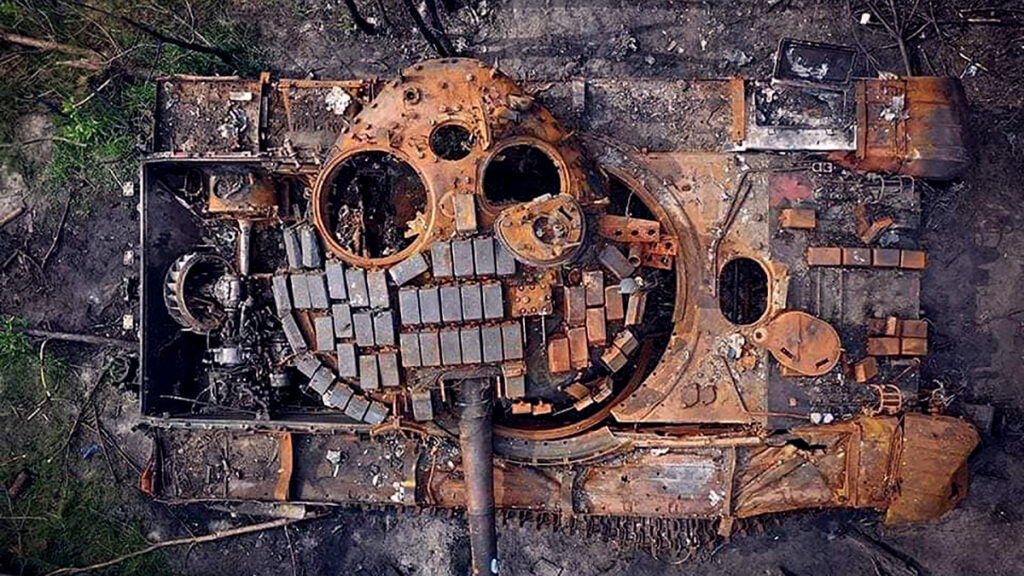 Explaining Ukraine podcast. Ukraine's independence: its origins and meaning
Ukraine celebrates its independence day. This is not a usual independence day. It is full of pain, destruction and death. But over 90 per cent of Ukrainians believe Ukraine will be victorious against the Russian invasion. In this episode of the "Explaining Ukraine" podcast we explain the origins and meaning of the Ukrainian independence. Hosts: Volodymyr Yermolenko, Ukrainian philosopher and journalist, chief editor of UkraineWorld.org, and Tetyana Ogarkova, Ukrainian scholar and journalist, in charge of international outreach at the Ukraine Crisis Media Centre.
Independence Day. When Ukraine was born as a nation? Ukraine in Flames #167
Today, Ukraine's Independence day is both historic and bittersweet. After the six months of the Russian large-scale invasion, the Ukrainians keep fighting for freedom and peace for future generations and the whole democratic world. Watch Ukraine in Flames #167 to know about the history of Ukrainian independence and what Ukrainian citizens are fighting for.
Speakers:
Serhii Plohii, Professor of Ukrainian History at Harvard University, Director of Ukrainian Research Institute
Oleksandr Zinchenko, historian, journalist at Suspilne TV