Ukrainian Armed Forces advance near Lyman
The Ukrainian troops continue to make gradual advances north of Lyman, creating a situation that is identical to the recapture of Izyum. The Ukrainian Armed Forces continue a counteroffensive near Lyman, in the area where the borders of Kharkiv, Luhansk and Donetsk regions meet.
The counteroffensive follows the Kypyansk offensive. The Ukrainian troops successfully forded the eastern bank of the Oskil River. They expanded the bridgeheads on the left bank despite Russia deploying large reserves of forces called up in the occupied regions of Luhansk and Donetsk, and battalion tactical groups of the regular army. According to Ukrainian military analysts DeepState and the Institute for the Study of War, and geolocated photos and videos, the Ukrainian Armed Forces successfully advance from Lozove toward Novolyubivka aiming to reach the Zherebets River.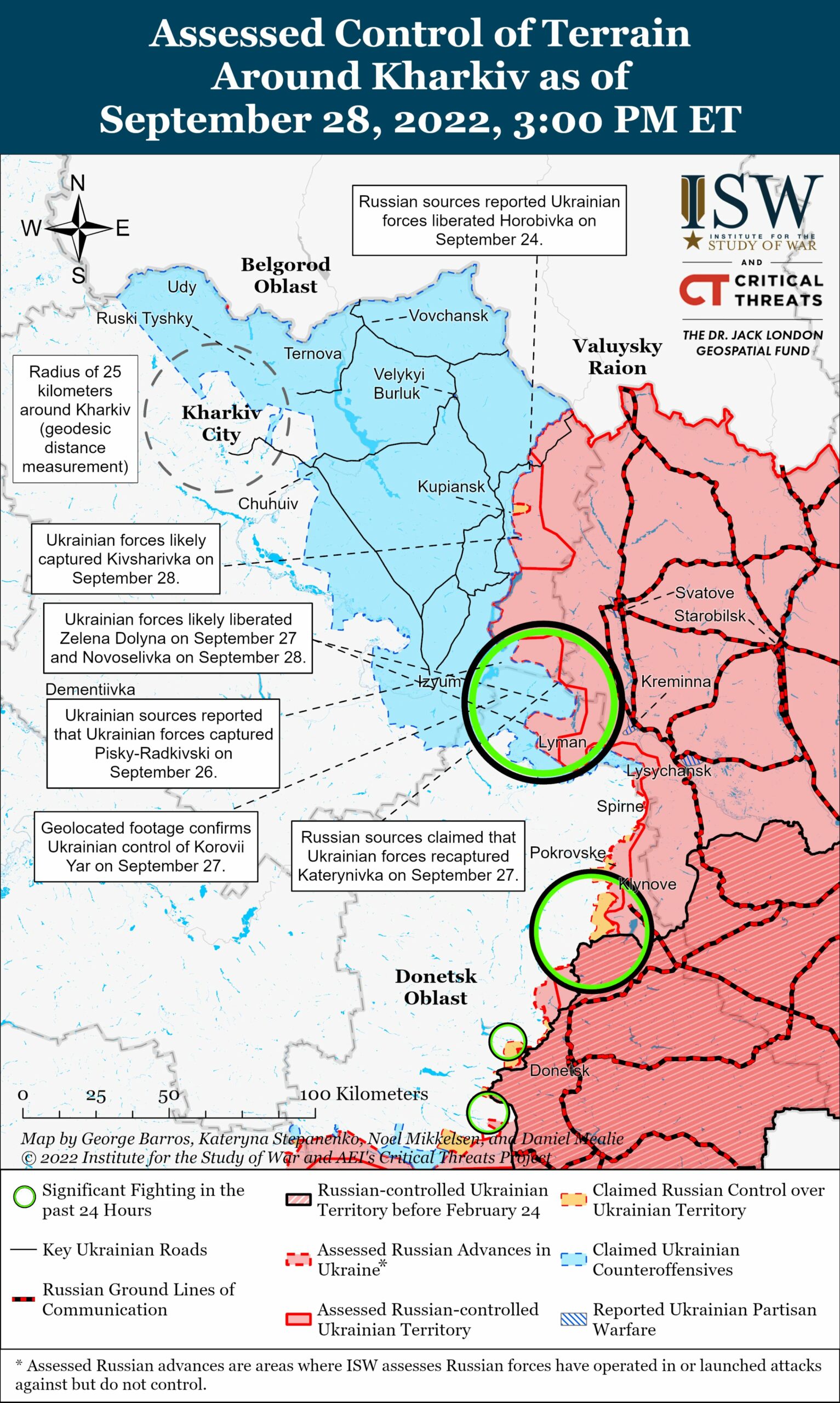 EU sets out eighth package of sanctions against Russia
The European Commission proposed the eighth package of sanctions against Russia over its invasion of Ukraine and the sham referenda in the occupied territory. European Commission President Ursula von der Leyen and EU foreign affairs chief Josep Borrell announced the proposal in Brussels on Wednesday. The sanctions will introduce new import bans on Russian products and will deprive Russia of an additional EUR 7 billion in revenues.
The European Commission is proposing to extend the list of products that cannot be exported to Russia, including additional aviation items, electronic components and specific chemical substances. The European Commission also proposed the legal basis for a price cap on Russian oil.
U.S. tells its citizens to leave Russia
The U.S. Embassy in Russia urged the Americans to leave Russia immediately. "U.S. citizens should not travel to Russia and those residing or travelling in Russia should depart Russia immediately while limited commercial travel options remain," the statement reads.
The U.S. Embassy has severe limitations on its ability to assist U.S. citizens, it also said.
Ireland Supports Ukraine. Ukraine in Flames #201
Ireland and Ukraine have more in common than just the number of letters in their names. Both countries spent centuries under the rule of their neighbor, both had their national language risk extinction, and both are independent and democratic states these days. But how is Ireland supporting Ukraine since Russia's full-scale invasion? In Ukraine In Flames #201 we talk to prominent political and diplomatic figures in Ireland to answer that question.
Speakers:
Larysa Gerasko, Ambassador Extraordinary and Plenipotentiary of Ukraine to Ireland
Charlie Flanagan, chair of All-Party Parliamentary Committee on Foreign Affairs and Defence in Ireland
Garret Ahearn, Senator for the Administrative Panel in Ireland