Zelenskyi visits Ukrainian troops in Bakhmut
On Tuesday, December 20, Ukrainian President Volodymyr Zelenskyi made an unannounced visit to Bakhmut, in Donetsk region – a site of some of the fiercest battles. He met with the Ukrainian troops defending the city. 
On the 300th day of Russia's invasion, Zelenskyi visited frontline positions of a mechanized brigade in Bakhmut that defends approaches to the city, the Office of the President said. A commander reported to the President on the operative situation and supply of the troops, making several suggestions for future actions.
The President thanked the Bakhmut defenders for courage, resilience and firmness that they demonstrated. Zelenskyi gave them state awards. He awarded members of the mechanized and motor infantry, mountain assault, tank, artillery and airmobile units.
"Ukrainian service members are defending our lives. We, too, sometimes must risk our lives to support our guys," the President said, speaking to journalists after his visit to Bakhmut. "I think that's fair," he added.
By the time the news surfaced of the President's visit to Bakhmut, he was already gone. 
© facebook.com/president.gov.ua
Ukraine is The Economist's country of the year for 2022
In normal times, picking The Economist's country of the year is hard, but this year the choice is obvious, the publication said.
"It can only be Ukraine," The Economist proceeds. Four of their qualities stand out – heroism, ingenuity, resilience, and being inspiration to oppressed people everywhere. In defending themselves against an aggressor, the Ukrainians found a new sense of nationhood.
Ukrainians have shown that lies can be exposed and terror can be resisted, The Economist said.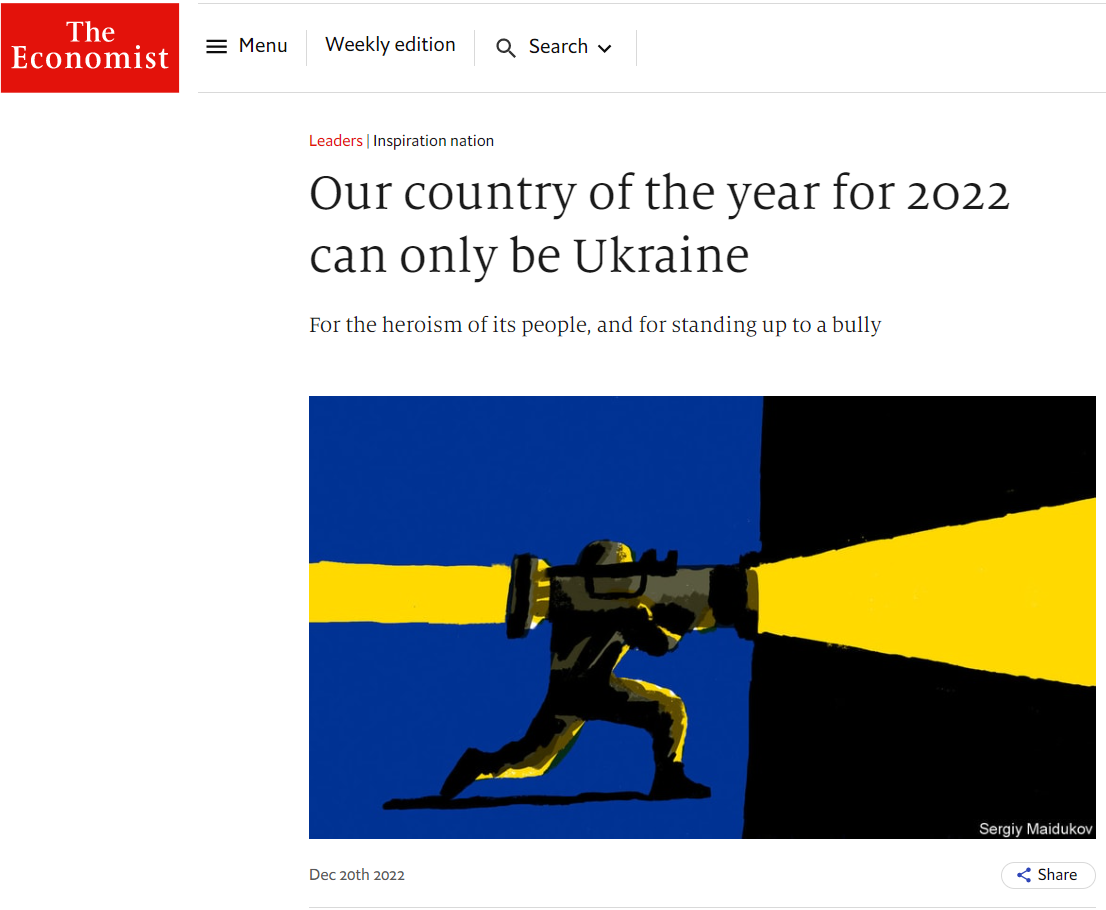 Russia may try to plunge Ukraine into darkness ahead of New Year's Eve, Ukraine's PM says
Russia may strike Ukraine's energy facilities again soon, for the New Year to take place in darkness, Ukrainian Prime Minister Denys Shmyhal warned. The government wants to bring the number of "invincibility centers" to 15,000, increasing them three times, he said.
"Russian terrorists will do everything to leave Ukrainians without electricity for the New Year. It is important for them for Christmas and the New Year to take place in darkness in Ukraine. That's why we should prepare for new attacks," Shmyhal said, speaking at a cabinet meeting.
"As the energy system comes under attack almost every day, it is impossible to give forecasts of when the stable power supply will resume," the Prime Minister said. "Local authorities should not create inflated expectations either," he added.
"Along with the attack on our energy sector, Russia is conducting information and psychological operations to sow panic and despair," Shmyhal said.
Podcast Explaining Ukraine. Malevych: a symbol of the Ukrainian avant-garde art | Discovering Ukrainian culture # 3
Kazymyr Malevych was one of the most influential artists of the 20th century. His Black Square and other paintings revolutionized the avant garde art of the early 20th century. He was born in Kyiv to a Polish family, and his style and thinking were inspired by Ukrainian folk art, but he is still presented worldwide as a Russian artist. In this episode, we will try to show you why Malevych should be seen in the Ukrainian context. – Hosts: Volodymyr Yermolenko, Ukrainian philosopher and journalist, chief editor of UkraineWorld.org, and Tetyana Ogarkova, Ukrainian scholar and journalist, in charge of international outreach at the Ukraine Crisis Media Centre.
NATO and security guarantees for Ukraine. Ukraine in Flames #285
How and when will Ukraine be accepted to NATO? Ambassador of Ukraine to the United States (2015-2019) Valeriy Chaly, philosopher Yevhen Bystrytskyi, Mykola Beleskov from the National Institute for Strategic Studies, Oleksandr Khara from the Center for Defense Strategies, and Rostyslav Balaban from the Ivan Kuras Institute of Ethnic and Political Studies of the National Academy of Sciences of Ukraine discuss.