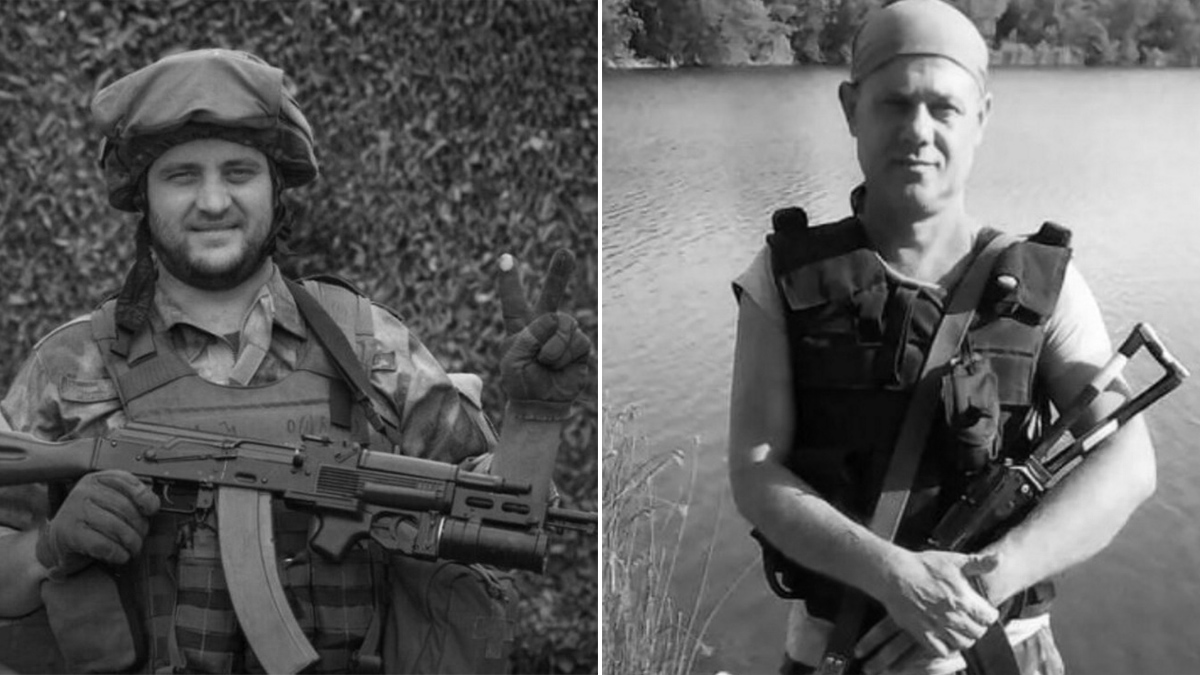 This is a summary of the original article by Novynarnia.
The war continues. During June, the Russian occupants fired 196 shelling attacks on the Ukrainian Armed Forces positions in the Donetsk and Luhansk regions. The Joint Forces Headquarters recorded 16 other violations of the "ceasefire regime" – flights of enemy UAVs (unmanned aerial vehicles). Two Ukrainian soldiers were killed and nine received battle injuries.
The number of dead and wounded is the lowest since the beginning of 2021. But the grief of deaths is enormous, despite their number. For families, friends, colleagues, for all who knew the two warriors and respect their heroic act.
Volodymyr Bielov "Peacemaker"
Sergeant Volodymyr Bielov was born on July 28, 1984, in Kazakhstan. In 1993, he moved with his parents to Ukraine, to the village of Zabiria, Fastiv district of the Kyiv region, where he later lived. He entered the Aviation University, then worked in the housing and public utility sector, and was fond of electronic music.
And since 2015, the fronts of the Russian-Ukrainian war have become the place of Volodymyr's permanent "residence". He survived many flashpoints of this conflict: Mykhailivka, Pisky, Zaitseve, Hranitne, Chermalyk, Vodiane.
Volodymyr Bielov, a serviceman of the 128th Separate Mountain Zakarpattia Brigade, professionally approached the performance of combat missions. No wonder he was appointed as senior at the platoon stronghold.
"He always thought through every detail: the location of firing points, observation posts, everything related to logistics and hostile encounters. It is difficult to find a more responsible and clever soldier," Bielov's comrade-in-arms Yurii Moskalenko told ArmyInform.
According to him, Volodia was a "man of war" – in the good sense of the word: a brave warrior, a great tactician, a patriot of Ukraine. He dreamed of victory and constantly evolved as a warrior.
"Volodia was very positive and cheerful, sometimes even too much. It was impossible not to make friends with him. And this is not the main thing. The main thing is that he was reliable in everything. This is the person you could always count on," said the friend of the deceased.
Sergeant Bielov died on June 11 at about 3:45 p.m. near the village of Vodiane in Pryazovia. On that day, Russian hybrid forces opened fire four times on the positions of the Armed Forces – from grenade machine guns, hand-held anti-tank, rifle-attached grenade launchers, and large caliber machine guns. Volodymyr received a fatal shrapnel wound…
The soldier was buried in Zabiria.
His father, brother and sister remain behind.
Andrii Honar
Senior soldier Andrii Honar was at war since 2015 – he was first mobilized, and later signed a contract with the Armed Forces.
Andrii was born on August 14, 1969 in Kryvyi Rih, Dnipropetrovsk region. He worked as a driver at various enterprises – at the bus depot, at the plant "Communist" and more. He was fond of cars and hunting. And he loved fishing so much that even at the front he found time for his favorite hobby. His comrades say that they often treated themselves to fried fish, just caught by Andrii Mykolaiovych.
Andrii Honar's personal life did not work out, but his three wonderful children remain: an adult son and daughter from the first two marriages and an 11-year-old daughter from the third one. According to the fighter's 23-year-old son Vitalii, after the compulsory military service he also wanted to sign a contract and serve with his father, but he did not allow it.
Andrii himself, having served a year after being mobilized, returned home. He found a good job as a personal driver of the company's director. But he confessed to his comrades that he felt being pulled back to the front, where his friends remained, where "everything was easier and clearer". So, in the end, he signed a contract and returned to the army – in the 128 Mountain Assault Brigade.
At the end of the contract he tried again to adapt to civilian life. However, this time he could not resist the call of war too, and went to serve under contract in the 58th Motorized Infantry Brigade named after Hetman Ivan Vyhovsky. He was a senior soldier, senior driver of a motorized infantry company.
Andrii Mykolaiovych had about a day or two before the end of his contract, when early in the morning of June 11, enemy troops fired mortars and other weapons on Ukrainian positions near the village of Pisky in the Donetsk region. A 51-year-old fighter died on the spot from a shrapnel wound.
He is buried in Kryvyi Rih.
Andrii is survived by three children and a sister.
* * *
In June, several Ukrainian soldiers died who had been severely wounded at the front in previous years. In particular, it is Roman Kubyshkin – a volunteer of the Right Sector Ukrainian Volunteer Corps, who received a head injury in the village of Pisky in the winter of 2015.
May the memory of the fallen defenders live forever.