This is a summary of the original article by Novynarnia.
Ukrainian soldiers keep fighting and dying in the 8th year of war with the Russian aggressor in the occupied territories of Donbas. In March 2021, nine soldiers gave their lives for freedom, independence and territorial integrity of Ukraine.
It was a hot month. According to official reports alone — 244 shelling attacks by the enemy. The highest figure since July last year, when the "comprehensive ceasefire" began, of which there is no longer even a trace.
Not a single day of the month went by without shelling attacks. Mortars are constantly working, not to mention the infantry weapons.
17 soldiers received battle injuries.
Russian snipers became a real curse of March for defenders of Ukraine. Seven soldiers were killed by their bullets. Two more died in battles from shelling with various weapons.
All the soldiers were killed as the result of hostilities in the Donetsk region. Six of them took their last battle in the area of ​​Shumiv and Pivdenne, between Toretsk and occupied Horlivka.
Volodymyr Onopriienko
"Kind, honest, sincere, hardworking, a true patriot," those who knew him, have only the best memories about 43-year-old Volodymyr.
He was born on May 25, 1977 in Drabiv, Cherkasy region. Volodymyr graduated from a local school, was noted for his diligence, was interested in technology and cars. In 2017, he went to war to defend Ukrainian land from the occupants.
He first served under contract in the 72nd Separate Mechanized Brigade named after the Black Zaporizhian Cossacks.
In April 2020, senior soldier Onopriienko signed a new contract, this time joining the 24th Separate Assault Battalion "Aidar" of the 53rd Brigade. He served as a commander of the combat vehicle.
Late in the evening on March 10, during the shelling of the Armed Forces positions near Starohnativka by the occupants, Volodymyr received a severe bullet wound. Military medics managed to give him first aid, but, unfortunately, they failed to save the soldier's life.
Volodymyr Onopriienko's contract was about to expire just three weeks later…
The soldier was buried in his native village of Drabiv.
He is survived by his mother, wife, daughter and young grandson.
Oleksandr Pekur
Olexandr was born on November 17, 1990 in the Kyiv region — in the village of Hurivshchyna, now Bucha district.
He graduated from school, went to study in Kyiv, received a professional education as an electrician.
Olexandr served in the military service. In 2015, he was mobilized and immediately got to the "hot" front, near Zaitseve. And so he remained in the army.
As a senior soldier, he served as the service number of the fire support platoon grenade launcher squad of the 54th Separate Reconnaissance Battalion Fire Support Company.
"He was hardworking, enjoyed authority with the team," — says Olexandr's comrade, Mykhailo.
Anatolii, with whom they fought together under Zaitseve in 2015, was next to Olexandr also at the positions of the 54th Separate Reconnaissance Battalion near Mariinka on that fateful day, March 12.
"We were on static duty together during his shift. Olexandr was just about to be replaced… and it happened. There are shelling attacks, snipers. He went out to see where the shelling was coming from — and a sniper lured him," says Anatolii.
Oleksandr Pekur dreamed of starting his own family after returning from the war but did not see the victory…
Olexandr was buried in the Guriv region.
He is survived by his mother, grandmother and brother.
Viktor Pasieka
"Uncle Vitia" — so lovingly 55-year-old Victor Pasek was called by the fellow soldiers, for whom he was like a father. Not only because of his age (although many colleagues were really young enough to be his sons and daughters) — he was caring, ready to share experiences and help not only with wise advice, but also with deeds.
Viktor was born on June 8, 1965 in the village of Monchyntsi of Krasyliv district, Khmelnytskyi region. He lived in Khmelnytskyi, where he worked for many years as a trolleybus driver at the Khmelnytskelektrotrans utility company. Ludmyla Drozda, the deputy head of the depot, says that he had remarkable driving skills, was very kind, always smiling, and never had conflicts with anyone. When Viktor went to war two years ago, he simply confronted everyone with the fact, "The situation now is such that I have to be there."
At the enterprise, his return was long awaited — everybody was literally counting the days till the man's contract expiration.
Junior Sergeant Pasieka served in the 109th Separate Mountain Assault Battalion, which is part of the 10th Separate Mountain Assault Brigade, as commander of the combat vehicle — commander of the 2nd Mountain Assault Company.
"He was a wonderful, kind and sensitive person. He adored his grandchildren, loved his daughter, and constantly talked about them. How he played with them, how they ran, flew, fell into each other's arms when meeting his grandfather… In August 2021 he planned to resign, he wanted to be with his grandchildren Artem and Vladyslav, to see how they grow up and mature," says the Chief Sergeant of the 3rd Mountain Assault platoon Denys. He recalls, "On his last day, he cooked a delicious Ukrainian borscht for our platoon, but he never tasted it himself."
Uncle Vitia never returned home to his dearest ones. At about 12 o'clock on March 18, the enemy fired at the positions of the 10th Separate Mountain Assault Brigade near the Pivdenne with large-caliber machine guns, grenade launchers, mortars, and automatic weapons… A bullet wound to the head received in that battle was fatal to the commander Pasieka.
Viktor Stepanovych was buried in the Alley of Glory of the city cemetery in Khmelnytskyi.
He is survived by a daughter and two grandchildren.
Andrii Hrabar ("Tanchyk" / "Mamai")
Andrii was 25. He was born on September 14, 1995, and lived in Mykolaiv. Tall, strong and intelligent, he was at the same time very modest and did not like to brag about his own successes. They say, this trait is characteristic of many successful IT specialists.
The military news agency ArmyInform managed to learn the most about the marine soldier, whose correspondent Anastasiia Olekhnovych interviewed the junior sergeant at the end of 2020.
Andrii served in the 36th Separate Marine Brigade named after Rear Admiral Mykhailo Bilynskyi.
"Tanchyk" never climbed into the video camera and did not brag about his military career, so he hardly talked about himself during the conversation. More about his comrades, how important it is to save their lives so that everyone can return home alive, and about the Marine Oath, which is not always compatible with the terms of the ceasefire…," the journalist recalls.
"My story is not special at all, it is similar to the stories of other marines. The war started — I went to defend the country. How would I continue programming in Mykolaiv in such conditions?," said Andrii in December 2020.
On March 19, 2021, Russian mercenaries fired at Ukrainian army positions near Vodiane with 120-caliber mortars and grenade launchers of various systems prohibited by all agreements. Having penetrated both the embankment and the ceiling of the observer, where Andrii Hrabar was keeping watch, the enemy mine did not leave the soldier any chance to survive. Shortly before that, he just returned from vacation…
Kyrylo Bykovskyi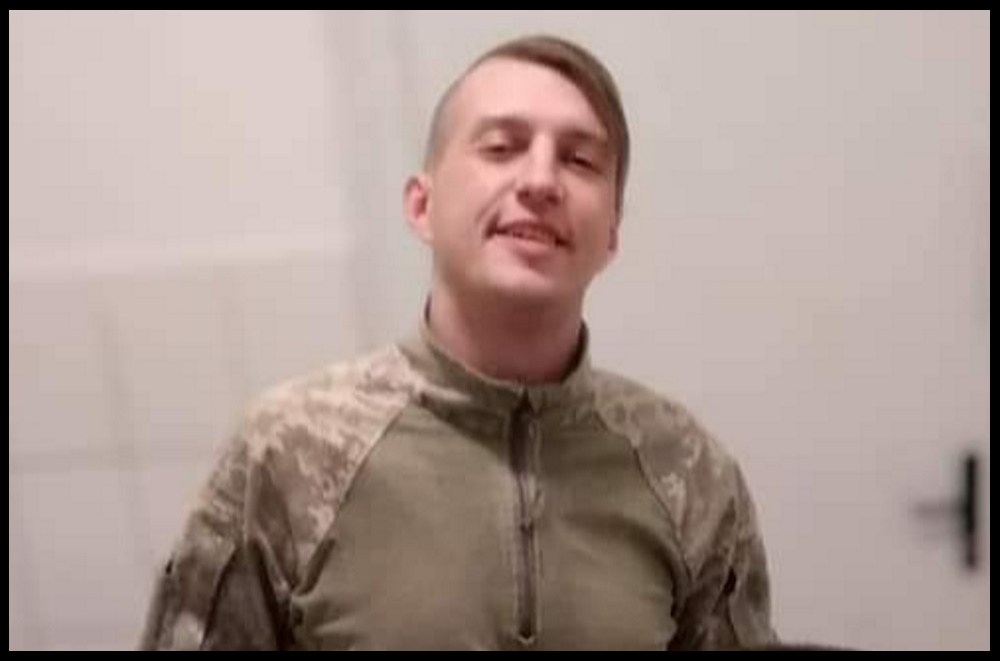 Kyrylo was born on May 17, 1992 in Kropyvnytskyi. Since childhood, he dreamed of becoming a soldier. And he realized his dream: after graduating from a higher vocational school №4, in 2011 he signed a contract for service in the Armed Forces of Ukraine.
He later returned to civilian life. Kyrylo helped his father-in-law on the farm. "He worked with me – we raised pigs. He was very hardworking, kind, honest. He never said a bad word to anyone. We all loved him very much. It so happened that he left. I begged him: don't go, son, you are a young man. You can see what is happening — the state does not need this war," says the soldier's father-in-law Viktor Pysarenko.
But Kyrylo did not think that this war was "unnecessary."
Soldier Bykovskyi has been at war since 2018. Gunner of the 109th Separate Mountain Assault Battalion of the 10th Separate Mountain Assault Brigade.
"We were then on the Azov Sea, Mariupol direction. He came — and immediately asked to be sent to the frontline. We decided that he would serve in the third company. Kyrylo was well-known by the whole branch, because he was a flamboyant person. He never backed out, liked to laugh, joke, help. He never said that he would not do something, I never heard from the commanders that anyone complained about him," said Ivan Mazur, deputy commander of the A3892 military unit.
Kyrylo died on March 20 near Shumiv in Donetsk region. During a mortar attack on the positions of the Armed Forces, an enemy sniper hit him with a large-caliber bullet. Comrades and a military medic managed to provide first aid and even evacuate wounded Kyrylo from the battlefield.
"He was still conscious, alive. And when he was brought, we were called and told that Kyrylo was gone… We were all shocked, we couldn't realize what had happened, "said Oleh Kovtuniuk, who was among those who took Kyrylo out of the fire.
Kyrylo Bykovskyi was buried in the Alley of Glory at Rivnianske Cemetery in Kropyvnytskyi
He is survived by a mother, two sisters, and a son.
Serhii Koval
The Russian occupants, contrary to the terms of "additional measures on the ceasefire", insidiously mined the positions of the 10th Mountain Assault Brigade of the Armed Forces near the village of Shumy. As a result of sniper, four Ukrainian soldiers were killed while performing tasks in this area, Serhii Koval being one of them.
Serhii was born on August 30, 1977 in the village of Rykhta, of Kamianets-Podilskyi district, Khmelnytskyi region. He lived in Kamianets-Podilskyi, graduated from the local military engineering institute, specializing in demining. He made his way from the commander of the Demining Platoon to the commander of the Search and Improvised Explosive Ordnance Disposal Unit. He participated in peacekeeping operations.
"We served together at the Demining Center, were friends for about ten years," said his immediate commander, the head of the demining center, Lieutenant Colonel Oleh Hoptii. "He replaced me in Afghanistan on rotation. I know him as a high-class specialist, a good leader, an experienced sapper. He is one of the best commanders of combat units that perform military missions in eastern Ukraine for demining areas from explosive hazards and improvised explosive devices. During his service, Lieutenant Colonel Koval created one of the best combat teams of the demining center."
"He was a model officer, a real professional. A role model for subordinates and a master of combat engineering. We will always remember him smiling, sincere, kind, reliable and fair," sighs the deceased's godfather, Oleksandr Kolos, who has been his close friend for 27 years, since his studies.
Serhii Koval has been participating in the Anti-Terrorist Operation/Joint Forces Operations since the first days of the Russian-Ukrainian war.
The officer was buried in the Alley of Glory of Kamianets-Podilskyi Cemetery.
He is survived by his wife, 4-year-old daughter and 17-year-old son.
Serhii Barnych
Edelweiss sapper Serhii Barnych was in the first group to inspect the mined area near Shumiv and was shot dead by Russian snipers on March 26. Lieutenant Colonel Serhii Koval tried to evacuate him, but he also died.
Serhii Barnych was born on January 11, 1974 in the city of Kalush, Ivano-Frankivsk region. He graduated from Kalush Chemical Technology College with a degree in electrical engineering. Since 1993, he worked in the then factory of "Chlorvinil" (with a break for military service).
"Very friendly, smart, hardworking and fair. He loved his parents very much," the neighbors say about the man.
In 2010, Serhii was appointed foreman of the Karpatnaftokhim electrical shop. He held this position until 2015, when he was mobilized.
A year later, after demobilization, Barnych returned to work. But literally a few months later he realized that the call for war was too strong and soon returned to military service, signing a contract with the Armed Forces.
Senior soldier, sapper of the 109th mountain assault battalion of the 10th regiment, was awarded the medal "For Dignity and Patriotism" in December 2020 .
The soldier was buried in Kalush.
His parents remain behind.
Maksym Abramovych
Senior sergeant, serviceman of the 109th Separate Mountain Assault Battalion of the 10th Separate Mountain Assault Brigade, Maxym Abramovych celebrated his birthday on March 17 — he only turned 27.
He was born in 1994 in the city of Dubrovytsia, Rivne region. Childhood friends say that Maxym was always ready to come to the rescue and support, as he was engaged in combat hopak and sword fencing. Everyone who knew him remembers the boy as a very cheerful and positive person.
After school, Abramovych entered the Kharkiv National University of Internal Affairs, but in 2017 he interrupted his studies, signed a contract with the Armed Forces and went to war.
After completing a three-year contract in 2020, Maxym returned home, where his only son was so awaited by his mother. But in December of the same year he again made a stand for the Motherland, signing a new contract with the "edelweisses".
He was given the President of Ukraine's "ATO Member" award and the medal "For Valour and Loyalty".
On March 26, near Shumy, Maksym was in the second group of "edelweisses", which was to provide support to the first four sappers (Koval, Barnych — killed, Bruska, Heshchuk — wounded). But both Abramovych and his partner Haichenko were shot in cold blood by enemy snipers.
Maksym Abramovych was buried in his native Dubrovytsia.
He is survived by his mother.
Serhii Haichenko
Serhii Haichenko was born on September 9, 1993 in the village of Mykhailivka, of Synelnykove district, Dnipropetrovsk region.
After graduating from the Dnipropetrovsk Technical School of Railway Transport in 2012, Serhii worked as an electrician in a locomotive depot.
Serhii went to military service under a contract in 2015. He served as a grenade launcher in the military unit A0222 — a separate presidential regiment named after Hetman Bohdan Khmelnytskyi.
On August 24, 2016, Soldier Haichenko received a letter of gratitude from the Minister of Defense for active participation in preparing and holding a parade of troops on the occasion of the 25th anniversary of Independence in Kyiv.
And on September 20, 2019, he was again called up to the Armed Forces by the Synelnykove military enlistment office under a contract. This time — in the 10th Separate Mountain Assault Brigade.
Serhii went through three rotations in the Anti-Terrorist Operation/Joint Forces Operations. He served as commander of a combat vehicle — the mountain assault division commander of the mountain assault company mountain assault platoon.
On March 26, in the Shumiv area, Serhii Haichenko and Senior Sergeant Maksym Abramovych came to the sappers' aid… and also died from a bullet wound inflicted by an enemy sniper.
"He (Haichenko) was well known to the whole branch, because he was a very friendly man," says Serhii's colleague Ivan Mazar. "On that unfortunate day, his comrade-in-arms was killed. Together they tried to pull the wounded off the battlefield, but the enemy did not allow anyone to be pulled out for two hours."
Senior soldier Haichenko was buried in his native Mykhailivka.
Parents and a younger brother remained behind.