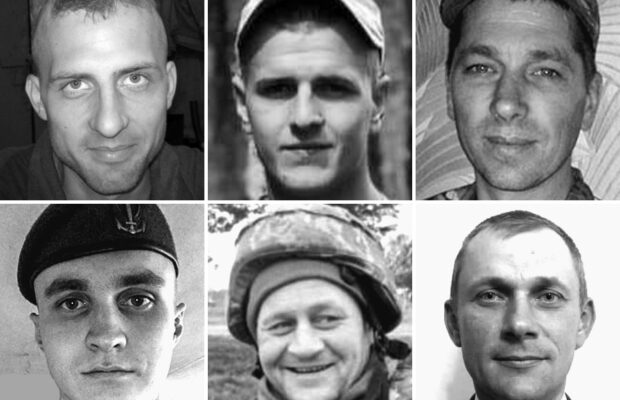 This is a summary of the original article by Novynarnia.
This May, six defenders of Ukraine lost their lives as a result of Russian aggression.
Dmytro Tovchyhrechka, Serhii Korobtsov, Yurii Opryshko, Viktor Horodnichenko, Pavlo Kolesnyk, Maksym Polovyi. Three soldiers, two sergeants, one officer. The oldest was 42 years old, the youngest – 22.
Two irreversible losses in the 58th Motorized Infantry Brigade, one each in the 81st Airmobile Brigade, the 53rd and 93rd Mechanized Brigades, and the 128th Mountain Assault Brigade. One soldier died in the Luhansk region, the rest – in the Donetsk region.
At least three soldiers were killed by the bullets of Russian snipers.
Two fighters died in hospitals from serious injuries received in April.
Another 14 soldiers were wounded in May.
The Joint Forces Press Center also reported 284 shelling attacks, slightly less than in April (315), but at the level of last spring, when the ceasefire was constantly violated by the Russian hybrid forces as well.
Dmytro Tovchyhrechka
Dmytro was born on February 28, 1984 in Kryvyi Rih. He received a secondary special education, worked for almost 20 years as a gas miner.
He was fond of fishing, proudly posting his catch on social media pages.
In January 2021, Tovchyhrechka signed a contract for service in the Armed Forces.
Senior soldier, mechanic-driver of the Mechanized Battalion, 93rd Independent Kholodnyi Yar Mechanized Brigade.
This spring was his first rotation to the frontline, in the Donetsk region.
Comrades-in-arms say that Dmytro was not talkative, but never refused tasks. "It is clear that he was worn down by life," said a fighter with the call sign "Tykhon".
"I felt the resilience of this man because I was in our team for a really short time. But all the comrades felt this ability to keep his word. He said something – and he did it as best he could. This stability is needed in the army today, the soldiers need it," said the military chaplain of the brigade, Oleksandr Karapetian.
Dmytro was killed in a shooting attack from RPGs and small arms. Multiple shrapnel wounds did not leave senior soldier Tovchyhrechka a chance at life.
Dmytro was buried in Kryvyi Rih.
He is survived by his mother and wife.
Serhii Korobtsov
Serhii was 22. He was born on July 2, 1998 in Korosten, Zhytomyr region.
"He was a very well-mannered, very polite child," recalls Halyna Nyzhnyk, principal of the Educational Complex 12, which Korobtsov graduated from.
According to her, the boy decided to become a soldier at school – he sought to protect his homeland (even though it was before the war).
According to the soldier's relative, Oleksii Lytvynchuk, Serhii first went to do the compulsory military service and later decided to sign a contract with the Armed Forces. After completing the courses for UAV operators, he joined the 58th Independent Motorized Infantry Brigade.
"He loved life, he loved people. But he cast in his lot with the military service. This was his first rotation…" – sighs Lytvynchuk.
Korobtsov served four months at the frontline. Another month later he was supposed to go on vacation. His young wife and two-year-old son were waiting for him at home.
But on May 6, an enemy sniper fired on the positions of the Armed Forces near the village of Pisky in the Donetsk region. The bullet hit Serhii in the head.
"He had a severe injury – the upper part of his head was practically demolished," said Lytvynchuk.
Serhii Korobtsov was buried in the village of Ushomyr near Korosten.
He is survived by his wife and young son.
Yurii Opryshko "Bonia"
Junior Sergeant of the 24th Separate Assault Battalion "Aidar", 53rd Separate Mechanized Brigade, Yurii Opryshko regained almost a month from death. "People do not survive from such injuries. But he tried, because he knew that a family, a wife and two children were waiting at home," his comrades-in-arms say.
Yurii was born on November 12, 1978 in the village of Yalynka, Kremenchuh district, Poltava region.
In 2015, Opryshko was mobilized. After serving a year, he returned home. He married for the second time, and a daughter was born (Yurii has an adult son from his first marriage). But he realized that he could not "sit the war out in the rear" all the time, when it was going on "somewhere there". And in 2019 he returned to the army – this time under contract.
He served in the Aidar Assault Battalion as chief sergeant of the assault platoon.
"Yurii was a very nice person, a strong warrior and a good friend," they said at the battalion.
Opryshko was fatally wounded in the back of the head on his last day at the frontline. It happened on April 9 near Starohnativka in Donetsk region.
Despite a serious injury, Bonia fought for his life to the last. First – in a hospital in Mariupol, then – in Lviv hospital. His wife was always nearby.
Unfortunately, on May 7, the heart of the 42-year-old soldier gave out and stopped.
Yurii was buried in Yalyntsi.
He is survived by his wife, 4-year-old daughter and 20-year-old son.
Viktor Horodnichenko "Vitiamba"
Viktor Horodnichenko is a senior soldier, senior gunner of the Grenade Launcher Division, Fire Support Platoon, Airborne Assault Company, 5th Battalion-Tactical group, 81st Separate Airmobile Brigade.
He was born on February 19, 1996 in the village of Pokrovska Bahachka in Poltava region. He lived in Romodan, Myrhorod district.
After the ninth grade of the village school, he entered the Kremenchuh Military Lyceum – "to be a pilot".
"Viktor did not look for easy ways in life. Following the example of his older brother Mykola, he also planned to dedicate his life to military service and strived for it. In the hour of distress for his country, he did not hide from trials but without hesitation joined the ranks of defenders of its Independence," confirms the former principal of the Kremenchuh Lyceum, Colonel of the Reserve Volodymyr Poliakov.
Horodnichenko was called up for military service in 2016. After serving three years in the 36th Marine Brigade, he joined the assault troops.
On April 28, 2021, near Zaitseve in the Donetsk region, Viktor was shot by an enemy sniper. The bullet hit below the bulletproof vest, piercing the abdomen.
"The evacuation was very quick. The operation took place in Bakhmut for eight hours. Then Viktor was taken to Kharkiv," said Petro Hots, deputy commander of the military unit.
Viktor died at a hospital in Kharkiv a week and a half after his injury on May 8.
The soldier was buried in Myrhorod on the Alley of Heroes of the city cemetery.
His mother, brother, wife and daughter are left behind.
Pavlo Kolesnyk
Pavlo was born on March 23, 1982 in the village of Nove (now Sednivka amalgamated territorial community, Chernihiv district) in the Chernihiv region.
The villagers say that Pavlo was very hardworking, kind and masterful. He worked as a tractor driver.
He was at the frontline for the first time as mobilized. And for the second time he joined the army by his own initiative – in September 2019 he signed a contract for service in the Armed Forces.
Pavlo was a sergeant, senior driver of the Motorized Infantry Company, 58th Separate Motorized Infantry Brigade named after Hetman Vyhovsky.
"A man who has been fighting for a long time, had a lot of experience, and was of reliable help for the commander. A few days ago, Pavlo and I were talking, joking, discussing domestic issues, and literally half an hour later he went to combat duty. At 6:10 p.m., we received a report that a bullet from an enemy sniper had taken the life of our comrade," Viacheslav Savratskyi told the fellows of the fallen soldier.
Sergeant Kolesnyk died near Donetsk on May 13.
The soldier was buried in his native village Nove.
He is survived by his wife and 16-year-old daughter.
Maksym Polovyi
Major, Deputy Commander of the 15th Separate Mountain Assault Battalion, 128th Transcarpathian Brigade, Maksym Polovyi has been fighting for Ukraine since the very beginning of the Russian aggression in 2014. He fought for Luhansk airport, Debaltseve, Starohnativka, Novotoshkivske, Pobeda and other settlements in the east. He was wounded during a shelling attack near Stanytsia Luhanska. But after the treatment he returned to the army – he was not going to go on vacation until the victory.
Maksym Polovyi was born on December 18, 1984 in the village of Yukhymivka, Volochysk district, Khmelnytsky region.
Maksym lived in the village of Narkevychi, where he finished school. Maksym's class teacher Tetiana Kravchuk says that the boy loved to study and dreamed of becoming a soldier since childhood.
"He was very kind, always fair. In the first years after school, we corresponded with the whole class – there were no mobile phones then, nothing. We still have those letters, he could always joke, and he wrote a lot," recalls Maksym's classmate Olha Shevchuk.
"People like him are a gold standard of an officer in terms of his respect of duty. Honest, fair, principled, demanding of himself and his subordinates, a good family man," said Lieutenant Colonel Andrii Hruzintsev, Deputy Commander of the 128th Mountain Assault Brigade.
Major Polovyi died on the morning of May 27 as a result of a fatal bullet wound inflicted by a Russian mercenary sniper near Novotoshkivske in the Luhansk region.
The deputy commander was buried in Narkevychi.
He is survived by his parents, brother, wife (also a servicewoman) and two sons, aged 11 and one.
May the memory of those who died for Ukraine live forever.