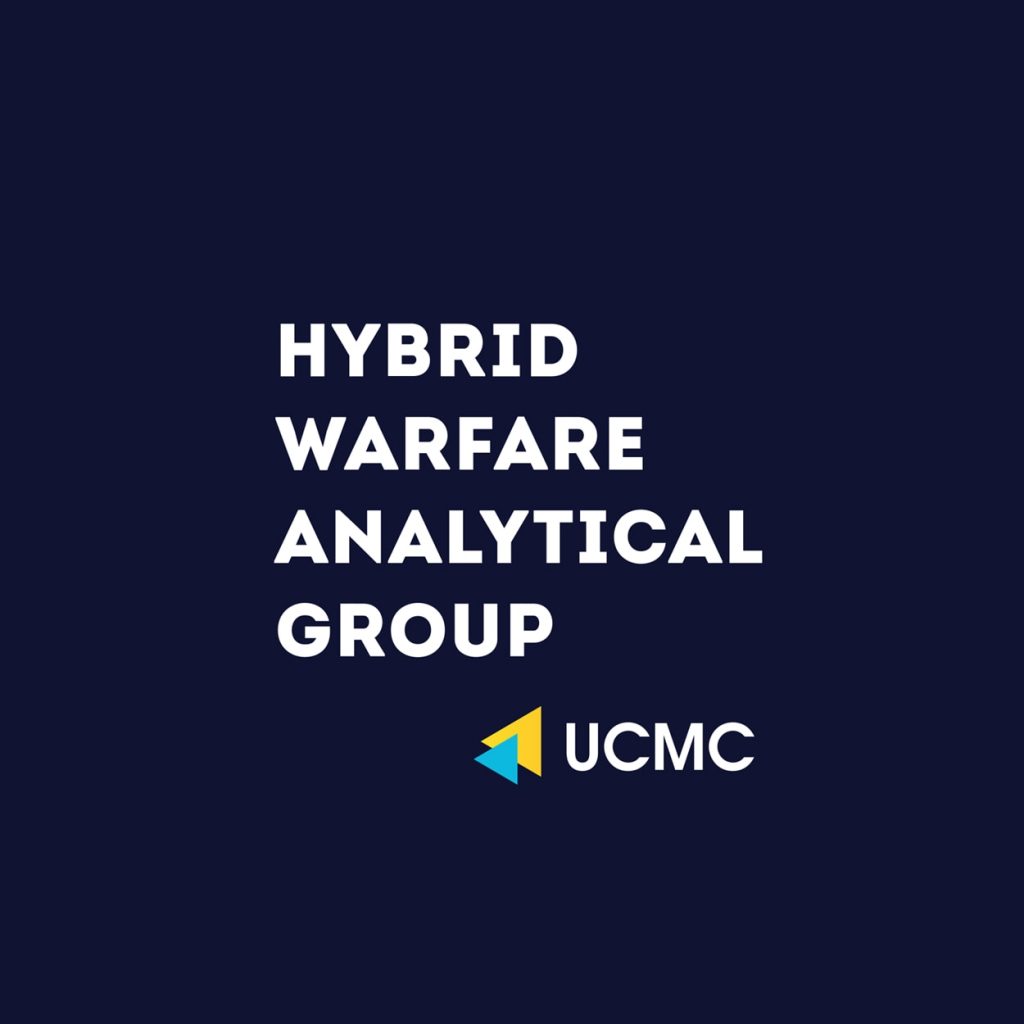 Ever since the annexation of Crimea and the start of Russian-Ukrainian war, Ukraine Crisis Media Center with its Hybrid Warfare Analytical Group (HWAG) has dedicated its efforts to counteract Russian influence on public opinion in Ukraine and to help our allies learn about these activities.
Experts that established the team worked in-house with Ukrainian Armed Forces, being on the frontline of hybrid war since 2015, lending their expertise in detecting and deconstructing Russian influence operations, improving government's strategic communications and building resilience towards malign influence.
Their collective experience in government and civic sector resulted in formation of a research-focused team, which aims to identify ongoing information threats from Russian Federation, and to notify national, European and American stakeholders of the ways to negate its influence on democratic processes in their respective countries and regions.
All the Group's experts work to explore and forecast new potential scenarios of the global hybrid warfare and help Ukraine and its international partners in developing policies and solutions to preempt and address them.
Since its inception the Group has already produced and released three major quantitative studies on methods and indicators of Russian propaganda, in particular on such topics as: How Russia foments hostility towards the West, Image of Europe in Russian Media and Image of Ukraine in Russian Media. The Group continued to build up and expand on the findings, identifying new evidences in the areas of
Image of Ukraine on Russian TV
Image of Europe and the U.S. on Russian TV
Military narratives in top Russian domestic media
Narratives aimed at whitewashing the Soviet past and reconstructing the empire
Russian propaganda narratives evolvement
The team has built a strong network of over 40 partner organizations in Ukraine and worldwide.
Among them – Rennaissance and Fullbright Foundations; U.S. Department of State, NATO and OSCE Offices; The German Marshall, Konrad Adenauer and Heinrich Boll Funds, Ukrainian World Congress and Canadem of Canada; Chatham House and The Institute for Statecraft of Great Britain; European Values Center for Security Policy and Prague Civil Society Center of the Czech Republic; Estonian Center of Eastern Partnership, Norwegian Institute of International Affairs, Swedish Civil Contingencies Agency.
We are also proud to partner and enhance each other's efforts in Ukraine with the Ukrainian Prism, Ukrainian Foundation for Security Studies, Euromaidan Press, StopFake and the Ukrainian Catholic University.