Two weeks after the war started, Kyiv activist Pavlo Boyko announced on social media that he and other volunteers would be actively engaged in rescuing homeless animals. There is a problem, and it is quite big, because many families were forced to leave their pets at home. Natalia Zvorygina decided to investigate it.
The ongoing war with the Russian invaders hurts not only people, but also our pets – shaggy and not very shaggy four-legged friends. For us, caring for domestic and homeless animals has become one of the clear signs and distinctions in defining "friend-or-foe" similar to the question "Whose is Crimea?"
Kyiv: there are no ownerless animals
The other day a temporary animal shelter "Exhibition Center" was officially opened on the territory of the National Complex "Expocenter Ukraine" in the capital. In fact, the shelter has been operating since March 31. Since then, more than 70 dogs and cats have been brought there.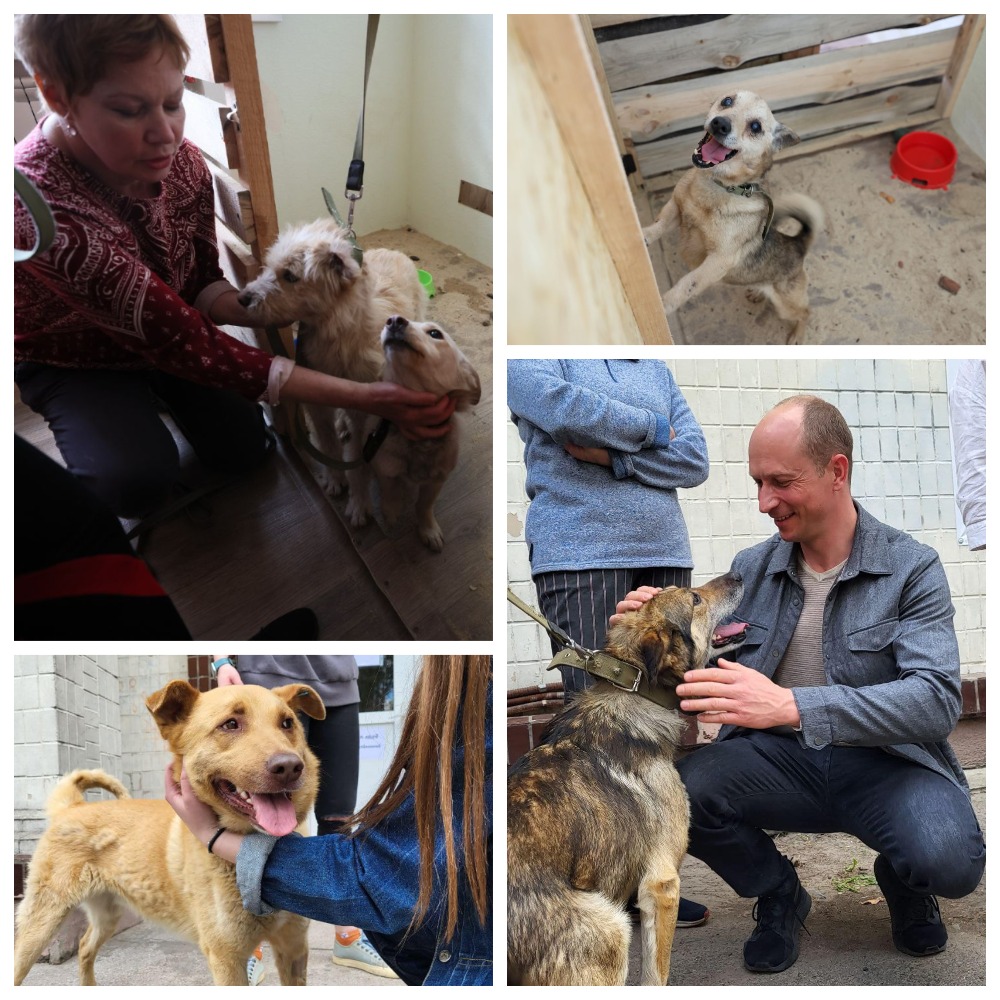 The institution to help animals in difficult life circumstances was founded on a charitable basis by zoo volunteer organizations with the support of city services. Organizationally, it is subordinated to the municipal enterprise "Kyiv City Hospital of Veterinary Medicine." The city authorities have shown great interest in ensuring that the new institution is fully arranged and provided with everything necessary. This is evidenced by the level local officials are involved in the process. The deputy head of the Kyiv City State Administration Petro Panteleev, Kyiv City Council deputy Dmytro Bilotserkivets, and the head of the Kyiv City State Administration's Department of Ecology and Natural Resources Oleksandr Vozny supervise and visit the shelter. And Natalia Mazur, acting director of the Kyiv City Veterinary Hospital, has literally moved there from her office.
The animals are looked after by a veterinarian and an animal adaptation specialist of the Kyiv City Veterinary Hospital, and representatives of public organizations and volunteers help to take care of them – feed them, clean the enclosures and walk them.
Animals are provided with food from humanitarian aid from Poland, the Czech Republic and other countries. Animal protection organizations and concerned citizens are doing a tremendous job for the functioning of the shelter and the adaptation of animals.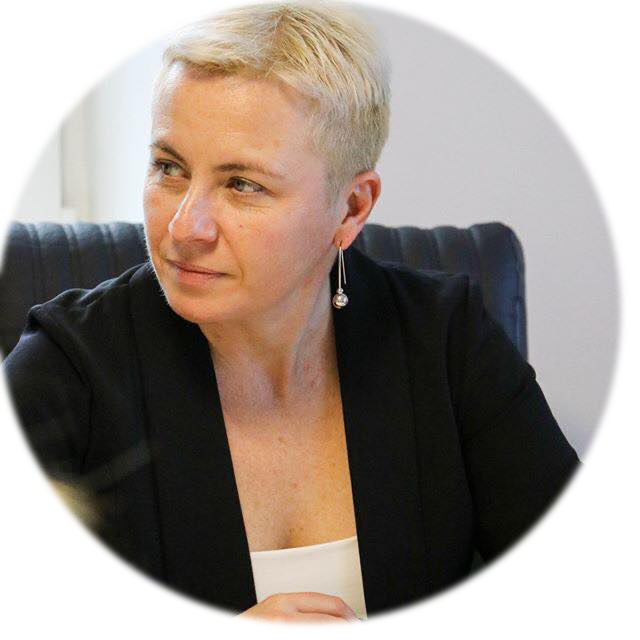 There are no ownerless animals for us, – Natalia Mazur, Acting Director of Kyiv City Veterinary Hospital, comments. Dogs and cats that lost their owners or were neglected or injured as a result of hostilities are brought here. Animals are brought from different districts of the capital, as well as from Irpin, Borodyanka, Hostomel and other settlements of Kyiv region.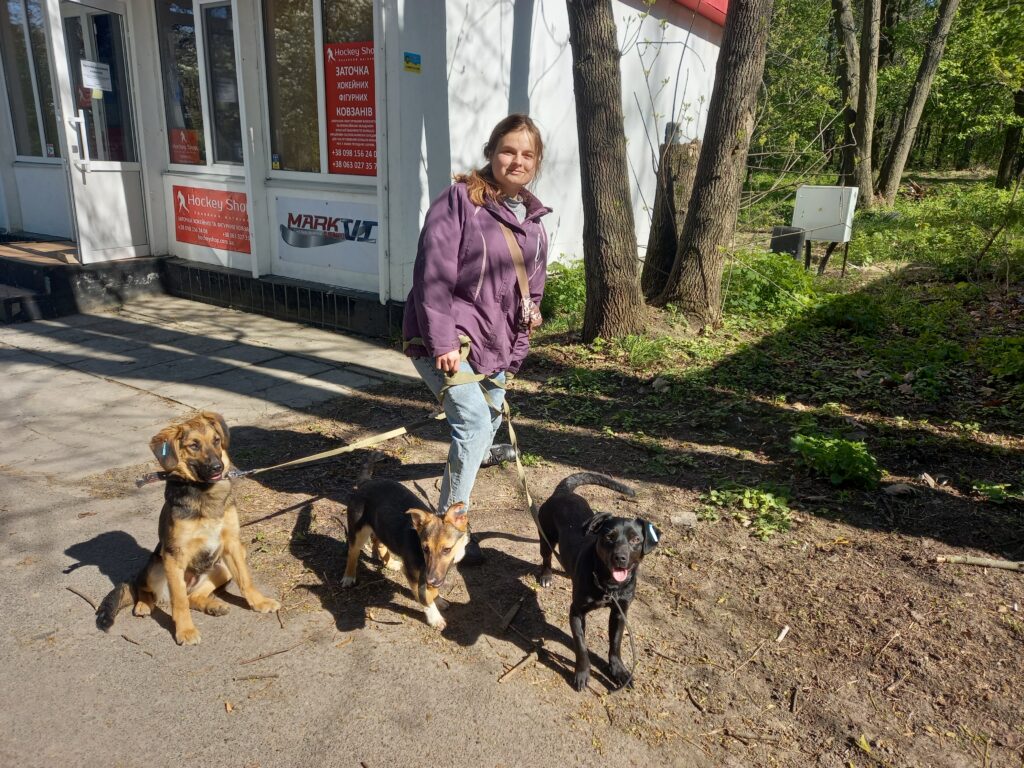 Injuries, disorientation, chronic diseases of animals: treatment and care
When the enemy was on the outskirts of the capital, most veterinarians were evacuated. A few veterinarians remained in the city and continued to provide necessary, including emergency care for animals. Natalia Mazur was among them. The doctor recalls how pet owners approached her with their pets and she had to operate on them immediately to save their lives, even without sufficient examination.
In the first three weeks, when the threat of an assault on the capital was most acute, only my colleague from our clinic and me performed operations in the entire Kyiv region, – recalls Natalia Mazur. – In those days, a Great Dane dog with neuroblastoma was brought to us from Brovary. The tumor had already opened and was bleeding. We had to render urgent professional help, but we could not do a CT scan or a banal X-ray – none of the research center worked at that time. Still, we decided to operate. The procedure lasted several hours. But we saved the dog.
There were plenty of such cases at that time. Veterinarians had to literally live at work. They did not ignore any appeal for help.
Our defenders drove Russian troops out of Kyiv. But problems with animals did not become any less. The number of animals that need help multiplied. Some stray animals were injured, and pets ended up on the street because the owners were not allowed to be evacuated with them. Others simply fled from their owners, frightened by explosions and shots. All of them – wounded, injured, with fractures, and sometimes with traumatic limb amputation, are found by zoo volunteers and caring people and brought to the shelter at the Exhibition Center.
The story of a Laika, which was one of the first brought to the shelter by soldiers who liberated Irpin, is quite illustrative. When they entered the city with fights, they saw a frightened animal on one of the streets and simply took it into their car. For a while the dog lived with the soldiers, and then began to get worse.
We found out that the dog had developed babesiosis because of a tick bite, and began to treat it. Eventually the dog recovered. And it was lucky again – his owner was found. The man evacuated his family from Irpin to Bila Tserkva and tried to take his dog with him. But at the most crucial moment, the dog panicked and ran away, and then roamed about until he was rescued. The man and the dog were very happy when they finally met again.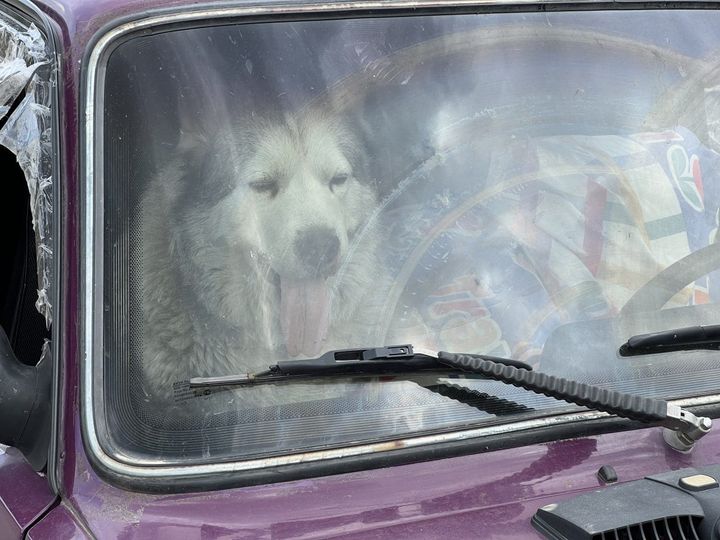 Our main mission is not just to rescue animals, but also to find them loving families, – explains Natalia Mazur. – It is best, of course, to return an animal to its former owner. This does not happen very often, but families take animals from our shelter quite actively. For a short period of time since we opened our shelter, we have managed to accommodate about 40 animals. Today there are 25 dogs and 5 cats in the shelter. The data change every day, because some are taken away and others are brought in.
Shelter volunteers have already created a Facebook page with information about animals and their photos, and everyone who cares can share information about dogs and cats that need a family, or think about the possibility of taking one of them into care.
Zaporizhzhia: the issue of animal shelter remains open
Zhuzha is a little mongrel from Mariupol. Its owner did not leave the dog when he ran away from the "Russian world." They walked 220 kilometers together. It took them five days to get to their freedom. Zhuzha is a dog who was lucky with a man. And this is just a bright story with a good ending, which we need so much now. The dog's paws were rubbed off under the shelling, heat and bad weather. When Zhuzha and her owner started their journey at their own risk, neither knew about the situation in the region and whether they would be able to cover such a distance on their feet and paws.
I put her on her feet and say: let's go, our granddad is waiting for us, we have to go, – Ihor, the owner, describes how he encouraged his 8-kilo mongrel Zhuzha on their 220 km way from Mariupol to Zaporizhzhia.
They left the house on April 23, the day before Easter. Ihor fled from Mariupol because he did not want to become a slave to the "Russian world." He was most worried about Zhuzha, knowing how those non-humans treated animals. He carried food and water for his pet all the way.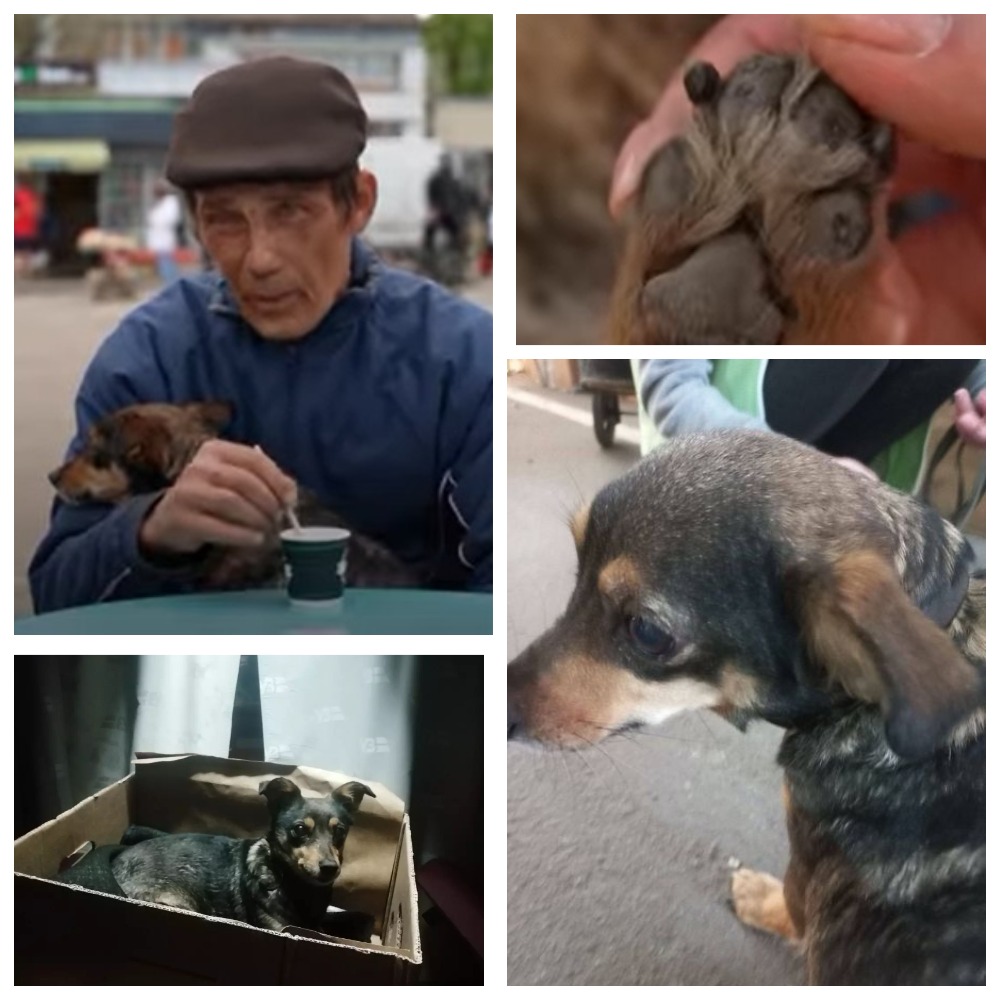 In Zaporizhzhia, Ihor and Zhuzha were sheltered by "Rest Halt for the Soldiers" volunteer center. The kind hostess of the center, deputy of the City Council Halyna Honcharenko created homey atmosphere to them so that they could relax, regain strength.
Zhuzha was fed a small portion of useful food (after starvation), treated for parasites, and taken to the train car with treated paws (as well as provided with medication for further treatment). The dog was so tired it could not move. Then Zhuzha and its owner went by train to their relatives, who were looking forward to their arrival.
This story had a happy ending. Now both heroes – Zhuzha and Ihor live with his relatives in Kyiv and are gradually getting used to a new life of free people.
And a tragic story of Alabay dog Boyar from Huliaipole is still going on. The dog wounded in the Russian missile attack was operated on at the BEST private veterinary clinic in Zaporizhzhia. The operation lasted more than two hours. An X-ray shows an incredible number of shell fragments; the skull is dotted with them like a starry sky. The tissues were cut, the jaw was torn into small fragments, and there was a hole in it. Gums, teeth, lips were a mass of blood. The dog lost an eye. The surgeon put the jaw back together with the help of a metal plate and stitched up the wound; plastic surgery on a palate was done.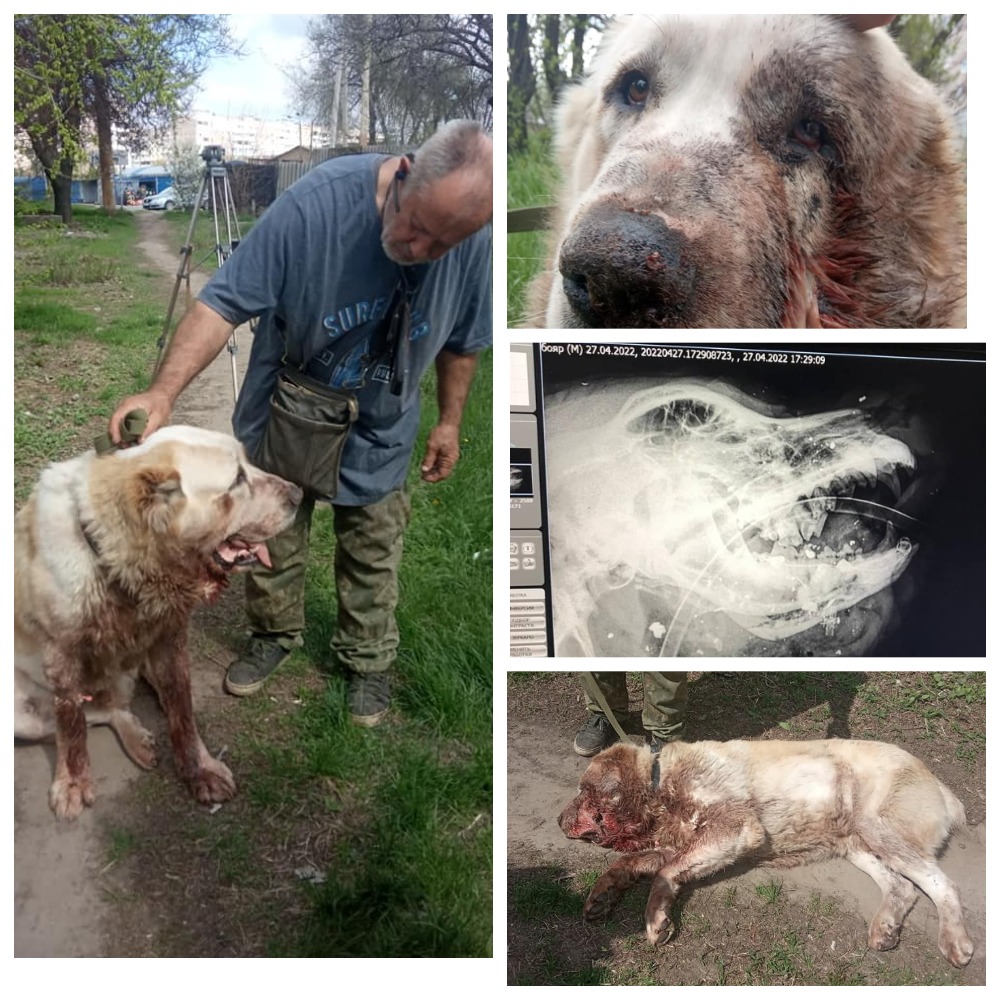 It was impossible to remove numerous fragments. So the dog is at risk of developing fistulas and rejection of foreign bodies. He will need regular visits to the vet's.
The dog lost a lot of blood. As a result of shell-shock he became deaf. From an 18-month-old puppy Boyar turned into an exhausted and upset old dog. However, we believe that in time, Boyar will feel better. Although currently the dog can barely walk, they do take it out for walks.
Boyar has a wonderful owner, who visits his pet whenever possible. Yevhen serves in the ranks of our defenders.
Do not forget that now all animals suffer from hostilities, – the doctor says – We save them, doing our best to help everyone. The hospital is full, and large-scale sterilizations are also carried out daily. Doctors work hard, volunteers work hard. Help those animals who do not have guardians; there are no hands other than yours. Boyar's operation cost about UAH 8,000. The previous day's bill was for UAH 996.20. We have to cover these expenses. There are also other animals who are going through the same struggle: help them!
"Vet-expert" is another private clinic in Zaporizhzhia designed to provide similar immediate help. Caring people bring even wild birds found on the road to the clinic. One such bird, the wild duck, was found just on a trail in a local park and brought to an ornithologist. They had to treat the bird and then release it.
The other day a homeless dog with a severe injury of the hind leg was brought to us from Vasylivka (now Vasylivka is under occupation), – said the chief physician of the clinic, surgeon Maksym Meleshko. – Unfortunately, its leg had to be amputated. The man who brought it to us, was extremely responsible and fully took care of the dog. After the operation, the man took the dog home and regularly brought him to change the bandages.
Currently, there are many other animals in the hospital. Among them are those left by people. They were found and taken from the streets; we treat them and try to find them new homes.
Despite all they've been brought through, they are sure to be fine in the future. They've already had enough of suffering in their short cat's and dog's lives.
In Zaporizhzhia, the problem of organizing a municipal shelter for homeless animals or those in difficult life circumstances has not yet been resolved. Local volunteers are trying to take them home for some time. Many volunteers have already put several such shaggy four-legged friends in their apartments.
Given that the war is ongoing and that there will probably be more homeless animals in Zaporizhzhia, local authorities should follow the example of the capital in organizing such facilities as the Temporary Animal Shelter "Exhibition Center" in Kyiv.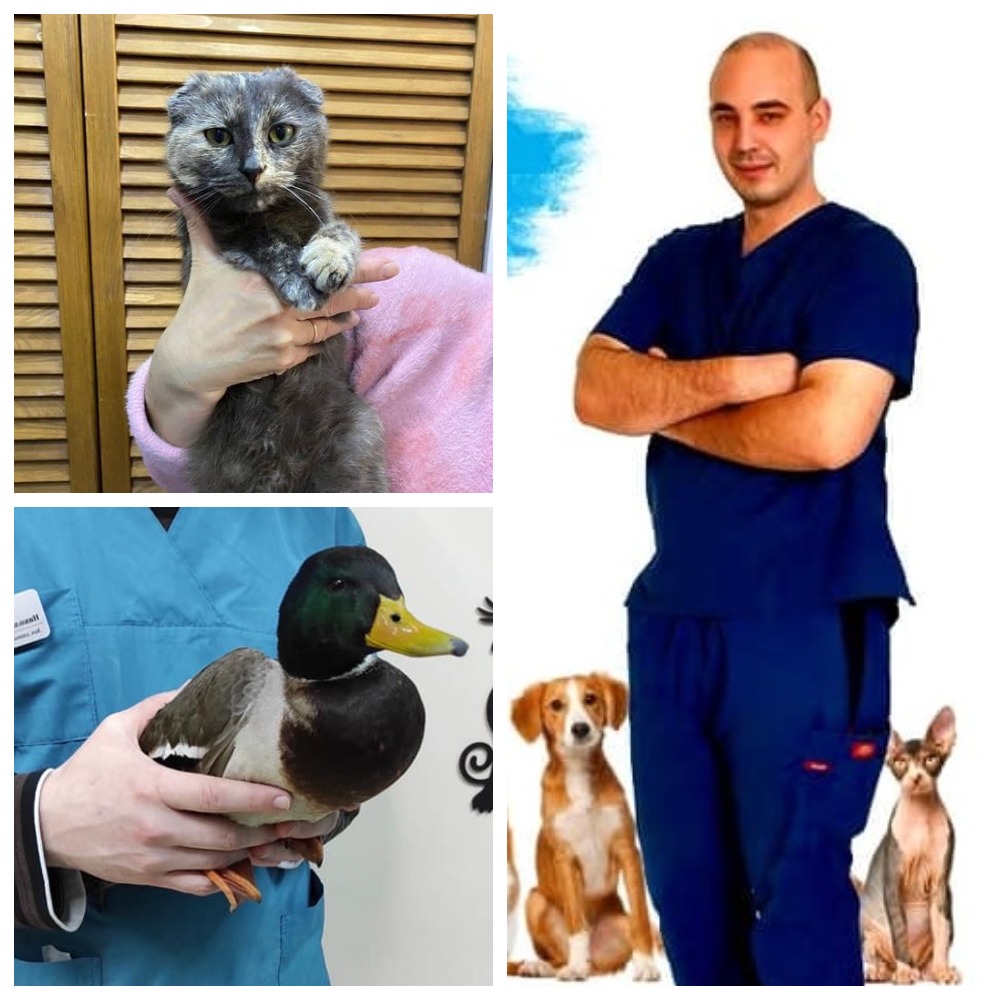 Pets in wartime. Expert tips.
We look forward to defeating the Russian invaders. But amid an active phase of hostilities, none of us is guaranteed what our future will be like. Whether we will have to go through Russian bombing raids in our hometowns or evacuate to safer places, we need to take care of our pets.
A pet is a family member rather than a suitcase without a handle, – says Natalia Mazur, Acting Director of Kyiv City Veterinary Hospital. – Therefore, you should care for its safety, preservation of life, healthy mental and psychological state as much as possible in the current conditions.
The expert advises that an owner should talk to an animal, explain the situation, and calm it down when they are under bombardment. You should also give appropriate veterinary sedatives to the pets. The sedatives should be purchased in advance in veterinary pharmacies.
If you decide to evacuate with your pet, the animal should not be fed before the journey. You should also prepare in advance a home blanket or other bedding for the animal, its toys that retain a familiar smell. Natalia Mazur also recommends giving your pet sedatives.
Particular attention should be paid to the stage of an animal's adaptation to a new place. It is psychological stress for your pet, so do not hurry! Do not leave your pet alone in unusual circumstances. If necessary, seek the assistance of a local veterinarian.
Natalia Zvorygina, Zaporizka Pravda, Zaporizhzhia
25.05.2022