Decentralization Offering Better Results and Efficiency (DOBRE)
Supporting the Development of Consolidated Communities of Ukraine
REQUEST FOR PROPOSALS RFP 0014
 Opportunity for Financial Management Assessment
Roadmap for Improved Financial Management and Budgeting
Date of Solicitation Notice: February 21, 2017
Due Date for Applications: March 17, 2017
Global Communities is committed to providing equal opportunities without regard to race, color, religion, gender, sexual orientation, national or ethnic origin, age, or disability.
Overview
Global Communities is implementing the flagship program of USAID Ukraine's Office of Democracy & Governance – Decentralization Offering Better Results and Efficiency (DOBRE).  Launched June 8, 2016, the 5-year project is designed to enable leaders of newly formed Consolidated Communities (CCs) to effectively respond to citizen priorities by effectively managing resources, increasing the quality of public services, stimulating local economies, and improving citizen engagement. DOBRE has the goal of enabling these new CCs to thrive and prosper, while serving as a model and motivation to other cities working to amalgamate. As one strategy to achieve this, DOBRE will increase the effectiveness and efficiency of financial management systems and processes in its partner consolidated communities.
DOBRE through its Financial Management Assessment (FMA) will document and examine all financial and budget operations, procedures and processes and develop a process map for each area. The process map will determine their compliance with Government of Ukraine laws and Ministry of Finance rules and regulations, as well as international best practices. It will highlight operations, processes and practices needing corrective action and clearly identify gaps, bottlenecks and/or weaknesses and develop detailed steps necessary to correct and improve those identified gaps, bottlenecks and weaknesses in each area. This should include skills and abilities of the staff in partner CCs that need improvement.
DOBRE is currently seeking a highly qualified and experienced organization to conduct a Financial Management Assessment of all DOBRE partner Consolidated Communities in seven oblasts of Ukraine –
Kharkiv, Dnipropetrovsk, Kherson, Kirovohrad, Mykolayiv, Ivano-Frankivsk and Ternopil.
This call for applications is open to organizations (e.g. NGOs, Educational Institutions, private businesses, consortiums, groups of consultants, etc.) with expertise and experience in local government financial management and budgeting, preferably at the Hromada level. The key priority and goal of the activity will be to assess and map all aspects of financial management and budgeting systems, practices and processes at the Hromada level in DOBRE partners, identify weaknesses and gaps and develop a plan of action to correct and strengthen them. (See Section VII: FMA Selection Criteria for more details on the evaluation process for applying organizations.)
DOBRE Project Description
Many if not all of the recently formed CCs currently lack the capacity to successfully fulfil their new responsibilities that accompany decentralization and consolidation. Moreover, the recent amalgamation process also created issues as different practices from previously different local government units must now be blended together into a single coherent system. When these occur in the budgeting and financial management spheres, they can literally paralyze a Hromada. Often, the budgeting and financial management systems, processes and practices don't meet the requirements of legislation, rules and regulations and international best practices. This leads to inefficient management of resources. It also creates the opportunity for opaque practices that lead to corruption. Both of these can contribute to a lack of trust and confidence from citizens in their ability to manage resources and make decisions in the best interest of the entire Hromada. For the decentralization reform to function properly and gain the support of all citizens, Hromadas must improve their financial management and budgeting to make them more reliable, dependable and transparent.
DOBRE's international team, led by Global Communities, brings a broad set of expertise and practical experience in decentralization and community development. Global Communities' model for community-driven development governs DOBRE's overall approach and component activities. Poland's Foundation in Support of Local Democracy (FSLD) and the Malopolska School of Public Administration will leverage their practical experience and successful strategies for developing local governance applied in Poland. The Ukraine Crisis Media Center (UCMC) and NGO SocialBoost will be contributing to communications and public information, community engagement and introducing e-government strategies to improve public services and transparency of government.  The National Democratic Institute (NDI) will assist the new CCs in elevating gender equity and ensuring new programs address IDP issues.
This consortium of international and local organizations will deliver a series of practical trainings, on-site consultations, and community engagement activities that result in local development strategies for the CCs and a set of "action plans" that lead to tangible results. The community-driven strategic planning processes will result in the creation of tailored projects that improve public services, stimulate economic development, and increase the quality of life in the communities.
To complement the expertise of the DOBRE partners, Global Communities seeks an organization with the time and expertise to conduct a thorough assessment of all financial management operations, procedures and practices that will identify weaknesses and gaps and recommend clear and actionable recommendations to improve.
The selected organization will work closely with partner CCs and key stakeholders to assess and then develop reasonable solutions for improving financial management. Even after the completion of the DOBRE program, the assessment and recommendations should provide a clear roadmap for partner CCs to continue making improvements in financial management.
III.    Scope of Work and Deliverables         
DOBRE will select at least one organization through an open and competitive process. DOBRE may at its discretion decide to engage more than one organization due to time, capacity and/or resource constraints of applying organizations. The Organization(s) selected will be those best positioned to contribute to the successful implementation of this DOBRE activity, while demonstrating a high potential for supporting sustainable financial management improvements at the local level after DOBRE's completion.
To partner with the DOBRE program, each selected organization commits to fully implement a comprehensive assessment of the financial management operations, procedures and processes in each partner CC. They must develop good working relationships with those CC officials responsible for financial management and other key stakeholders. They need objectivity in order to thoroughly assess the operations, procedures and practices but should develop the necessary relationship for a complete assessment and actionable recommendations the CCs will effectively implement. The selected organization(s) will support and mentor local CC staff so they feel part of the process and fully understand the methodology, the results and how to implement the recommendations going forward while ensuring an effective and external assessment. Each selected organization will undertake a complete examination and mapping of all financial management activities. It will involve key interviews, documents review, direct observation and other methodologies as recommended by the organization to accomplish these tasks. The organization will thoroughly document and map the operations, procedures and practices for all current financial management activities. It will clearly delineate all weaknesses, bottlenecks and gaps. It will develop comprehensive actions to correct all determined gaps, bottlenecks and weaknesses. Corrective actions might take significant time to implement, beyond the time of the DOBRE Program, so the assessment recommendation must provide sufficient details for CC officials to fully understand the findings and the needed corrective actions. The specific activities and deliverables of the program will include, but may not be limited to the following:
Each selected organization will sign a grant agreement with DOBRE outlining cooperation and mutual commitments.
For each partner CC, the organization will provide a general description of the community, the local government and the overall structure of their financial management efforts, including an organizational chart.
For each partner CC, this assessment will examine the following areas:

Payments (differentiated by type, incl. salary, capital, operations, etc.)
Money Management (This includes handling of cash, management of treasury and bank accounts, etc.)
Procurement (all aspects of procuring goods and services by type)
Revenue Collection (all sources allowable by laws and regulations)
Revenue Administration (how do they manage the collection process, including estimating revenues)
Accounting (keeping of accounts, recording transactions, etc.)
Budget Execution
Asset Management (system for knowing and maintaining assets, sale/rent of land and buildings, etc.)
Budget and Financial Reporting
Auditing
Budgeting Development Process, including use of data and citizen engagement in the process
Budgeting Approval Process
Gender responsive budgeting

For each partner CC, the selected organization(s) will examine each financial management area and provide a detailed description of the operations, procedures and processes for that area. You will provide a process map for each operation, procedure and process in each area. You will then identify all gaps, weaknesses and bottlenecks from your assessment in each area. You will then provide detailed recommendations for solving/correcting each gap, weakness, and bottleneck identified in each financial management area.
Each selected organization will provide a detailed explanation of their methodology. In conducting the assessment, the selected organization(s) should conduct interviews with financial management officials and key stakeholders, desk review of documents related to the areas (random samples of bank statements, payment documents, etc.), and direct observation of the operations, procedures and processes. Organizations should delineate additional methodologies they will use to conduct the assessment.
Each organization should submit a listing of its key management, staff and team members carrying out the assessment, with the qualification and experience of all team members.
Each selected organization will prepare a report (in Ukrainian and English) fully documenting the assessment. After DOBRE acceptance of the Assessment Report, they will present the findings to the relevant officials of the CC. This might include a public presentation for the community as well.
Selected organizations will conduct assessments in all partner CCs. This means they can begin immediately for the current 25 partner CCs (Cohort #1), see Annex 1 for the current list of partner CCs. The assessment may begin in next 25 partner CCs (Cohort #2) starting in May 2017. And the assessment may begin in the final 25 partner CCs (Cohort #3) within 30 days after selection of those CCs. Global Communities will send written notification to the organization(s) upon selection of Cohort #3 partner CCs. Global Communities anticipates 90 days to complete each Assessment.
Duration, timing and location
The general timeline of activities by category is included in the chart below. This is a general guide only and many of the activities may shift based on local schedules and availability of CC personnel and DOBRE trainers and training partners. DOBRE will hold a project orientation for all stakeholders in each oblast to outline assistance activities and establish final schedules and training cycles. A brief outline and illustrative timeline of DOBRE activities is the following: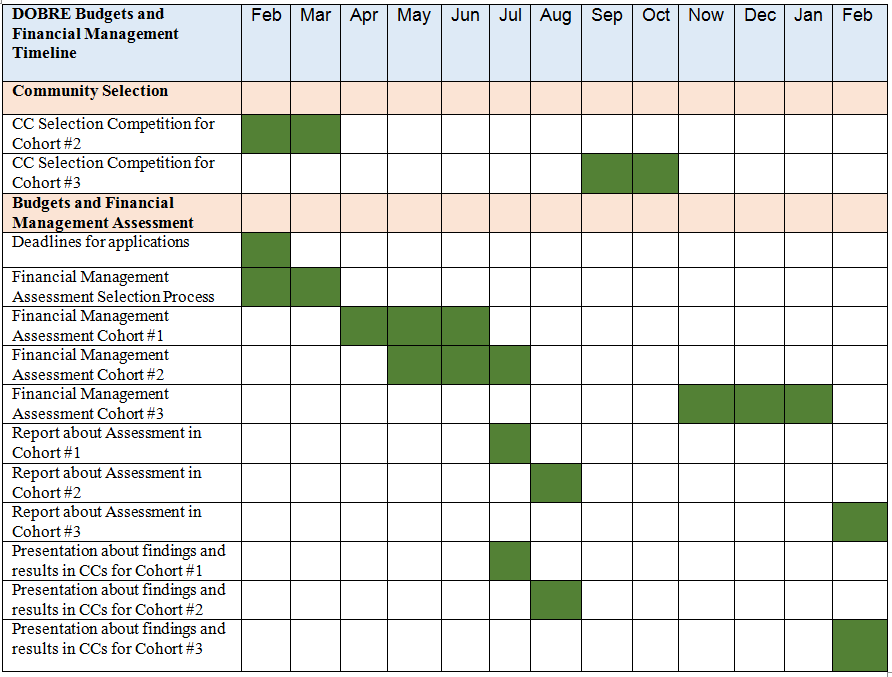 FMA Selection Criteria
DOBRE will complete the FMA selection process in March 2017, which will be preconditioned with the following principles:
The selection should be transparent and competitive based on clear criteria and an objective grading system.
The selected organization will demonstrate presence, capacity, or ability to provide this service to partner consolidated communities in all DOBRE-targeted oblasts.
The stated or demonstrated mission of the selected organization will align with or complement DOBRE's objective to implement transparent and effective budgeting and financial management systems, improve long term sustainability and build trust with citizens and allow the community to hold them accountable for better financial management.
Organizations must complete and return an application form and budget template, providing all necessary supporting documentation by the stated deadline of March 10 2017.
Evaluation: The evaluation and selection of the FMA Implementer will be based on the quality of the submitted proposal documents, and the demonstrated capacity in the following areas:
Demonstrated knowledge of or past experience with local government activities, particularly focused on financial management and budgeting  (20 Points)
Demonstrated knowledge of or past experience with decentralization (10 Points)
Demonstrated experience in conducting assessments and research (10 Points)
Effective methodology for conducting the assessment (10 Points)
Leadership and Management capacity, organizational structure, specialists (10 Points)
Past performance with donors, project management, project finance management  (5 Points)
Sustainability potential. (5 Points)
Timing of the activity (10 Points)
Budget (20 Points)
DOBRE's evaluation committee consisting of DOBRE experts will review and evaluate all received applications, and choose those organization(s) gaining the highest score. Depending on the timing provided, DOBRE may select more than one organization to perform the work. DOBRE will check references from other donors or past clients for selected finalists.
Application Process
Appended to this call for application is a full Application Form and Budget Template that each organization must complete and return by the deadline to be considered.
The application requires that answers be supported with documentation, including project/grant history, sample work products, CVs of staff personnel and outsource human resources, and references from past donor or cooperating organizations.
Please prepare and submit budget accordingly to the "Proposal Budget" file in USD. Please use office NBU exchange rate for the calculations.
All payments under RFP 0014 shall be done in UAH (based on actual NBU rate) and exempt from VAT. Global Communities is exempt from taxes within the customs territory of Ukraine and will provide a certified copy of its registration card issued by the Ministry of Economic Development and Trade of Ukraine for VAT exemption process.
Authorized geographic code for RFP 0014 is Code 110, which includes the following countries: Ukraine, U.S.A., independent countries of Former Soviet Union, or another developing country which is not included in the USAID list of prohibited source countries.
Please use the following link to check the USAID list of developing countries: http://www.usaid.gov/policy/ads/300/310maa.pdf
Please use the following link to check the USAID list of prohibited source countries:
https://www.usaid.gov/sites/default/files/documents/1864/310mac.pdf
Submission Instructions: The application will be available at https://uacrisis.org/uk/decentralization/,
http://gurt.org.ua/, http://www.prostir.ua/,  and other platforms. Please email proposals to [email protected] with "FMA_DOBRE_Name of Applying Organization" in the subject of the email.
Please submit the application and any electronic supporting documents to by the deadline of March 17, 2017. The priority will be given to the applications submitted by the deadline. The finalists will be selected and notified by March 31 2017.
All the questions should be submitted to DOBRE via email: [email protected] by the deadline of 03 March 2017 with  subject: "RFP 0014: QA"
[load link="https://uacrisis.org/wp-content/uploads/2017/03/RFP-0014.zip"]