Decentralization Offering Better Results and Efficiency (DOBRE)
Supporting the Development of Consolidated Communities of Ukraine
REQUEST FOR PROPOSALS RFP 0013
 Preventing Corruption in Amalgamated Communities: Training and Mentorship Program for Citizens
Date of Solicitation Notice: February 21, 2017
Due Date for Applications: March 14, 2017
Global Communities is committed to providing equal opportunities without regard to race, color, religion, gender, sexual orientation, national or ethnic origin, age, or disability.
Overview
Global Communities is implementing the USAID funded Decentralization Offering Better Results and Efficiency (DOBRE) program in Ukraine.  Launched in 2016, this 5-year project is helping leaders of newly formed Amalgamated Territorial Communities (ATC) to effectively manage resources, increase the quality of public services, stimulate local economies, and improve citizen engagement. DOBRE is now in the process of guiding community stakeholders through a participatory strategic planning process that engages citizens, identifies issues, allocates resources, and creates and implements programs that address priority needs off the community.
Using the Strategic Planning process as a framework, DOBRE will provide practical trainings and consulting services so that community leaders develop the skills needed to implement their Strategic Plans and programs.  The knowledge, practical skills, and learning tools and approaches used will be institutionalized within Ukrainian educational institutions and other local government service organizations so that developing communities will continue to have access to needed services in the future.
Civil society in amalgamated communities has an opportunity to serve as a key stakeholder in these processes: pull together citizens' voices, assess community needs, prioritize and ensure that local governments pay attention to those issues. DOBRE will work with local governments to ensure they include citizens in the strategic planning process, and will also provide support to citizens to equip them with skills and knowledge on efficient anti-corruption tools they can use to better oversee local government activity, introduce public oversight systems, and build a no-tolerance for corruption culture in their communities.
DOBRE is seeking a highly qualified service provider to design and implement a training and mentorship program on preventing corruption and launching efficient public oversight systems for residents of 25 partner communities from seven oblasts: Kharkiv, Dnipropetrovsk, Kherson, Kirovohrad, Mykolayiv, Ivano-Frankivsk and Ternopil.
This call for applications is open to qualified NGOs, private entrepreneurs, think tanks, and businesses with expertise and practical experience of implementing anti-corruption activities and launching efficient corruption prevention systems, preferably on the level of communities. (See Section V: Selection Criteria for more details on the evaluation process for applying organizations.)
DOBRE Project Description
DOBRE's international team, led by Global Communities, brings a broad set of expertise and practical experience in decentralization and community development. Global Communities' model for community-driven development provides a framework for DOBRE's overall approach and assistance activities. Poland's Foundation in Support of Local Democracy (FSLD) and the Malopolska School of Public Administration (MSPA) of the Cracow University of Economics are leveraging their practical experience and successful strategies for developing local governance applied in Poland. Ukraine's Association of Rural and Village Settlements (VASSR) has the presence and experience with the villages and small towns that are now consolidating, while the Ukraine Crisis Media Center (UCMC) and NGO SocialBoost are contributing to community engagement and introducing e-government strategies to improve public services and transparency of government.  The National Democratic Institute (NDI) is assisting the new communities in elevating gender equity and ensuring new programs address IDP issues.
This Consortium will partner with other Ukrainian institutions and organizations to deliver a series of practical trainings, on-site consultations, and community engagement activities that result in local economic and community development strategies for the amalgamated territorial communities and a set of "action plans" that lead to tangible results. The community-driven strategic planning processes will result in the creation of tailored projects that improve public services, stimulate economic development, and increase the quality of life in the communities.  The successful projects and results achieved will serve as models and motivation for other communities working to improve services and the quality of life for their citizens.
Under decentralization reform the majority of responsibilities go to local governments.  Local governments receive funds, including tax money, to run their communities by providing services, supporting public institutions and infrastructure, managing public budgets (expenditures, taxes and fees), creating opportunities for economic development and social wellbeing.  Local governments also make the majority of decisions about life of communities.  With more responsibilities and direct access to funds, the risks of corruptive practices in local governments grow.  However, as governance moves closer to citizens, so does public oversight.  It is easier for local residents to see what's going on in their communities, monitor the quality of services, see who the vendors and providers of public services are and how they are selected, track public spending, elected officials' activity and assets, and make sure public money goes to targeted projects, which bring benefits to communities and not enrich decision-makers.  It is a responsibility of citizens to make sure local governments put in place systems and practices to ensure transparency, openness, and accountability.
As one strategy to assist newly amalgamated communities, DOBRE will equip citizens with practical tools and proven solutions to decrease corruption risks, introduce citizen oversight systems, and create a culture of no tolerance for corruption in communities.
DOBRE is looking for a training service provider who can design and implement an anti-corruption program for residents of 25 newly amalgamated communities (see the list below) on preventing corruption, implementing anti-corruption mechanisms, and launching efficient public oversight systems. The program should include the following components:
Training;
mentorship and consulting for training participants to help them implement public oversight mechanisms;
peer learning event for participants to share successes and learn from each other;
case studies development based on the program outcomes.
The topics addressed at the trainings can include, but not be limited to the following:
What is corruption? How does it look on a local level?
Budgeting processes and budget transparency
Conflict of interests
Public procurement
Competitive selection for public positions
Public control and oversight measures to minimize corruption risks and prevent abuse of power in communities
ICT tools for anti-corruption and public oversight
Action plans for effective public oversight system
The content of training should be practical, address typical needs and challenges of newly amalgamated communities, easy to follow, include real life examples and best practices from Ukrainian context. Interactive methods and adult learning methodologies should inform the format of trainings.  DOBRE reserves the right to approve final training agendas and training materials.  As a result of training, the participants should understand corruption, know their rights and mechanisms to control local government activity, and develop a realistic plan for public anti-corruption effort that includes specific steps the residents can take to prevent corruption in their communities. The participants should identify at least 2 anti-corruption mechanisms to implement in their communities. One training should last up to 2 days.
As a follow up, trainers will serve as mentors to training participants during three months and guide them through implementation of chosen two anti-corruption mechanisms and help solve any issues they might face on the way.
The program should conclude with a peer learning event that would bring together the training participants, provide them with a chance to showcase successes, a room for supportive discussion of major issues and ways to overcome them, and an opportunity to plan next steps.  The peer learning event can include both civil society representatives and government to emphasize the need to cooperate constructively and acknowledge communities who succeeded in working together for better results.
Based on the outcomes of the program, the service provider should develop at least 3 case studies (one for each type of communities – village, settlement, and urban) that capture experience of communities, lessons learned, and recommendations.
III.          Scope of Work and Deliverables 
DOBRE will select at least one organization through an open and competitive process. DOBRE may at its discretion decide to engage more than one organization due to time, capacity and/or resource constraints of applying organizations. The organization(s) selected will be those best positioned to contribute to the successful implementation of this DOBRE activity, while demonstrating a high potential for supporting public oversight and corruption prevention systems in communities.
The selected provider should complete the following tasks:
Identify a team of trainers who can deliver trainings in 25 communities;
Design draft training agenda;
Deliver a ToT for the team of trainers and finalize training agenda and materials;
Organize outreach and recruitment of participants for trainings (in coordination with DOBRE Regional Offices);
Organize logistics of trainings (venue, participants or trainers travel and meals – in coordination with DOBRE Regional Offices);
Deliver trainings in 25 communities for at least 15 participants representing different constituencies in each community;
Run post-training assessment (exit survey) and prepare a report on participants' satisfaction;
Provide mentorship and consulting to the communities that implement corruption prevention mechanisms during 3 months after the training;
Organize peer learning event for program graduates;
Prepare at least 3 case studies based on program outcomes;
Draft program report that includes lessons learned and recommendations for a similar programming in the future.
DOBRE will sign a service contract or grant agreement with the selected organization. Upon satisfactory performance, DOBRE can engage the selected organization(s) to train citizens in cohort 2 and cohort 3 communities (25 in each) or partner with the selected organization(s) in joint programs or events for citizens and local governments.
Duration, timing and location
The trainings can take place either in amalgamated communities or in oblast capitals.  Please include justification for your preferred option in the program description. DOBRE partner communities: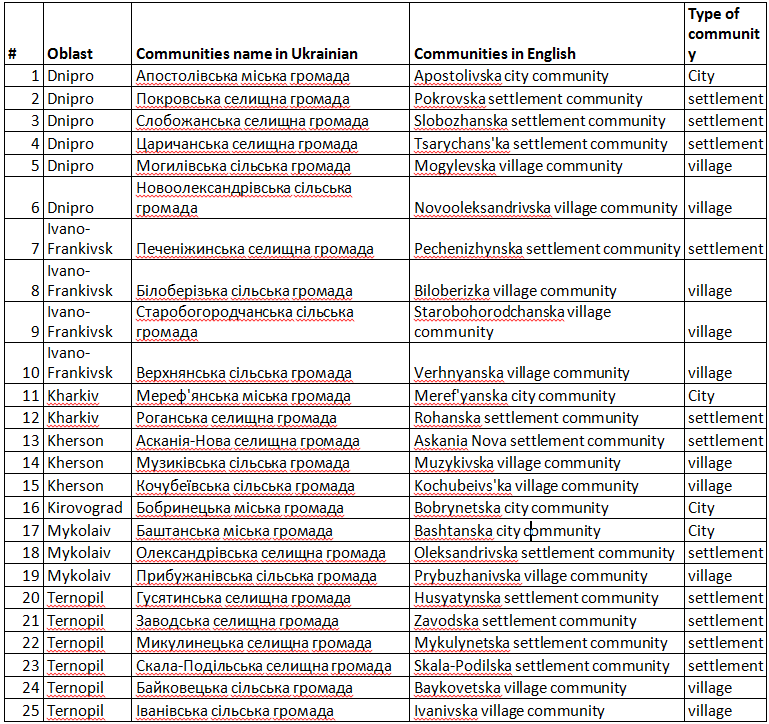 The estimated program duration is 7 months with the following pace:

Selection Criteria
DOBRE will complete the training provider selection process in March 2017, which will be preconditioned with the following principles:
The selection should be transparent and competitive based on clear criteria and an objective grading system.
The selected organization will demonstrate presence, capacity, or ability to provide this service to partner consolidated communities in all DOBRE-targeted oblasts.
The stated or demonstrated mission of the selected organization will align with or complement DOBRE's objective to implement efficient citizen engagement and anti-corruption systems and practices, build trust among citizens and governments, and allow the community to hold local governments accountable for decisions and spending.
Organizations must complete and return an application form and budget template, providing all necessary supporting documentation by the stated deadline of March 14, 2017.
Evaluation: The selected organization(s) will be those best positioned to contribute to the successful implementation of DOBRE activities and services during the program period.
Demonstrated knowledge of corruption prevention tools – 20 points;
Past practical experience of combatting corruption, implemented anti-corruption or public oversight campaigns – 20 points;
Proposed approach, methodology and experience in delivering anti-corruption training – 20 points;
Training personnel qualifications – 20 points;
Proposed budget – 20 points.
DOBRE's evaluation committee consisting of DOBRE experts will review and evaluate applications received by the deadline, and choose those organization(s) gaining the highest score. DOBRE will check references from other donors or past clients for selected finalists.
Application Process
To apply, please provide the following documents:
Program description: outline of the proposed approach and methodology for the program, including an example of implemented similar activities and/or campaigns;
Draft training agenda that includes training topics and session formats;
Preliminary concept of the peer learning event;
CVs of trainers, invited speakers (if applicable), and project lead;
Estimated budget. Budget-of-proposal
Please prepare and submit budget accordingly to the "Proposal Budget" file in USD. Please use office NBU exchange rate for the calculations.
All payments under RFP 0013 shall be done in UAH (based on actual NBU rate) and exempt from VAT. Global Communities is exempt from taxes within the customs territory of Ukraine and will provide a certified copy of its registration card issued by the Ministry of Economic Development and Trade of Ukraine for VAT exemption process.
Authorized geographic code for RFP 0013 is Code 110, which includes the following countries: Ukraine, U.S.A., independent countries of Former Soviet Union, or another developing country which is not included in the USAID list of prohibited source countries.
Please use the following link to check the USAID list of developing countries: http://www.usaid.gov/policy/ads/300/310maa.pdf
Please use the following link to check the USAID list of prohibited source countries:
https://www.usaid.gov/sites/default/files/documents/1864/310mac.pdf
Please attach all requested documents and send the email to [email protected] with "Anti-corruption Program – Name of Applying Organization" in the subject of the email.
The deadline to apply is March 14, 2017. The priority will be given to the applications submitted by the deadline.
All the questions should be submitted to DOBRE via email: [email protected] by the deadline of 03 March 2017 with subject: "RFP 0013: QA".
[load link="https://uacrisis.org/wp-content/uploads/2017/03/RFP-0013.zip"]