On the morning of April 18, the Russian occupiers launched a missile strike on Lviv. Enemy missiles hit empty military depots and a car maintenance station. As a result of the hit, 7 people died, 11 more are in hospital with injuries, three of them are in serious condition. Among the victims is a 3-year-old boy.
This was reported by ZAXID.net.
Most of the dead were employees of a car maintenance station destroyed by one of the missiles. The shock wave of explosions blew out windows in eight houses and one school. This was announced by Maksym Kozytskyi, head of the Lviv Regional Military Administration, and Andriy Sadovyi, mayor of Lviv, during a press briefing.
According to Maksym Kozytskyi, it is preliminary known that rockets to Lviv were launched from planes from the Caspian direction. Three missiles hit military depots that were not used for their intended purpose. Another rocket hit the car maintenance station.
Lviv Mayor Andriy Sadovyi said that the explosions smashed windows on the stairwells of eight high-rise buildings and one Lviv school. It is currently known about seven victims, four of whom worked at the service station. Eleven people were injured, including three in critical condition. One child was injured, her condition is not serious.
Among the wounded in Lviv is three-year-old Artem, who came with his mother from Kharkiv to escape the war. At the time of the missile attack, the boy and his mother were in a hotel near the car service station. According to his mother, a window was broken during the explosions and it injured the boy – he tore off part of his finger. The boy was operated on by Lviv doctors, so far the child's health is under their control.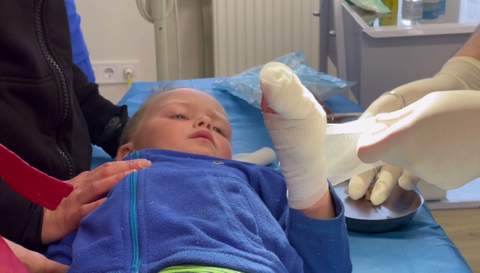 According to Volodymyr Lys, head of the Lviv Regional Military Administration's children's service, one of the missile wreckage hit a children's shelter during a rocket attack on Lviv, where children evacuated from dangerous regions are being held. He told Ukrinform that none of the children were injured.
The head of the oil depot in Lviv, whose name is not disclosed, said that a total of 20 people were on the territory of the service station at the time of the missile's hit.