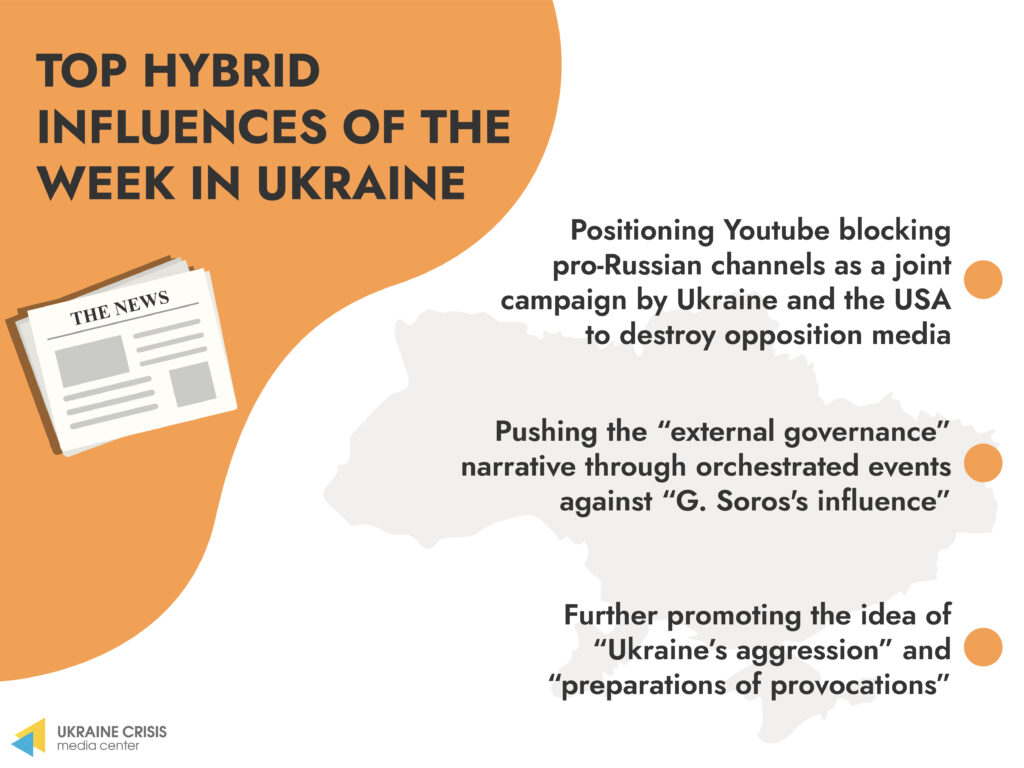 Check the key hybrid influences in Ukraine via our regular #HybridWeekly rubric:
Youtube has blocked the accounts of Ukraine's pro-Russian First Independent and UkrLive television channels for violating the platform's rules. Of course, the pro-Kremlin forces came up with a conspiracy theory to explain this as a joint campaign of Washington and Kyiv to destroy opposition media in Ukraine. The channels previously sanctioned by Ukraine's National Security and Defense Council are notorious for disseminating disinformation narratives of Russian propaganda. Their owner, MP Nestor Shufrych is a close ally of Kremlin-linked Viktor Medvedchuk, charged with high treason.
This week was marked by several events against "George Soros's" influence aimed to disseminate the traditional in pro-Kremlin propaganda "external governance narrative". Similar events are occasionally held and heavily covered in the pro-Russian junk websites and anonymous Telegram channels, usually with no organizers specified, or in the case of this week's "gatherings", marked as initiated by a mysterious "association" with no website or social media. The rallies against G. Soros have long been orchestrated by the Kremlin's proxies to push the conspiracies undermining Ukraine's sovereignty and partnerships with Western institutions.
Pro-Kremlin media continued reiterating messages of Russian disinformation about Ukraine preparing an offensive against the occupied territories of the Donetsk and Luhansk regions. Through sharing and agreeing with fakes of Russian officials and "L/DPR" proxy republics representatives they contributed to painting a picture of Ukraine as an "aggressor, encouraged by the West" and thus preparing ground for a potential "casus belli".