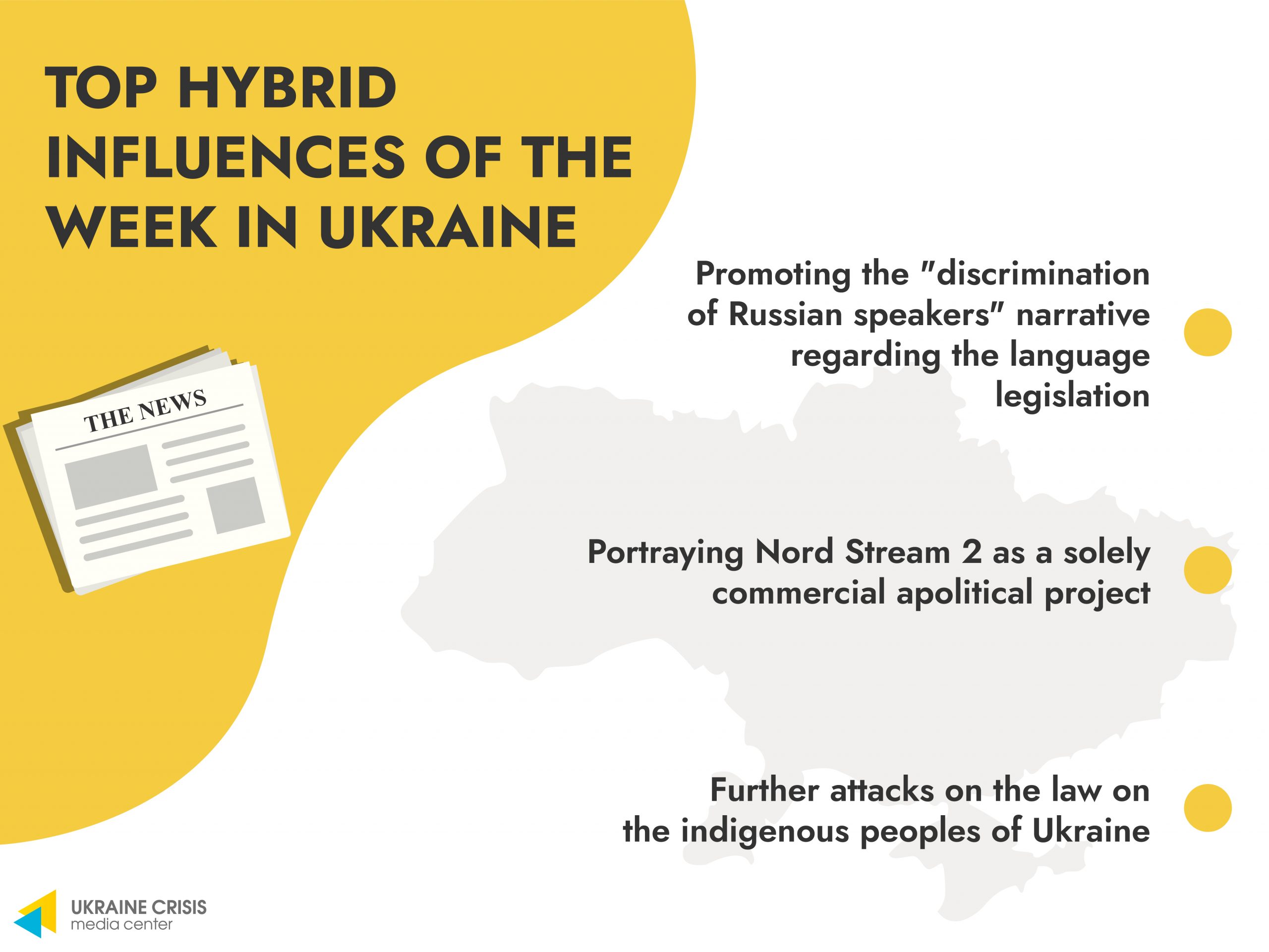 On July 16, the new norms of the law on the state language came into force in Ukraine, which refer to the film screenings, cultural events, publication of books and providing tourist services in Ukrainian. Pro-Russian forces in Ukraine promoted messages of Russian propaganda about the oppression of the Russian-speaking population allegedly caused by this law. The Opposition Platform for Life party has been particularly active in promoting the narrative of discrimination against Russian-speakers, arguing that only it can repeal all discriminatory laws and restore "national equality." Thus, this political force is trying to raise ratings among the target audience and strengthen Russian narratives used to justify aggression, in particular.
On July 21, the United States and Germany formally agreed to complete the construction of Russia's Nord Stream-2 gas pipeline. The Ukrainian side sees risks of political pressure from the Russian Federation in this agreement. However, Joe Biden and Angela Merkel have previously agreed to impose sanctions on Russia if gas is used as a coercive tool. Pro-Russian media and actors have promoted the Kremlin's position on Nord Stream 2, portraying the project as purely commercial and denying its threats to Ukrainian security. However, this contradicts reality, as Russia has been advancing manipulative demands on Ukraine regarding gas supplies to maintain its influence since the Orange Revolution when Ukraine first chose the Western vector rather than the pro-Russian one.
On July 21, President Volodymyr Zelensky signed a law defining the legal status of the indigenous peoples of Crimea and providing them with guarantees of all human rights and freedoms. Pro-Russian forces have resumed a campaign to discredit the law, promoting the message as though it is intended to restrict Russians in their rights in Ukraine. Pro-Kremlin actors promote the narrative about the division of Ukraine and the segregation of the Ukrainian population, trying to demonstrate the allegedly undemocratic nature of the Ukrainian government. The purpose of these attacks is to discredit the Ukrainian government and strengthen the narrative on the oppression of the Russian population, which the aggressor state uses to justify the occupation.