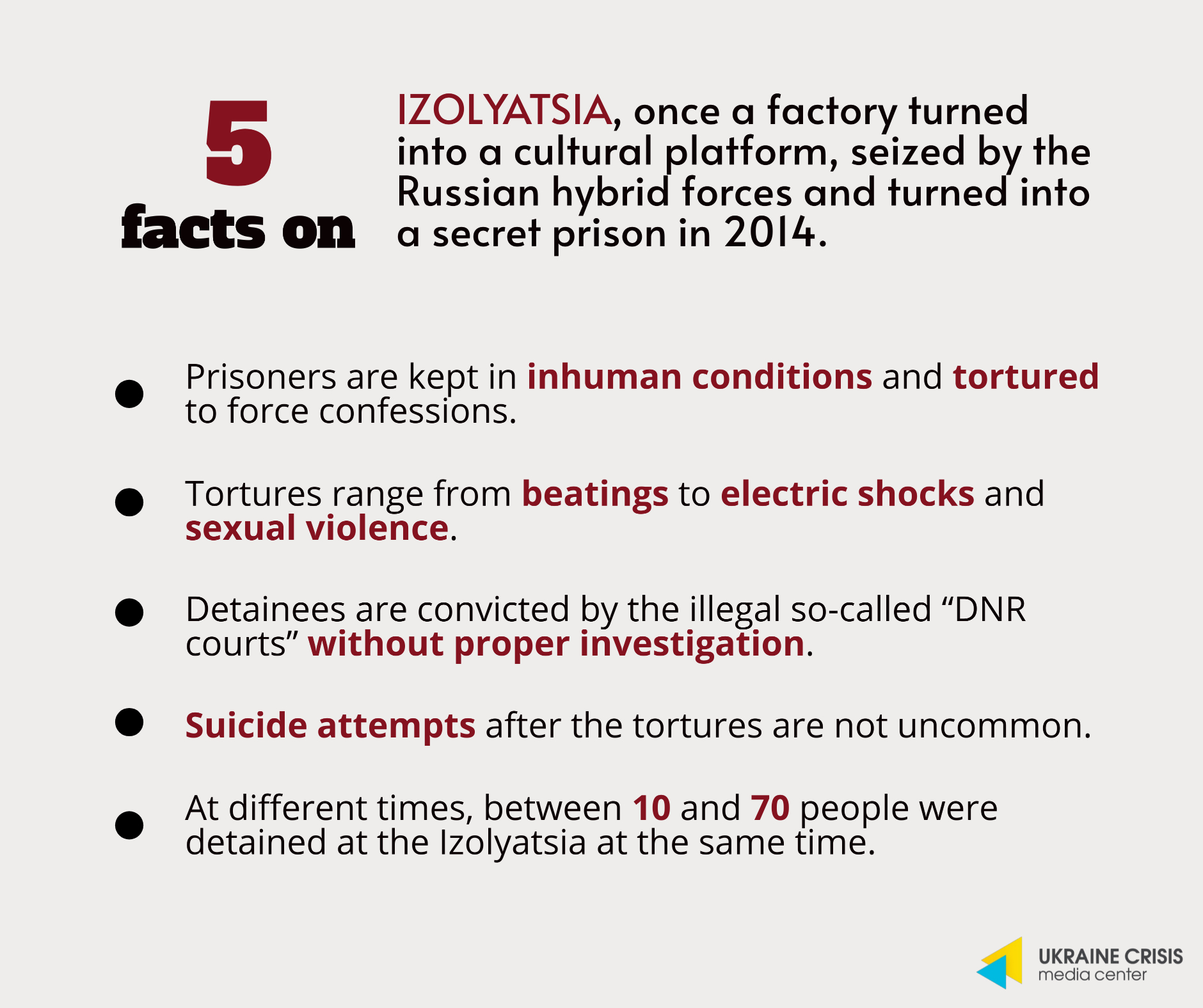 In 2021, Crimea and the Donbas, occupied by Russia, remain in the shadows of law and justice as beyond-the-law territories even though deprivation of liberty without the respective law procedures is a rude violation of the Geneva Conventions as well the European Convention on Human Rights.
According to the report of the Office of the UN High Commissioner for Human Rights, detainees in Ukrainian territories controlled by Russia's puppet Donbas "republics" are subjected to arbitrary detention, enforced disappearance, ill-treatment, and tortures, including electric shock and mockery executions, and sexual violence. All the interrogations were being carried out by representatives of the so-called "DPR" and "LPR" security ministries.
"Izolyatsia": From the Museum of Contemporary Art to the Museum of Terror
One of the most eloquent examples of the brutality of Russia-back forces on the occupied territories is "Izolyatsia" (Ukrainian for "isolation") — an art center which was then turned into a torture chamber in 2014, when Russian hybrid forces illegally seized power in Ukrainian Donetsk and started keeping weapons, troops, and prisoners in the building. According to the eyewitnesses, "Izolyatsia" looks much more like a concentration camp than a prison. Dozens of people are still imprisoned there, illegally detained under fake trials, with denied access to lawyers or contact with both their families or the outside world.
Al the prisoners are subjected to torture, which leads to numerous suicide attempts. Some of the detainees and their relatives were threatened with death, physical violence, or rape to extract a confession or cooperate with the authorities of the so-called "DPR". The investigators' main target was the dehumanization of their victims, destroying their dignity and self-respect, making them lose the track of time or believe that the outside world neither exists nor cares about them.
The most common methods of tortures were beatings, electric shocks used on legs, feet, arms, necks, mouths, ears, and genitals; suffocation with water or plastic bags, positional tortures, traumatic removal of body parts (such as fingernails and teeth), deprivation of food, water, sleep, and toilet, as well as sexual violence. The practice of "mock executions" when the detainees were threatened to kill with various weapons, was also used to force confessions. The tortures were controlled by doctors to maximize the pain without causing death.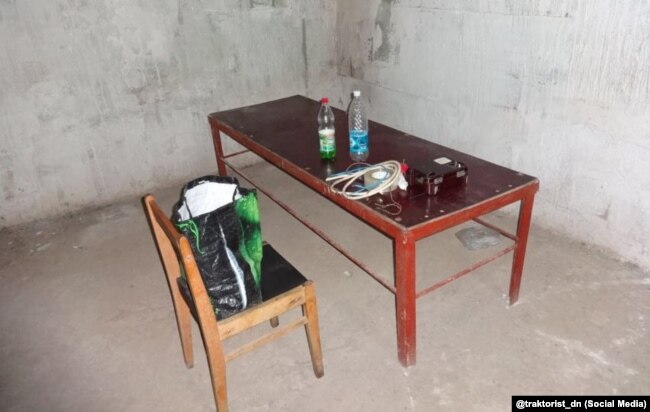 Crimea: "Taming" the Active Citizens
On the other hand, in annexed Crimea, which is now subjected to Russian law, tortures and arrests are used as targeted policies aimed to attack the freedom of speech and press and, therefore, turn the local population into "loyal citizens". The "Russkiy mir" quasi-ideology needs people who abandoned hope for justice and freedom, being too intimidated to notice the military crimes, human rights violations, and consistent lies of the Russian government. Combining intensive militarization, aggressive Kremlin propaganda in the media, and the spread of hatred towards Ukraine, the Kremlin is looking for a way to integrate the occupied territories. Therefore, dozens of fabricated court cases together with unlawful detention and beating of pro-Ukrainian activists and ethnic Crimean Tatars is a logical continuation of the politics of intimidation, in which "terrorism" and "espionage" are just a part of Kafkaesque decoration.
In 2020, seven activists from Crimean Solidarity (a civic initiative created to help political prisoners and their families, and to spread information about repressions in the occupied Crimean peninsula) were sentenced by the Russian military court for prison terms ranging from 13 to 19 years for alleged cooperation with Muslim organization called Hizb-ut Tahrir, which is legal in Ukraine but banned in Russia as "terrorist".
In March 2021, Vladyslav Yesypenko, Radio Free Europe/Radio Liberty freelance journalist, who was filming the action dedicated to Taras Shevchenko's anniversary on March 9, was illegally detained in Simferopol, beaten, tortured with electric shocks, and threatened with death to confess in "espionage" for Ukraine's special services. Later, he was also accused of illegal storage or carrying of weapons and ammunition. After the Russia-controlled court in Simferopol extended his arrest till July 11, Vladyslav Yesypenko is still illegally deprived of his liberty.
According to the Crimean Human Rights Group, more than 100 Ukrainian political prisoners are now illegally detained in Russia and occupied Crimea. More than 70 of them are Crimean Tatar Muslims persecuted for obviously fabricated allegations of terrorism and extremism, which carries a sentence of between 10 and 20 years imprisonment according to the criminal code of the Russian Federation. As a result, more than 200 young children were left parentless. 
The Kremlin's Hunger for Breaking the Law
In the meantime, Russia is actively launching its militarisation campaign, conscripting Crimean males to serve in Russia's armed forces, providing military propaganda for children in schools and summer camps, violating the international humanitarian law. In April 2021 a call for military service was also announced in the so-called "DPR" amid Russia's escalation at the Ukraine border.
When it comes to the occupied Ukrainian territories, Russia is trying to portray Ukraine as an aggressor state to whitewash its reputation before the world community, emphasizing its status of not a participant in war but a "mediator" and "peacemaker". Earlier, editors of Russian Wikipedia even tried to delete the article about Izolyatsia prison from the encyclopedia as "political" and "propagandistic".
Hundreds of pro-Ukrainian political and civil activists, journalists, international observers, and common civilians are still held in captivity by Russia-backed forces, represented by people who enjoy both physical and psychological violence and sadism. Tortures and violations of human dignity, that have no place in the civilized world, are part of systematic tactics used by Russia on occupied territories. And 26th of June, which is an International Day in Support of Victims of Torture is yet another reminder that de-occupation is inter alia a guarantee of safety, the preservation of human life, and the fundamental democratic values.