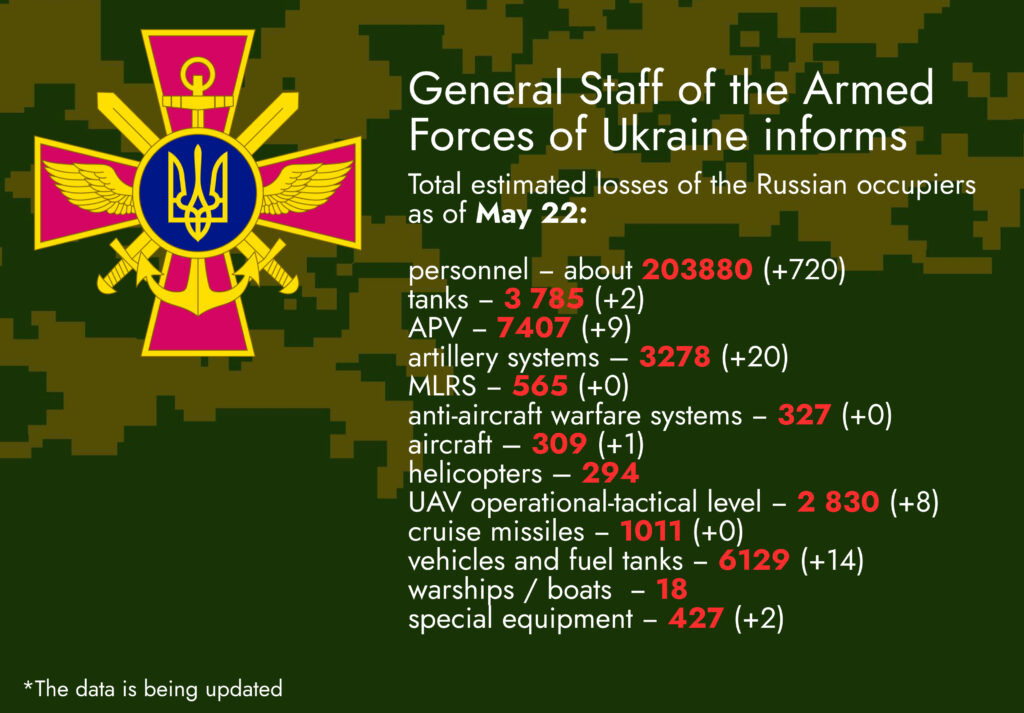 On May 21, the enemy conducted a series of aggressive military attacks, consisting of 6 missile launches, 52 airstrikes, and 65 Multiple Launch Rocket System (MLRS) attacks. These attacks resulted in significant destruction and damage to private residences and civilian infrastructure. Particularly concerning was the adversary's utilization of S-300 air defense systems, which are known to lack high-precision targeting capabilities, to target Ukrainian cities including Lyman, Slovyansk, and Kostyantynivka. This repeated employment of such weapons highlights the alarming reliance on terror tactics by the Russian Federation.
In response, the Ukrainian Air Force executed 14 airstrikes against enemy concentrations of troops and military equipment, as well as 7 airstrikes specifically targeting the enemy's anti-aircraft missile systems.
Furthermore, Ukrainian forces successfully intercepted and neutralized 3 reconnaissance unmanned aerial vehicles (UAVs) of various types, along with 5 combat UAVs operated by the enemy.
The Ukrainian missile and artillery troops effectively struck 5 enemy troop concentrations, 2 ammunition depots, 3 artillery units positioned for firing, 2 command posts, 1 electronic warfare station, 1 anti-aircraft missile system, and 1 other strategically important target belonging to the adversary.