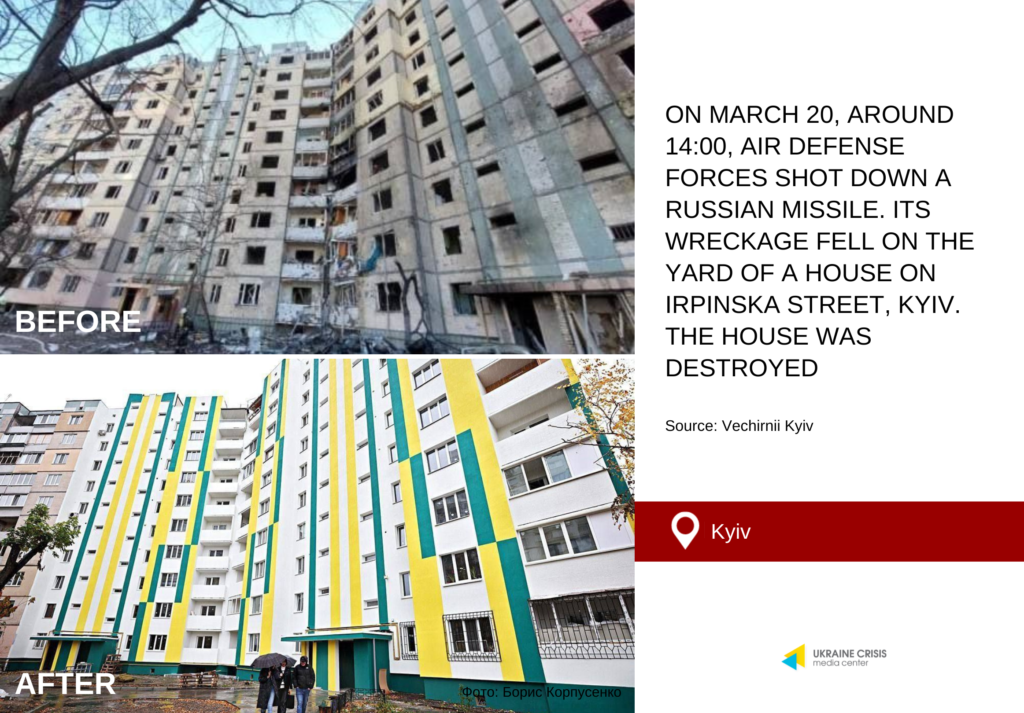 A high-rise building destroyed by missile stike was restored in the Sviatoshyn district of Kyiv. This is reported by Vechirnii Kyiv. 
On March 20, around 14:00, air defense forces shot down a Russian missile. Its wreckage fell on the yard of a house on Irpinska Street, Kyiv. The house was destroyed, it was impossible to live in it. After the explosion, specialists conducted an examination in each apartment, and over the course of several months, builders repaired the building.
Another house on Irpinska Street was also seriously damaged at the end of March this year. As a result of falling into the yard of a fragment of a Russian missile, there was an emergency destruction of part of the building's structures. This is a 10-story building constructed in 1989.
"In particular, the facade, windows, roof and entrances to the 3rd and 4th sections of the building were partially damaged. Separate apartments on the 4th floor caught fire. The house literally cracked. Today, the facade and common areas have been completely renovated. Repairs of damaged apartments and restoration of engineering networks have almost been completed. The elevators in the 3rd and 4th entrances have been repaired," added Kyiv Mayor Vitaly  Klitschko