Situation in the combat zone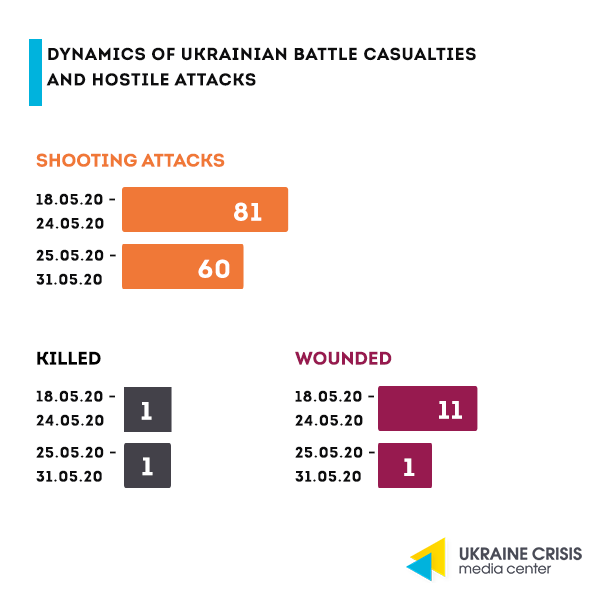 In the area of responsibility of the operational-tactic command "Pivnich" (North), Russia-backed militants fired from Minsk-proscribed weapons that were supposed to be long withdrawn from the contact line.
In the evening of May 29 Russia's proxies deliberately fired from antitank grenade launchers upon the disengagement site no.2 in Zolote. On May 30 they used various infantry weapons outside Orikhove. Thus, they fired twice from grenade launchers, heavy machine guns and small arms. They also instigated attacks near Khutir Vilnyi.
On June 1 Russia-backed militants fired upon the Ukrainian troops' positions near Hnutove. One Ukrainian serviceman was wounded by shrapnel.
---
Economy: government puts forward a new plan to save the country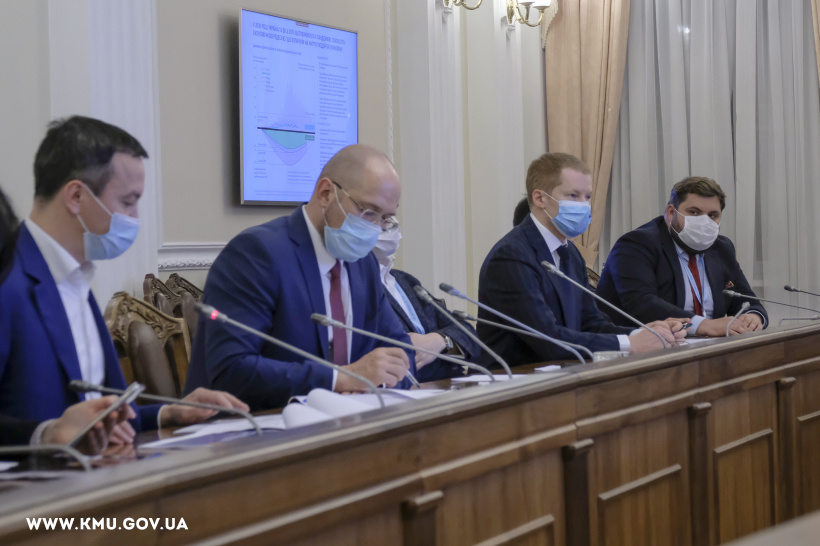 Last week the government released an 86 page economic recovery program. According to Prime Minister Denys Shmyhal, at the heart of the program is moderate economic nationalism called to privilege domestic producers over imports. The program also sets the goal for Ukraine to become a top 30 economy in the "Doing Business" ranking.       
Economy and COVID-19: half a billion hryvnia on scientific research. Tackling the coronavirus, the government plans to develop a new framework for businesses based on safe working conditions and social distancing. The program also suggests temporarily exempting from tax imported medical equipment and supplies used in countering COVID-19. Some UAH 500 million (approx. USD 18,6 million) is budgeted for scientific research and inventions called to prevent the spread of the virus.
Protection of domestic goods: monitoring and investigations. As part of the domestic goods protection strategy, the government plans to cut "unscrupulous imports" by intensifying anti-dumping investigations and applying protective mechanisms foreseen by the World Trade Organization and international agreements. The program also introduces monitoring of the domestic market, exports and imports of agricultural products, medicines and medical equipment. 
Industry: moratorium on tax increase. To tackle the 16,2 per cent drop in industrial production in April 2020 (against April 2019), the government plans to reduce tax and administrative burden on manufacturing companies. Top priority is the moratorium on increase of all tax rates.  
Transportation: tax incentives. According to the government's projections, the impact of the coronavirus recession will be different on different kinds of transport. Airlines will be hit hardest, as passenger flights make up for 83 per cent of their income structure. Companies providing transportation services by rail, water and road will also be affected by declining demand on freight transportation. 
One of the key initiatives promoted by the government to support the sector is extending loan repayment for 180+ days after the transportation ban is lifted. Its implementation starts in June.
The program also suggests waving lease and rent payments for passenger carriers during the lockdown and three months after it. Similarly, during the lockdown and three months after it's lifted, airports and "Ukraerorukh" (Ukraine's State Air Traffic Service) will be exempt from land tax, while airlines will be exempt from VAT on domestic flights.
Labor market: "inexpensive" jobs. The major advantage that the government promotes for the labor market is the program "Big Construction" that is expected to create about 170 thousand jobs in road construction and 150 thousand jobs in adjacent sectors. State-run job centers are now able to cover 10 per cent of the official demand – jobs for 500 thousand unemployed in Ukraine.
In addition to construction, the government has committed itself to creating more jobs in social work, forestry (countering wildfires), e-archiving and urban planning. The Prime Minister earlier unveiled the plans to create a large number of "inexpensive" jobs that foresee monthly salaries of UAH 6.000-8.000 (USD 223-298). 
Investment: e-residency. The government does not reject the idea of amnesty of capital that the President promised to introduce already this year. Amnesty rate is now subject to discussion, it was earlier planned as five per cent for both the money and real estate. It also suggests replacing the corporate tax with exit capital tax.
In June the government plans to develop actual e-residency tools for foreign entrepreneurs wishing to start a business in Ukraine. In an interview to Liga.net, Deputy Minister of Digital Transformation Oleksandr Bornyakov explained that first e-residents will be welcomed in a few months. E-residents will be issued a tax ID, digital signature and will be able to open a bank account. In autumn, after the legislation is amended, they will be able to start their businesses online.
---
Richest Ukrainians: Forbes releases its ranking of wealthiest businessmen for the first time since 2016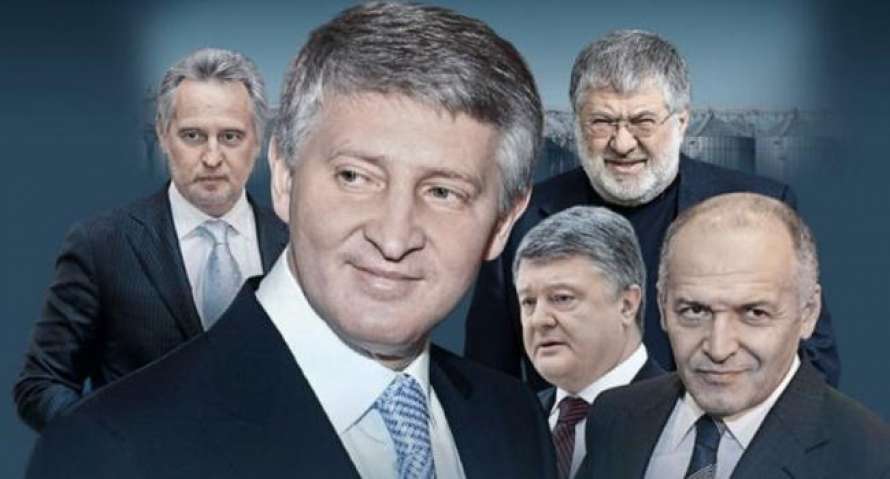 In its first issue after the re-launch, Forbes Ukraine released the ranking of Ukraine's 100 wealthiest businessmen. Their total assets are worth USD 31.4 billion.
Oligarch Rinat Akhmetov ranks first with some USD 2.8 billion, Viktor Pinchuk (USD 1.4 billion) is listed second, Petro Poroshenko (USD 1.4 billion) comes third. Other billionaires shortlisted by Forbes are Oleksandr and Halyna Hereh (USD 1.3 billion), Hennadiy Boholyubov (USD 1.2 billion), Yuriy Kosyuk (USD 1.1 billion), Kostyantyn Zhevaho (USD 1.1 billion) and Ihor Kolomoyskyi (USD one billion).
Compared to 2013, when Akhmetov's assets peaked, his present fortune has declined almost six times. Poroshenko re-entered the billionaires' list after five-year absence. After the first issue of Forbes Ukraine was out, the US edition updated the information on Ukrainian billionaires in their world ranking, but there are still discrepancies. Thus, Akmetov's fortune is estimated at USD three billion, Zhevaho's – USD 1.3 billion. The Hereh family is missing from the list.
---
Culture: Dovzhenko Center on the brink of insolvency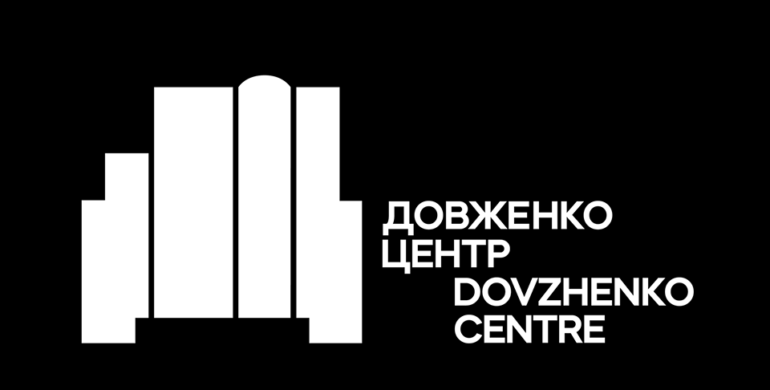 On May 28, Ukraine's largest film archive Oleksandr Dovzhenko National Center declared insolvency. The Center claims it has not received appropriate state funding. Its staff was not paid in months, as salaries are state-financed by 70 per cent.
"Starting from the end of May the Center is unable to pay taxes and its obligations under agreements (…). The Center's administration has made each and every effort to contain the catastrophic situation created due to the absence of public financing and the total loss of income due to lockdown restrictions that was covering the Center's operation for five months. Unfortunately, the Center's resources are completely exhausted," the Center's press statement reads.
To remind, Dovzhenko Center is Ukraine's largest, internationally renowned film archive that stores over 6.000 live-action, documentary and animated films, both Ukrainian and international as well as thousands items of archive documents recreating the history of Ukrainian cinema.
Dovzhenko Center was founded in 1994, taking over from the film printing factory established in 1948, Ukraine's biggest factory of a kind.
---
The future of the language law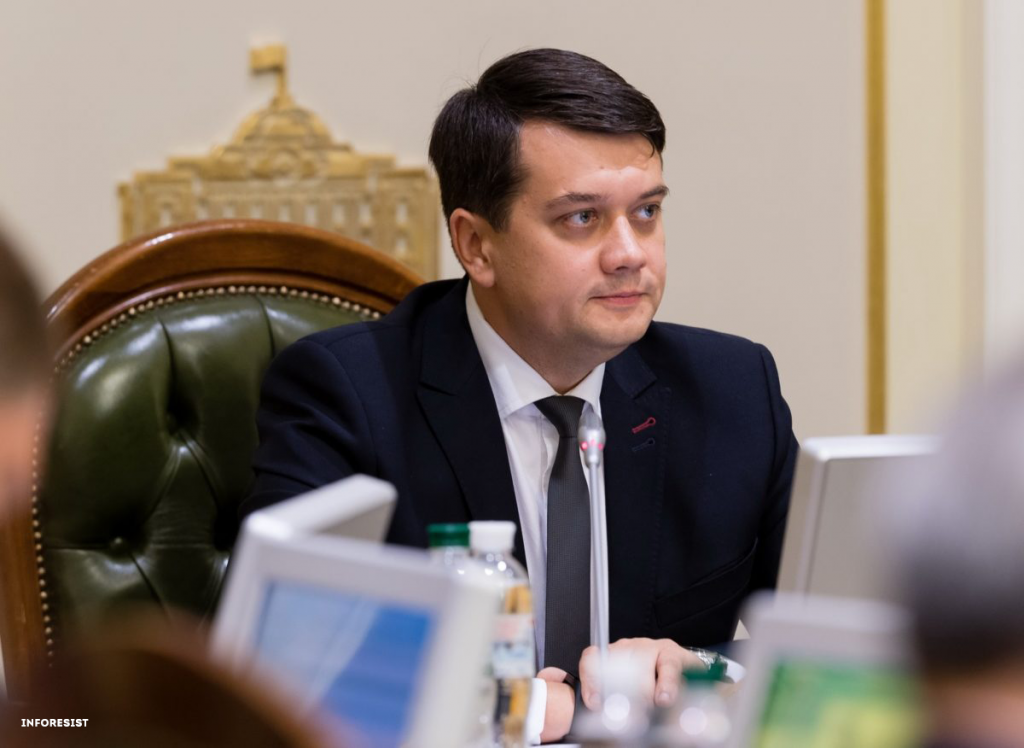 Head of the Parliament Dmytro Razumkov said the Law "On ensuring the functioning of Ukrainian as the state language" needs to be changed. Why and in what way?
"Foreign partners". Motivating the need to amend the language law, Razumkov kept mentioning "foreign partners", possibly referring to the Venice Commission. "Certain issues need to make everyone happy, including our foreign partners," Head of the Parliament said at the press briefing that followed the sitting of the inter-faction parliamentary council.
"Regaining control of the territories". The changes announced by the Speaker may concern the return of the occupied territories. "Changes are needed: there are issues that everyone should be happy with. It is not an economic issue that either large enterprises or small businesses will benefit from. (…) If we take a language issue, a humanitarian issue, the return of the territories – all positions need to be taken into account," Razumkov said.
Elections: "don't split the society". Razumkov also recalled language in election campaigning. He said "Servant of the People" (Sluha Narodu) was the only political force not to bring up the argument that would split the voters. "As elections are now nearing, some political forces see it as a chance to preserve or increase their score. However issues that split the society should not be voiced by politicians," Head of the Parliament said.
At the same time he emphasized that Ukrainian as the only state language is unquestionable.
He said respective draft laws were registered in the Parliament but were not included in the agenda of next weeks' sittings.
---
How Ukraine is fighting COVID-19
On May 31, 341 Ukrainians were diagnosed with COVID-19, 10 deaths were recorded, 152 patients recovered, 496 persons suspected to have the coronavirus are waiting for a diagnosis.
Ukraine has recorded a total of 24.012 cases, 1.725 children and 4.621 medics got infected with COVID-19; 9.690 persons recovered, 718 deaths were recorded.
On June 1 the majority of Ukraine's regions entered the third phase of lockdown easing. Gyms, fitness centers, schools, domestic bus and railway passenger transport reopened.
The Ministry of Infrastructure is working to restart international flights to "most popular destinations" on June 15. The destinations include Turkey, Greece, Cyprus, Montenegro, Croatia and Georgia.