Kyiv, October 16, 2014 – "Units of the National Guard and Ukrainian Armed Forces held a joint operation to unblock the checkpoint at the crossroad Zolote-Khoroshe-Smila where combats were on for two days. Artillery and heavy military machinery were used against the terrorists. The enemy suffered considerable losses in manpower and was forced to retreat. The checkpoint was reinforced, it was provided with potable water, food, ammunition was renewed. Engineering setting up of positions is being reinforced. Our servicemen repelled next terrorists' attack on the Donetsk airport. Armed Forces positions were shelled twice with mortars and artillery. Outskirts of Donetsk, Mrjinka, Pisky were also shelled. 3 Ukrainian servicemen were killed, 9 wounded over the past 24 hours ", – reported Colonel Lysenko, the National Security and Defense Council Information Center spokesman at his briefing at the Ukraine Crisis Media Center.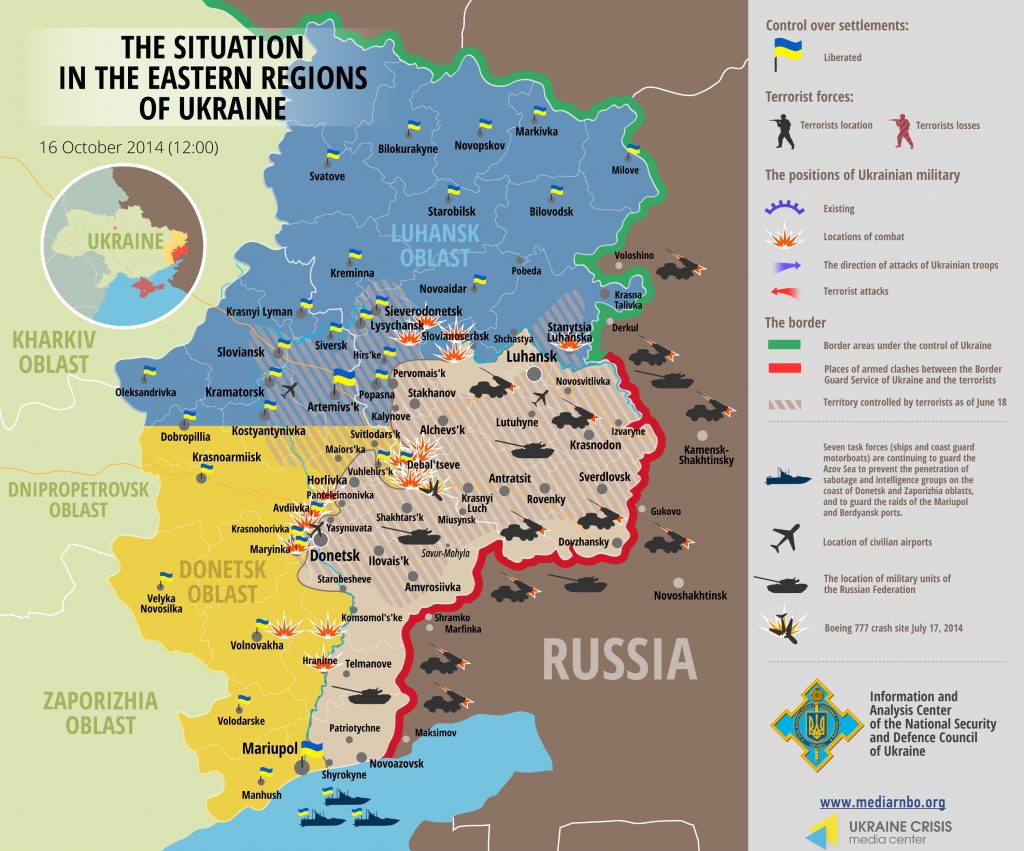 Yesterday in Sartana OSCE special monitoring mission fixed results of the shelling of 14 October when civilians were killed. The monitors confirmed that the shelling was conducted from the East where terrorists' positions are stationed.
According to Lysenko, in defined districts of the ATO zone military machinery and militants' units are spotted concentrating in the directions of: in the North – Stanychno Luhanske of Luhansk region; Avdiivka and Debaltseve; in the South – near Mariupol, in Volnovakha and Telmanove districts of the Donetsk region.
Terrorists shelled several times with mortars and artillery ATO positions near Debaltseve. Near Chornykhyne shelling was conducted with Grad MRLs. Over the past 24 hours separatists intensified their activities in the North-East of Mariupol: Ukrainian Armed Forces positions near Talakivka and Sartana were shelled with 120-mm mortars and Grad MRLs.
According to Lysenko, there were no engagements and shelling of positions in the border segments controlled by Ukrainian servicemen. Armed Forces of the Russian Federation continue active aerial reconnaissance activities violating Ukraine's airspace. Yesterday 2 UAVs were spotted – one near Mariupol, another one – at administrative border with the occupied Crimea.
Apart from that Russians conduct demonstrative flights of military helicopters along the Ukraine-Russia border in Milove and Troyitske districts of Luhansk region. Ukraine's airspace was not violated.
As of today at the border with the Russian Federation the State Border Guard Service actively assisted by regional administrations set up 62 km of anti-tanks trenches and 50 km of other man-made obstacles, renovated 750 km of the control track line, equipped tank cuts, trenches, dug-outs and checkpoints. Similar measures have been also taken at the administrative border with the temporary occupied Crimea.
Colonel Lysenko informed that terrorists do not halt shelling of residential areas on the territories temporarily under their control. Thus, they shelled residential buildings in Nikishyne village of Shakhtarsk district of the Donetsk region from Grad MRLs. In Novoaidarivsky district of Luhansk region terrorist subversive group shelled with mortars Rayhorodka village.
There's a tendency towards increase of armed clashes between particular illegal armed groups to gain control over certain property objects. Particularly leaders of various gangs of the so-called "Donetsk people's republic" have reinforced their personal security afraid of being eliminated by other gangs. Clashes among the terrorists gained such intensity that several gangs formed from Autonomous Republic of Crimea locals did not want to continue participating in further clashes and plan to leave Donbas territory in the nearest time.
Andriy Lysenko informed that conflict between the terrorists of the self-proclaimed "DPR" and "LPR" sharpens over resources supplied from Russia. Donetsk terrorists blame on Luhansk terrorists that they appropriate majority of supplies.
The split inside the so-called "LPR" is deepening as well. Thus, Russian Cossacks announced on establishing of the so-called "Cossack people's republic" and Antratsytivsky garrison in Sverdlovsk, Rovenky and Antratsyt. Cossack leaders threaten to destroy those terrorist gangs that refuse to become part of the garrison.
Last night tactical counterintelligence group of Ukraine's Security Service detained two terrorists. One of them was recruited by a fighter of illegal armed group "Oplot" and directed terrorists' fire from Grad MRLs launched at military units of Ukrainian Armed Forces near Donetsk villages Antonivka and Yelyzavetivka. Second militant detained is a 25-year old female citizen of Ukraine who was actively participating in combat on terrorists' side against Ukrainian military. Apart from that under the guise of a peaceful local she was insidiously gaining trust of locals to collect recon data and pass it to the terrorists.
Operational investigation activities are proceeding on the detained.
President of Ukraine Petro Poroshenko held a meeting with the Head of the OSCE Special Monitoring Mission Ertugrul Apakan. Head of State emphasized on the importance to expand the work of the OSCE mission in Ukraine and suggested in particular studying the possibility to have it increased up to 1500 monitors. Petro Poroshenko called for wider use of modern equipment to monitor the situation. In his turn Head of the mission informed that the mission plans to intensify monitoring and control over the ceasefire regime and over the border. The number of mission monitors will be increased in the nearest time. The number of armoured vehicles will be increased as well. The mission plans to gradually move its units to the Ukraine-Russia border.
Andriy Lysenko commented on the response of international community to the conflict in eastern Ukraine.
President of Ukraine Petro Poroshenko held a phone talk with the US President Barack Obama, the parties paid particular attention to the control over the Ukraine-Russia border.
Ministers for Foreign Affairs of Germany and France Frank Walter Steinmeir and Laurent Fabius respectively hope to clarify the opportunity to jointly provide UAVs for the monitoring mission in Donbas. The ministers also called to fully implement recent agreements re peaceful settlement of the conflict. They include in particular the demand to free the captive as well as secure permanent monitoring of the border by OSCE mission and create a buffer security zone in border areas.
Supreme Allied Commander Europe of NATO Allied Command Operations Philip Breedlove stated that the Northern Atlantic Alliance currently does not fix considerable progress in withdrawal process of the Russian troops from the border with Ukraine.
Hungarian Minister of Defense Csaba Hende claimed that official Budapest provided opportunities for treatment and rehabilitation of injured Ukrainian servicemen in the medical center of defense forces in Hungary, Budapest, as well as will help train Ukrainian Armed Forces servicemen to neutralize self-made explosives. Moreover Hungarian Minister of Defense informed that Budapest will make a contribution into a NATO trust fund to reinforce cyber security of Ukraine.
Montenegro, Iceland, Albania, Lichtenstein and Norway joined the latest package of EU sanctions against Russia. Sanctions introduced in September impose additional limitations on access of a row of Russian banks and companies to EU capital market. Ban on service provision for projects on offshore, Arctic and shale oil extraction was introduced. Apart from that ban on export to Russia of double destination good was increased.