Kyiv, December 13, 2014. Despite the introduction of silence regime the militants in the ATO area continue to provoke Ukrainian troops, reported the spokesperson of the NSDC Information and Analytical Center Colonel Andriy Lysenko during a press briefing at Ukraine Crisis Media Center.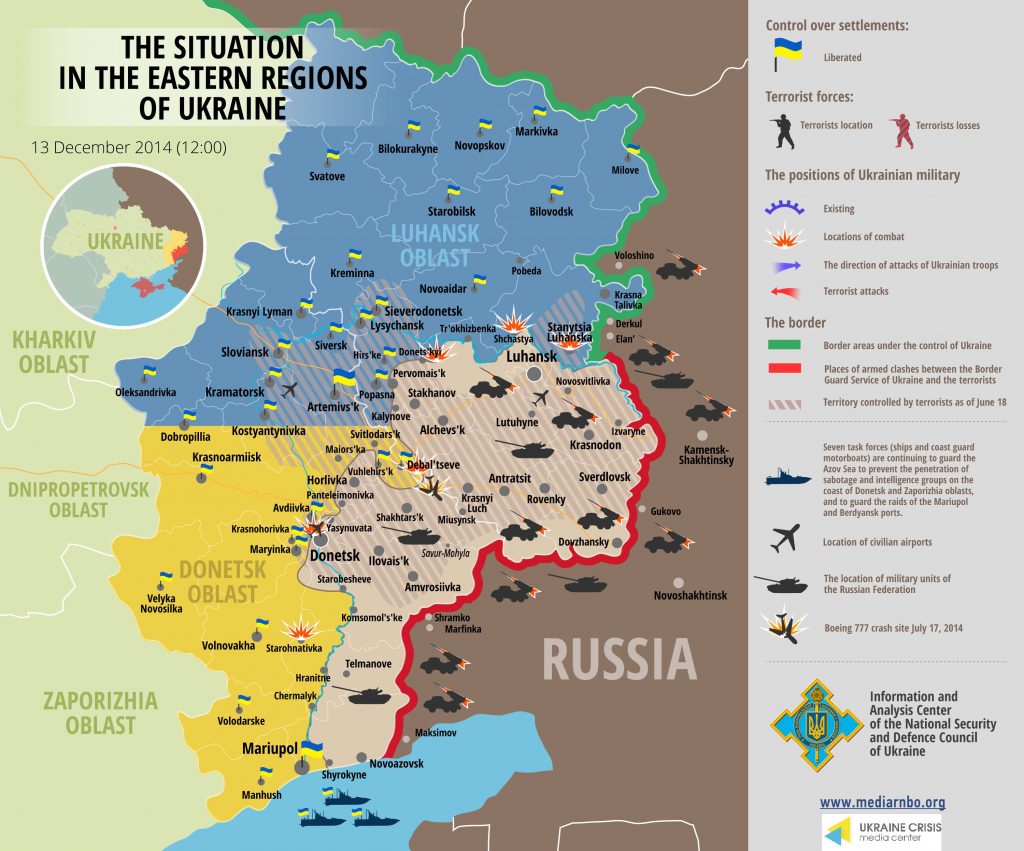 The number of enemy attacks against Ukrainian troops continues to decrease. However, the provocations did not stop completely – in the past 24 hours there have been recorded 11 violations of silence regime on the part of terrorists using small arms, mortars and artillery. Ukrainian troops open fire only in case of direct enemy attacks, confirmed Lysenko.
Today, NSDC has received official confirmation of the deaths of two Ukrainian soldiers from the "Azov" battalion in the Pavlopil area; three more got wounded. They were killed by a land mine explosion during a fight with a group of "DPR" terrorists. The enemy was destroyed. There were no more casualties among the Ukrainian servicemen in the past 24 hours.
Two vehicles of the OSCE monitoring mission were stopped in the village of Pyshchevyk, near Pavlopil, northeast of Mariupol by the representatives of the "DPR". Terrorists forced observers out of the car at gunpoint, performed search, and hit one observer with a stock of a gun. The Ukrainian government states that violence against international observers who work in the ATO zone is absolutely unacceptable. The Deputy Chairman of OSCE special monitoring mission in Ukraine Alexander Hug reported that observers welcomed the ceasefire in the Donbas, noting that he buffer zone, which was agreed upon in Minsk, still remains dangerous and there is the risk of conflict escalation.
The rearmament of Ukrainian Army continues. The National Guard received five special trucks equipped with "Multilift" system. The use of such platforms will significantly reduce the vehicle loading and unloading time as well as minimize the role of a person in this process. Also, the law enforcement officers in the ATO area received new winter uniforms and weapons; optical equipment (scopes, night vision devices) will be sent to the ATO area shortly.
Ukrainian security services continue to implement counter-terrorism measures in the liberated territories. SBU (State Security Service) detained several saboteurs in Popasna, Luhansk region and in the city of Chervonoarmiysk.
US State Department spokesperson Jen Psaki, commenting on the bills just recently passed in Congress in support of Ukraine, noted that the United States would continue to focus on efforts to support Ukraine and promote a diplomatic solution … in close collaboration with allies and partners in Europe and throughout the world.
The Norwegian Ministry of Defence decided to suspend bilateral military cooperation with Russia until the end of 2015. "The situation is serious in eastern Ukraine, and Russia, of course, plays a destabilizing role. Russia supports separatists in eastern Ukraine, and also keeps the armed forces along the border. This is unacceptable," said the Norwegian Defence Minister Ine Eriksen Soreide.