Kyiv, February 8, 2014. Ukrainian troops eliminated a group of pro-Russian militants with the military IDs and passports of the Russian Federation, which confirms the Kremlin's aggression against Ukraine. Col. Andriy Lysenko, ATO spokesperson, told this during the press-briefing at Ukraine Crisis Media Center.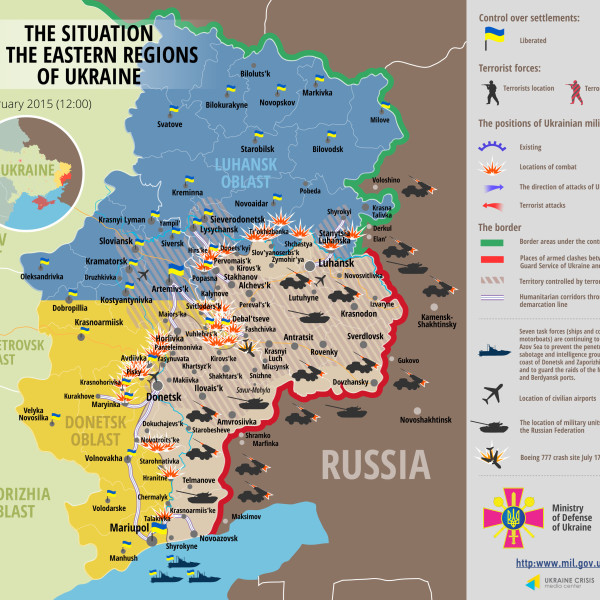 According to Col. Lysenko, the most intense fighting is going on around the city of Debaltseve. Pro-Russian militants attempted to storm blockposts of Ukrainian forces near Debaltseve and Chornukhine after shelling their positions from the artillery, mortars and "Grad" missile systems. Ukrainian Armed Forces repelled all attacks.
Col. Lysenko reported of severe casualties that the Ukrainian Army inflicted on the enemy. According to the ATO press-center, 70 insurgents were eliminated and 20 got wounded. Ukrainian forces also destroyed 14 pieces of military equipment: four cars, two self-propelled cannons, two "Grad" missile systems and four tanks among them. 12 Ukrainian soldiers were killed and 24 got wounded in the last 24 hours.
Col. Lysenko reported that 359 people have been evacuated from the area around Debaltseve over the last day.
New photo evidence of the Russian aggression against Ukraine have been demonstrated. The ATO spokesperson told that Ukrainian soldiers seized several Shmel ["Bumblebee"] rocket launchers used only by the Russian Armed Forces. Furthermore, Ukrainian servicemen found documents that identified dead militants as Russian citizens. The ATO spokesperson reminded that President of Ukraine Petro Poroshenko showed passports of Russian soldiers who fought on the territory of Ukraine during the 51st Munich Security Conference.
Russian 13th so-called "humanitarian convoy" has invaded Ukraine. Representatives of the International Committee of the Red Cross did not inspect the cargo.
Leaders of Ukraine, Russia, Germany and France are going to continue consultations regarding the peaceful settlement of the military conflict in eastern Ukraine. "Ukrainian government is consistent in its support for a peaceful resolution of the conflict in Donbas," Col. Lysenko concluded.