Kyiv, February 19, 2015. An exhibition called "Presence. Evidence of the Russian Military Aggression on the territory of Ukraine" will take place at Mykhaylivska Square, Kyiv, from February 21-28. The project has been initiated by the Presidential Administration. Leaders and diplomats of Western countries are cordially invited to attend the event together withe the Ukrainian authorities, representatives of international organisations and general public. Andriy Taranov, Deputy Head of the Presidential Administration, Nataliya Popovych, co-founder of Ukraine Crisis Media Center and Volodymyr Kadygrob, chief exhibitionist, told during the press-briefing at Ukraine Crisis Media Center.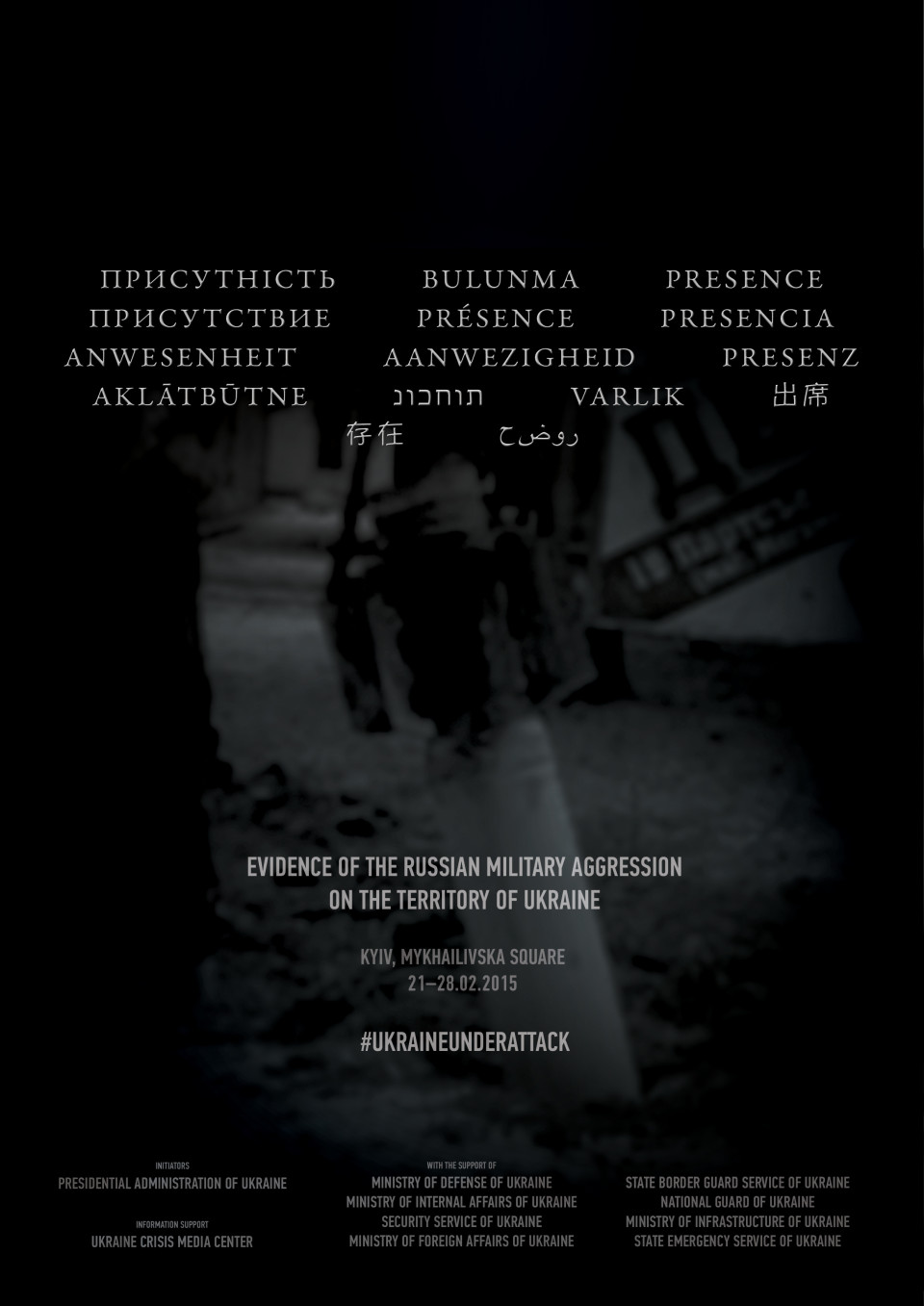 Andriy Taranov stressed that the documentary exhibition disproves claims of the Russian leaders and pro-Russian rebels that the Russian Federation is not supplying arms and soldiers to in eastern Ukraine. "Most artefacts that will be displayed are used as evidence in a number of criminal cases. Ukrainian soldiers seized some of the military equipment in clashes with insurgents. They will add up to evidence base that will be shown to the Ukrainians and the entire international community," Mr. Taranov explained.
Exhibition items also expose the groundless nature of the Russian myth that there is a civil war in Ukraine. "Russian Federation has waged a hybrid war against Ukraine. However, its victims are real. We are losing the best sons of Ukraine everyday because others believe in the myths, manipulations and outright lies of the Russian propagandists," Ms. Popovych said.
Volodymyr Kadygrob also noted that visitors will be able to see a comprehensive picture of the conflict: from informational aggression to the ramifications of the military invasion.
The speakers expressed their gratitude to the Ministry of Defence of Ukraine, Ukrainian law-enforcement agencies, The Ministry of Infrastructure of Ukraine, The Ministry of Foreign Affairs of Ukraine and Ukraine's State Service for providing an opportunity for the Ukrainians and the whole world to see the truth of the Russian military aggression against Ukraine.
The exhibition will be open its doors for the general public at 13:00, February 21.
Opening hours: 10:00 – 22:00