Kyiv, March 3, 2015 – Pro-Russian militants constantly relocate weapons and military equipment from the contact line further back to the Ukrainian-Russian border, however, they return it back shortly afterwards. "OSCE Special Monitoring Mission in Ukraine reported that the militants of the "Luhansk People's Republic" denied access to the concentration site of heavy weapons after withdrawal for the monitors," said Colonel Andriy Lysenko, ATO spokesman, at a briefing at Ukraine Crisis Media Center.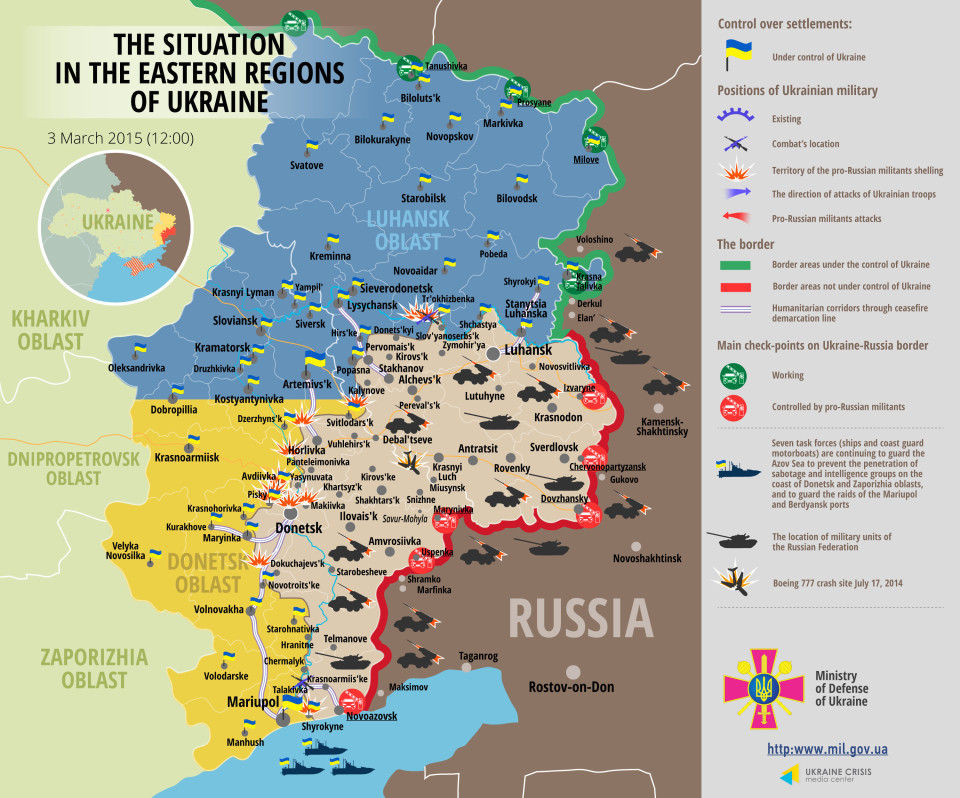 Russia-backed militants fired at Ukrainian positions 20 times at the Mariupol, Donetsk, Artemivsk and Lysychansk directions yesterday; 3 more incidents occurred after midnight. Ukrainian Armed Forces repelled the militant attack near Pavlopil, Donetsk region. "3 Ukrainian servicemen were killed in and 9 got wounded in the last 24 hours," the ATO spokesman noted.
Ukrainian intelligence report about further consolidation of the militants' military equipment and manpower supported by Russia along most of the contact line. "A new convoy of tanks, IFVs and APCs with armed personnel illegally crossed the Russian-Ukrainian border and arrived to Pobeda, Donetsk region last night. The precise numbers of equipment is to be clarified," Col. Lysenko said.
Ukrainian servicemen spotted 4 UAVs that belonged to the insurgents, which conducted reconnaissance at the Artemivsk and Mariupol directions.
Ukrainian counter-intelligence detained a Russian citizen near Stanytsia Luhanska. He confessed that he has illegally crossed the Russian-Ukrainian border via "Izvaryne" checkpoint on January 19. After spending several weeks at one of the militants' bases, he tried to get into government-controlled territories under the guise of a refugee. Furthermore, two more insurgents were detained at the Lysychansk control point and near Selidove respectively.
Ukrainian Border Guards and the operatives detained a 16-year-old teenager who fought in the ranks of the pro-Russian militants. He admitted of his active participation in military action in the area of the Donetsk airport. "We want to urge, once again, that the military recruitment of children is prohibited under the Convention on the Rights of the Child," Andriy Lysenko emphasized.