Kyiv, June 9, 2015 – According to information of Ukrainian representatives to the Joint Control and Coordination Center, the separatists were actively using Grad-P systems near Shyrokyne in the past days. These systems are also known as "Partisan" and represent a modification of Grad MRLS that fires single rockets.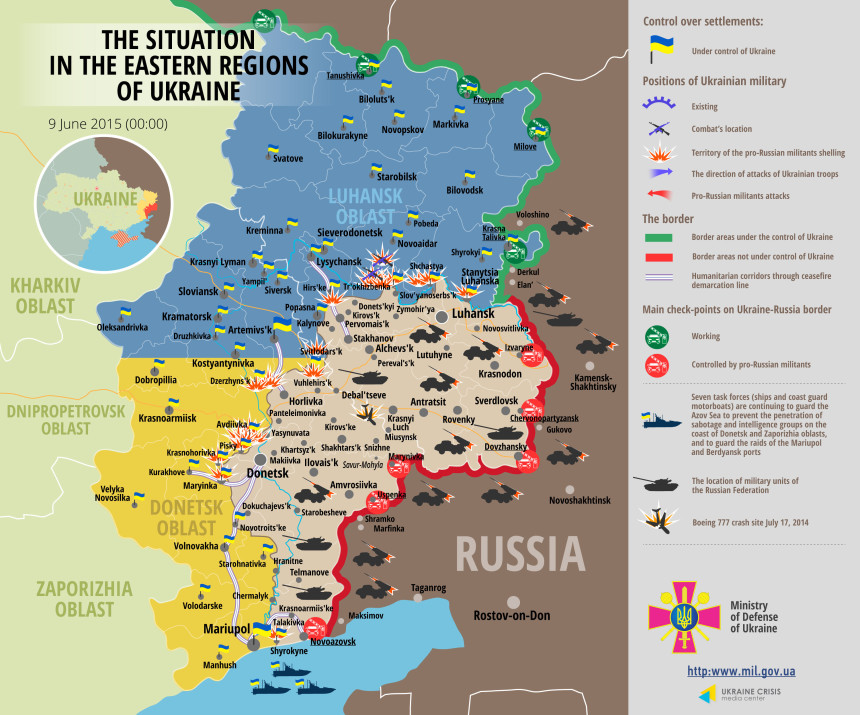 "Statistics of attacks at our positions proves that enemy deployed up to five Grad-P pieces to Shyrokyne. Due to small size and high mobility it is quite easy to hide these weapons, however given their caliber and reactive principle of action, these systems also have to be withdrawn from the combat line," – said Colonel Andriy Lysenko.
In the Mariupol area, fighting also took place in Lomakyne. Militants fired at Ukrainian positions mainly from small arms, however later shelling with 152-mm artillery was registered. In the Donetsk area, the most active combat took place around Horlivka and in its North-Western outskirts.
"Enemy attacked with dense fire, used 122-mm cannons and tanks in the area of Krasny Pakhar near Svitlodarsk firing from two different spots," – noted Colonel Lysenko.
Militants also intensely fired at the ATO forces west of Donetsk from Avdiivka to Maryinka. Use of tanks by militants was noted in the area of Vodyane and Opytne.
"Having suffered heavy losses in course of the offensive on Maryinka militants are changing tactics, focusing on use of subversive-reconnaissance groups and provocative shelling of both: the ATO positions and the territories they control. As the enemy's subversive-recon groups are intensifying their activities west of Donetsk, in the area of Maryinka and Krasnohorivka in particular, the ATO command reinforces work to detect and neutralize them," – noted ATO spokesman.
Eight Ukrainian servicemen were killed in action yesterday and five got wounded in action.
"Yesterday while on a combat mission a truck with seven Ukrainian servicemen – IED specialists tripped a mine in the area of Krasnohorivka. "The servicemen got fatally wounded in the explosion", – explained Colonel Lysenko.
In the Luhansk sector active combat actions took place on July 8, along the entire combat line in this section of the front – from Zolote to Stanytsia Luhanska. The ATO forces destroyed an enemy subversive group near Hrechyshkyne village. Heavy fighting occurred in Krymske village where militants deployed the IFVs and mortars. Additionally three Ukrainian servicemen stepped on a mine in Krymske, they were injured and taken to a hospital.
Ukrainian servicemen noted 55 flights of enemy UAVs in the ATO zone on July 8.
Furthermore, as the officials claimed, the Ukrainian Security Service disrupted an attempt of the Russian Federation special services to create phony anti-Ukrainian "republic" in Mykolayiv region. "It was planned to proclaim a phony "republic" during the so-called "people's meeting". The meeting in question was supposed to be controlled online by Russian leaders and according to their plan it was set to create the required propagandist picture for Russian media," said Andriy Lysenko. People who came to the meeting said that organizers of the event had not notified them about the goal of meeting, however they were promised a payment.
Same time, Ukrainian special services detained a resident of Sumy who was planning terrorist acts on a gas facility infrastructure and in public places. It has been detected that the device was supposed to explode during a massive patriotic rally in the city. The terrorist was detained in his own car near Sumy directorate of gas pipeline "Ukrtransgas" which can be put on a list of places facing increased terrorist threat. While examining the car experts seized a home-made explosive device which currently is being examined.
In addition, officials noted that the law enforcers seized illegal weapons in eastern Ukraine. A private car owned by a Sumy resident was stopped on a blockpost in Mayorsk on June 7. Ukrainian law enforcers found a Russian-produced RGN grenade in the trunk. It was seized and taken for examination.