Kyiv, June 10, 2015 – In the Mariupol, the Russia-backed militants used 152-mm cannons and Grad-P systems near Shyrokyne. "Militants also fired the cannons of the same caliber in the Donetsk are in the east and west of Svitlodarske water reservoir", – said Colonel Andriy Lysenko, spokesman at the Administration of the President of Ukraine.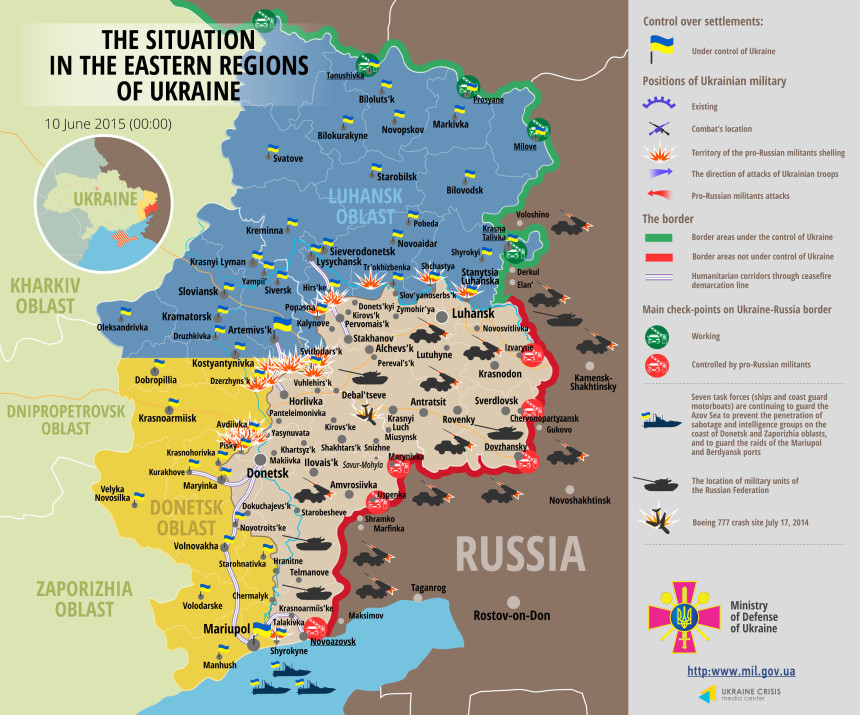 "Militants were actively using cannons, mortars and armored vehicles including IFVs and tanks in the area of the Donetsk airport. Combats also took place in the western, northern and eastern outskirts of Horlivka. Russia-backed mercenaries were firing at the positions of the ATO forces and at the residential areas – not only on the combat line but also 5-10 km away from the front where striking to the target is only possible from 122-mm and larger artillery," explained the ATO spokesperson.
In Luhansk, the separatists used mortar fire in the area of Zolote and Popasna that caused a damage to the power supply line. Enemy was shelling positions of Ukrainian troops near Krymske from IFV. In Shchastia and Stanytsia Luhanska they were utilizing small arms, grenade launcher SPG-9s and 120-mm mortars and ZU-23-2 anti-aircraft mount.
Ukrainian border guards registered 30 flights of enemy UAVs on 9th of June. The Ukrainian Armed Forces suffered no lethal casualties in the last 24 hours, seven servicemen got wounded in action.
Ukraine's Security Service uncovered the scheme that officials of the "Zhdanivska mine" relied on to finance the "DPR" militant group. Director of the mine agreed with militant leaders and organized several export operations of coal. "The profit money was used to finance militant groups. Over 650 thousand tons of coal of various types, worth of over UAH 433 millions were exported from occupied territories. A number of foreign companies purchased coal by the "Zhdanivska mine", it highly likely tgat they are not the final point of the trade," – clarified Colonel Lysenko.