Kyiv, June 27, 2015. Ukrainian Armed Forces fought off the attack of five Russia-backed militants, which was part of the subversive group, in the area of Krymske, Luhansk region, forcing them to flee. Other hotspots in the region included Stanytsia Luhanska that came under intensive mortar shelling. The town and neighboring villages have been cut from electricity, communications and water supply, said Colonel Andriy Lysenko, spokesman of the Administration of the President of Ukraine on ATO related issues, during the press briefing at Ukraine Crisis Media Center.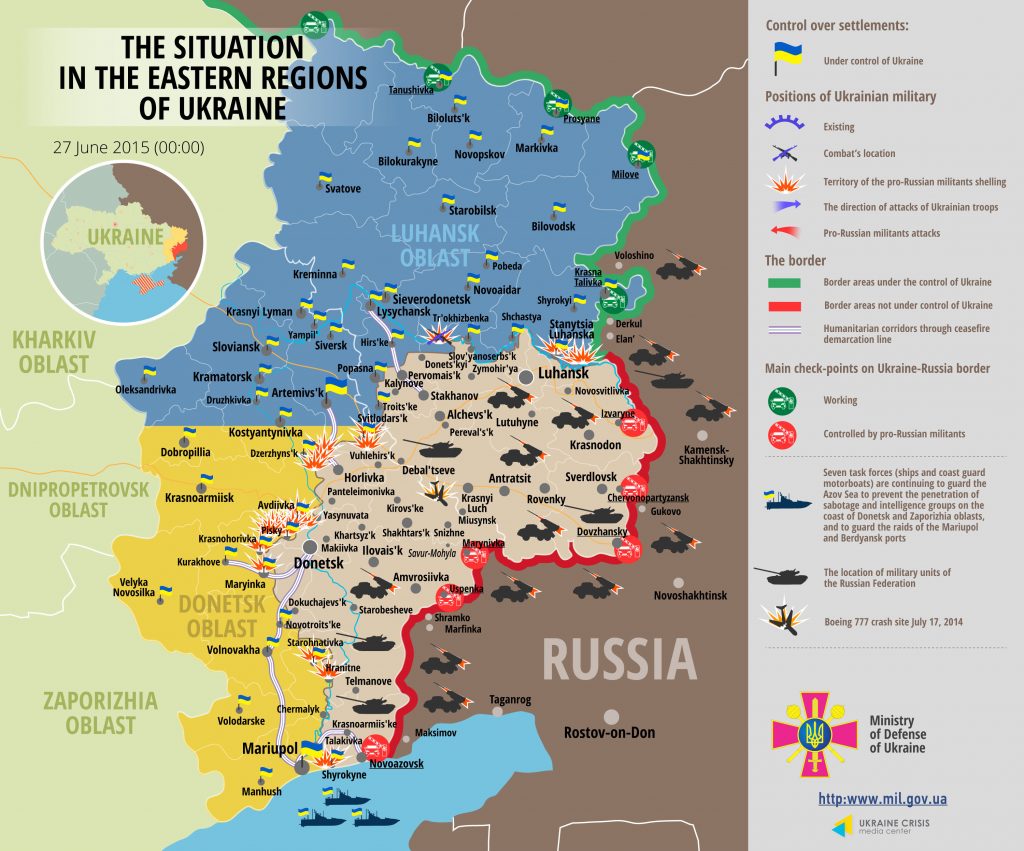 Incessant fighting continued in the area stretching from Maryinka to Avdiivka in the Donetsk sector. Also militants have instigate isolated provocations in the area of Horlivka, firing from tanks.
Col. Lysenko noted that Russia-backed fighters used heavy weapons at night: "Due the shelling from large caliber artillery, these attacks reach towns 5-8 km away from the frontline."
Heavy artillery strikes have been observed in the Mariupol sector as well. "Militants shelled Ukrainian military positions in Shyrokyne and Starohnativka; they are firing from the howitzers and 120-mm mortars hidden in Sakhanka village as well as using tanks and self-propelled artillery systems from Novolaspa village," Col. Lysenko said.
Ukrainian border guards spotted eight flights of enemy UAVs yesterday.
Ukrainian Armed Forces did not suffer any lethal casualties; five servicemen got wounded in the last 24 hours.
Ukraine's police force detained a resident of Mykolayiv, born in Vladivostok, Russia, who joined the so-called "DPR", went through military training and fought near Shyrokyne.  He turned himself to Ukrainian soldiers after his escape from the hospital.
Security services also detained a "DPR" informer who gathered intelligence on the dislocations of Ukrainian forces. "He revealed the entire spyring that included some prominent militants with nom-de-guerres Sedoy and Oper. The main task of his group was to conduct terrorist and subversive acts, fight against Ukrainian troops and fulfill orders of the Russian security services," Col. Lysenko said.
Furthermore, Ukrainian law enforcers uncovered two arms caches in Artemivsk and Shchastya in Donetsk and Luhansk region respectively. The first one contained over 26.5 kg of explosive material, five artillery projectiles, six anti-tank mines, 18 anti-tank grenade launchers with eight projectiles and over 10,000 ammunition rounds. The second had a large number of boxes full of ammunition for small arms, anti-tank guided missiles, grenade launchers with 10 boxes of projectiles, F-1 and RGO grenades and a large caliber machine gun.