Foundation
December 1, 1993: Formed as a part of the 217th Guards Parachute Airborne Regiment.
November 8, 2002: Removed from the 1st Airmobile Division and transferred to the 6th Guards Army Corps.
Garrison Location: Hvardiiske village, Dnipropetrovsk region.
Combat path during the war in eastern Ukraine
Late March 2014: Eighty troopers refused to surrender to the Russian Army during military maneuvers in Crimea. They have successfully returned to mainland Ukraine with full ammunition, military equipment and the military banner.
June – July 2014: Liberation Krasnyi Lyman, Sloviansk and its outskirts in Donetsk region.
June – August 2014: Defense of the Luhansk International Airport.
June 14, 2014: Russian servicemen and their proxies shot down a Ukrainian IL-76 with 40 paratroopers onboard during its landing in the Luhansk airport. Russia-backed militants used infrared "Igla" surface-to-air missile to the plane.
July 28, 2014: Liberation of Debaltseve, Donetsk region.
July – August 2014: Combat actions near Shakhtarsk, liberation of Zhdanivka and Nyzhnya Krynk, and Vuhlehirsk. Active fighting and holding of Savur-Mohyla strategic heights.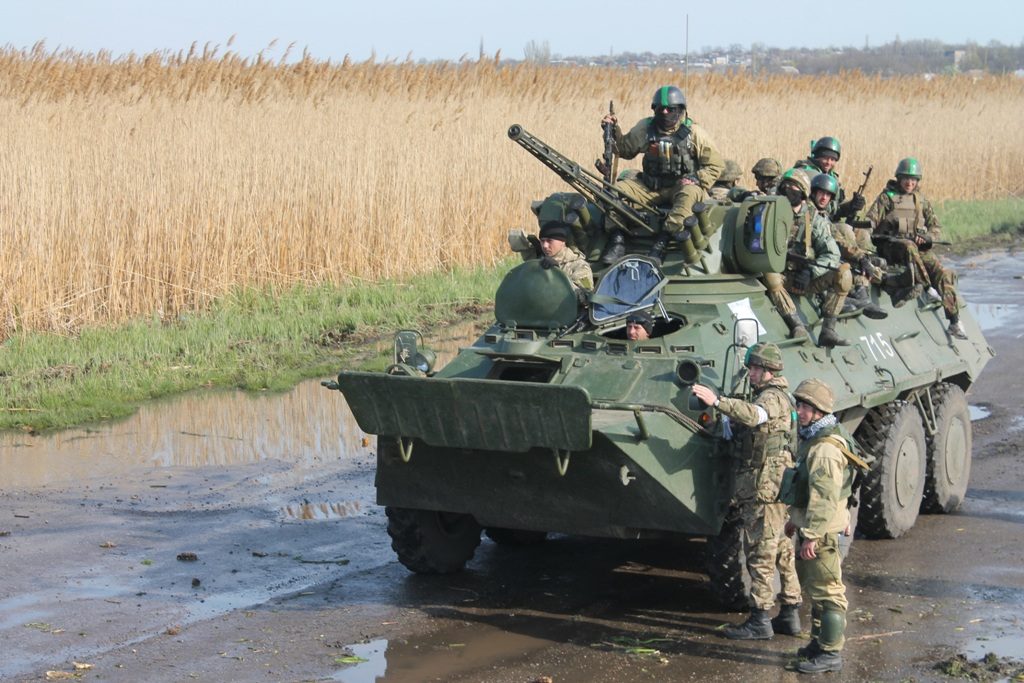 Fighters of the 25th Airborne Brigade underwent numerous tests of their morale and allegiance to the Ukrainian nation. Brigade's warriors were the first to meet the Russian soldiers during the latter's operation to annex Crimea. This happened in late March 2014, when the military maneuvers of Ukrainian servicemen coincided with the Russian occupation of the peninsula. One can only envy soldiers` endurance: for nearly two weeks, they have demonstrated an incredible sense of military duty and dignity despite numerous provocations of heavily armed invaders who besieged the soldiers` stronghold. After long days and sleepless nights, the decision was taken to break through to the mainland part of Ukraine. The paratroopers delivered an ultimatum to the enemy: either they will exit the Crimea with weapons and equipment, or they will fight the Russian invaders. The resoluteness of the Ukrainian soldiers has put the enemy in awe. Soldiers of the 25th Airborne Brigade got to their garrison in Dnipropetrovsk region safely.
Then the Anti-Terrorist Operation began, and Dnipropetrovsk paratroopers were the first to stop the enemy yet again. The battles for the liberation of Krasnyi Lyman, Sloviansk and Debaltseve soon followed in which the Ukrainian paratroopers showed excellent combat skills and devout patriotism.
The day of June 14, 2014, will forever remain a tragic page in the history of the brigade and the Ukrainian people. Russian proxies shot down a military airplane with 40 paratroopers who were flying to help of their comrades-in-arms in the Luhansk airport.
However, it is not that easy to bring down the heroes` will, which the servicemen of the 25th Dnipropetrovsk Airborne Brigade prove in every battle, countering every attempt of the Russia-backed militants to undermine the sovereignty and territorial integrity of Ukraine.