Kyiv, September 10, 2015. Militants violated ceasefire agreement twice in Donetsk sector. They opened fire from grenade launchers and small arms south and east of Avdiivka and Maryinka. "During one provocation a Ukrainian soldier was wounded," said Colonel Olexandr Motuzyanyk, a spokesperson of the Presidential Administration of Ukraine on ATO-related issues at a press briefing at Ukraine Crisis Media Center.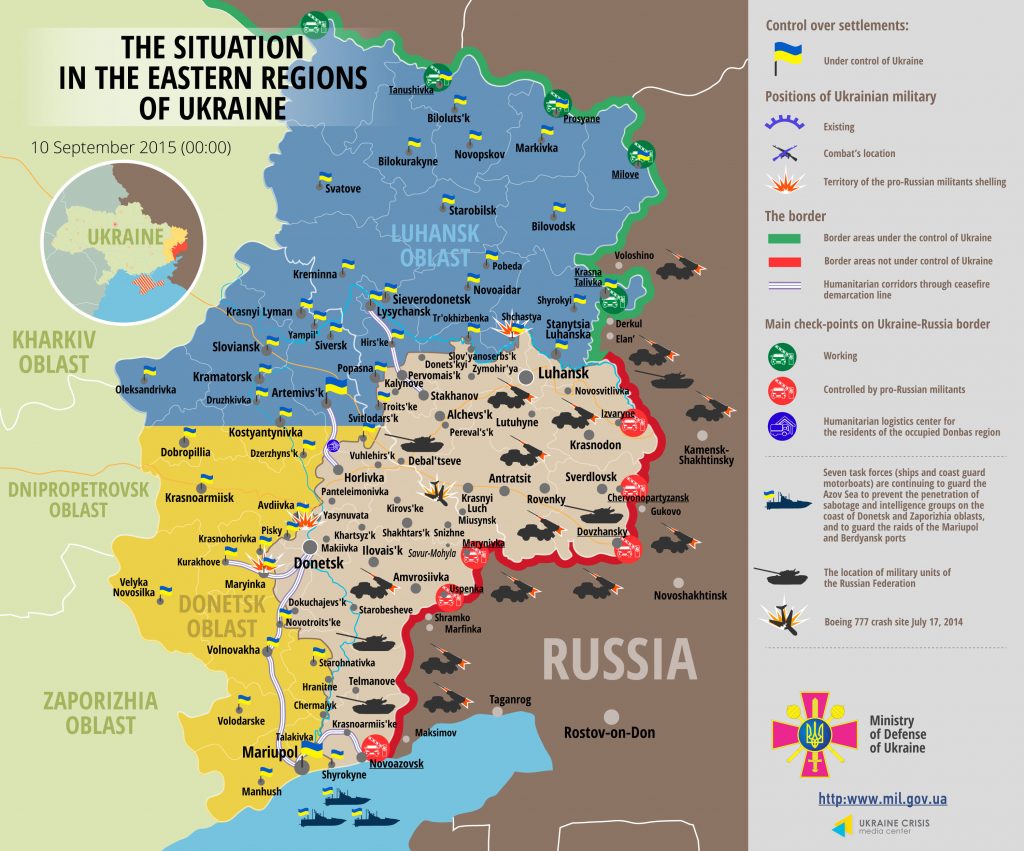 In Luhansk sector there was one armed provocation. Militants fired from small arms and grenade launchers for about 10 minutes near Shchastia. "A woman from Stanytsia Luhanska was wounded yesterday as a result of an unknown device explosion," said Motuzyanyk. Meanwhile, Mariupol sector remains as calm as before.
Two former militants were detained in Mariupol. According to the intelligence reports last year they arrived to occupied Novoazovsk and started cooperating with militants. One of them underwent a tank driver training in a Russian training camp. "According to the detainee, his instructor was a Russian Armed Forces officer, and there were a lot of new unmarked tanks on the territory. The man admitted that he had driven six T-72 tanks from Russia to Novoazovsk," said Motuzyanyk. In April 2015 both collaborators left Novoazovsk.
The Security Service of Ukraine (SBU) detained a militants' informant. He is from Krasnoarmiysk of Donetsk region. The man had volunteered to collaborate with militants and offered to gather information about the ATO forces. "Working as an electrician in Selidove, he collected information on the ATO forces movement and disposition while repairing electricity and connecting Ukrainian roadblocks to electric power supply. The militants had used this information for shelling our positions," said Motuzyanyk.
In Zaporizhia the Ukrainian Security Service detained two local residents who disseminated anti-Ukrainian materials over the Internet. They maintained close contacts with the Russian special services. "According to the order of the Russian special services, they were engaged in destabilizing socio-political situation in the region," said Motuzyanyk.
The Security Service continues to implement the program of returning people, who voluntarily left the militants' ranks, to the Ukraine-controlled territory. Two more men from Avdiivka and Slovyansk returned to their families. After these cities were liberated, they were hiding in the temporarily occupied territories.
Three residents of Zhytomyr, who are fighting in the DPR militants' ranks, are attached suspicion in absentia. The Security searched their places of residence. They withdrew items and documents proving the suspects' guilt, as well as drugs and more than 45 kg of amber. It was established that these people had voluntarily joined the militants and have undergone a military training on the occupied territory. "It is documented that one of the suspects was in charge of shelling the ATO positions in Donetsk airport. They also recruited militants," said Motuzyanyk.
An underground 'arsenal' was discovered in Shchastia. It had more than 20 grenade launchers, hand grenades, TNT sword and more than 2,000 rounds. "Near Shchastia the SBU discovered a shelter with two "Igla-1″ MANPADS. The weapons have been handed over to the Armed Forces of Ukraine," said Motuzyanyk.