Kyiv, October 1, 2015. Ukrainian forces yesterday recorded three armed provocations by militants in the ATO zone. These happened close to Luhanske (around Svitlodarsk), near Zaitseve (northwards of Horlivka) and between Novotroitske and Berezove located west of occupied Dokuchaevsk. "The enemy used only small arms and grenade launchers. These incidents were rather short, lasting less than 15 minutes," informed the spokesperson of the Presidential Administration of Ukraine on ATO related issues Colonel Andriy Lysenko at a press briefing at Ukraine Crisis Media Center. No flights of militants' drones were recorded yesterday.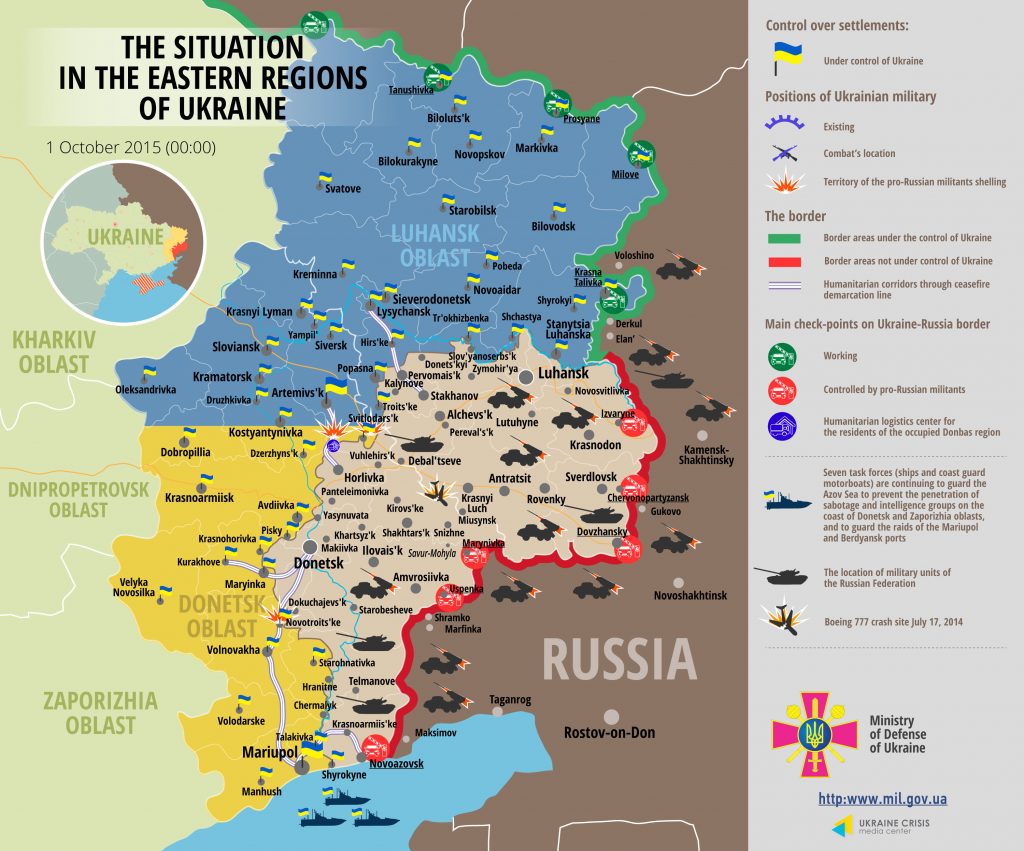 Yesterday two Ukrainian servicemen were wounded as a result of activating mines. The incident happened in  Donetsk sector. "ATO forces did not incur casualties as a result of hostilities," added the spokeperson on ATO related issues.
Ukraine's Security Service (SBU) detained one more network coordinator of anti-Ukrainian social groups. A resident of Zhovti Vody (Dnipropetrovsk region) distributed materials aimed at discrediting public the authorities and the Armed Forces, seeking to mobilize forces and destabilize the situation in the country. "At the beginning of 2015 he established contact with the secret service of the Russian Federation," said Colonel Lysenko.
In Donetsk region the SBU detained a former policeman who illegally kept weapons and manufactured narcotics . During the inspection of his garage SBU officers seized two rocket launchers, a sniper rifle, a Kalashnikov rifle, a World War II submachine-gun, a Nagant revolver, a Makarov pistol, 20 grenades, a large quantity of rounds of various calibres, devices for repairing and modifying weapons, detonation and incendiary explosive cords, etc. "Besides, the SBU officers found equipment for manufacturing drugs, instructions on their manufacture and ready-to-sell drugs," added Colonel Lysenko.
At the entrance to Dnipropetrovsk Ukrainian police stopped a car with weapons. The driver tried to pass through a stationary check point but was arrested on a nearby road. "In the car trunk officers found a Kalashnikov rifle with an under-barrel grenade launcher, a rocket launcher, a large number of automatic weapons, ammunition and more than 20 grenades," said the spokeperson on ATO related issues.