Kyiv, October 30, 2015. According to the General Staff of the Armed Forces of Ukraine, Ukrainian troops started withdrawing D-44 and D-48 cannons from the frontline today at 9.00 a.m. It is planned to finish this stage of withdrawal on Friday. "OSCE observers will be verifying withdrawn weapons on November 2-4, and mortar guns below 120 mm will be withdrawn on November 5-8. This process takes place in line with the Minsk Accords. Nevertheless, should militants attempt to undermine the peace process, Ukrainian army may promptly return the weapons to the frontline," said Presidential Administration spokesperson on ATO related issues Colonel Andriy Lysenko at a press briefing at Ukraine Crisis Media Center.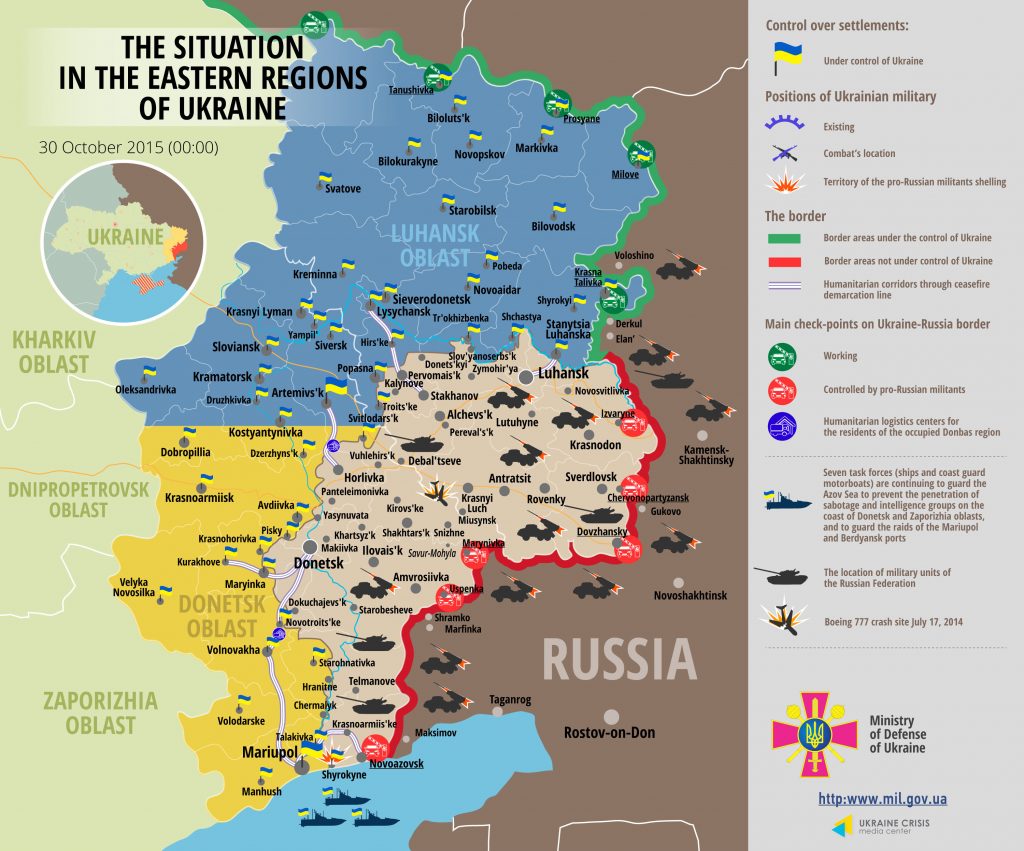 No militants' attacks were registered yesterday. Nevertheless, militants were shooting randomly at front strongholds of the ATO forces twice in Shyrokyne. "Moreover, our border guards doing service at Zolote and Mariinka checkpoints registered attack from the occupied territory using light arms and grenade launchers," said the spokesperson.
Two troops of the Armed Forces, who were clearing the territory of mines, tripped a wire in Syze, Luhansk region and were wounded. "Moreover, a man tripped an explosive item near Novotroyitske checkpoint. The injured was transported to the central hospital in Volnovakha with shrapnel wound of a leg," added the spokesperson.
Fire caused by ammunition blast started at a field ammunition depot of the Armed Forces in Svatove, Luhansk region around 7.30 p.m. yesterday. One serviceman died and two more were wounded. There were two civilian casualties: one dead and one wounded. Thirty five multi-storey houses in the depot vicinity were damaged. Presumably, it was an act of terror that might have caused the emergency situation. Emergency service experts and joint commission of the Ministry of Defense and the General Staff arrived to the incident site. Evacuation of 200 inhabitants as well as in-patients of the local hospital, senior home and boarding school was organized, another 500 inhabitants left on their own. "Twenty joint groups consisting of Emergency Service engineers, Armed Forces troops, law enforcements and medical workers started working at 6.00 a.m. today. Fire fighters started localizing the fire at 8.00 a.m., using three fire control tanks. No new fire sources were observed as of 9.30 a.m.," said Col. Lysenko.
Law enforcements seized seven grenades with igniter sets, four anti-tank mines with 16 triggers and 11 missiles to anti-aircraft 45mm mount. "Moreover, a volunteer from Odesa region gave in the ammunition he had found in wooded area near Kodema village, Donetsk region, namely seven explosive rounds to grenade launcher, 42 grenades and over 3,000 cartridges of various calibers," said Col. Lysenko.
According to Col. Lysenko, 14 vehicles carrying humanitarian aid from the International Red Cross Committee proceeded to the occupied territory yesterday through Novotroyitske and Zaitseve checkpoints, and five trucks carrying construction materials for inhabitants of the occupied territories from charity organizations through Heorhiivka checkpoint.