Kyiv, November 16, 2015. "In case the situation in the ATO zone escalates further, the command will have to bring back artillery and mortars to the first line of defense in order to defend Ukrainian positions and save lives of Ukrainian servicemen. The OSCE mission has been notified accordingly. Complete withdrawal of weapons from the contact line by ATO forces has been verified by the mission monitors. However, no OSCE reports on weapons withdrawal by militant groups have been produced," said Presidential Administration spokesperson on ATO related issues Colonel Andriy Lysenko at a press briefing at Ukraine Crisis Media Center. For the first time in a week militants opened fire towards positions of ATO forces in Svitlodarsk area (Donetsk sector) in proximity to the contact line. It happened near Lozove and Luhanske yesterday. It was quite calm near Horlivka yesterday – only one armed incident was registered in Novhorodske. Most complicated situation stands on western outskirts of Donetsk. "Enemy regularly opens fire towards our positions to detect the weapons and defense systems of ATO forces. Apart from hostile mortars, use of small arms and grenade launchers was registered," explained the ATO spokesman.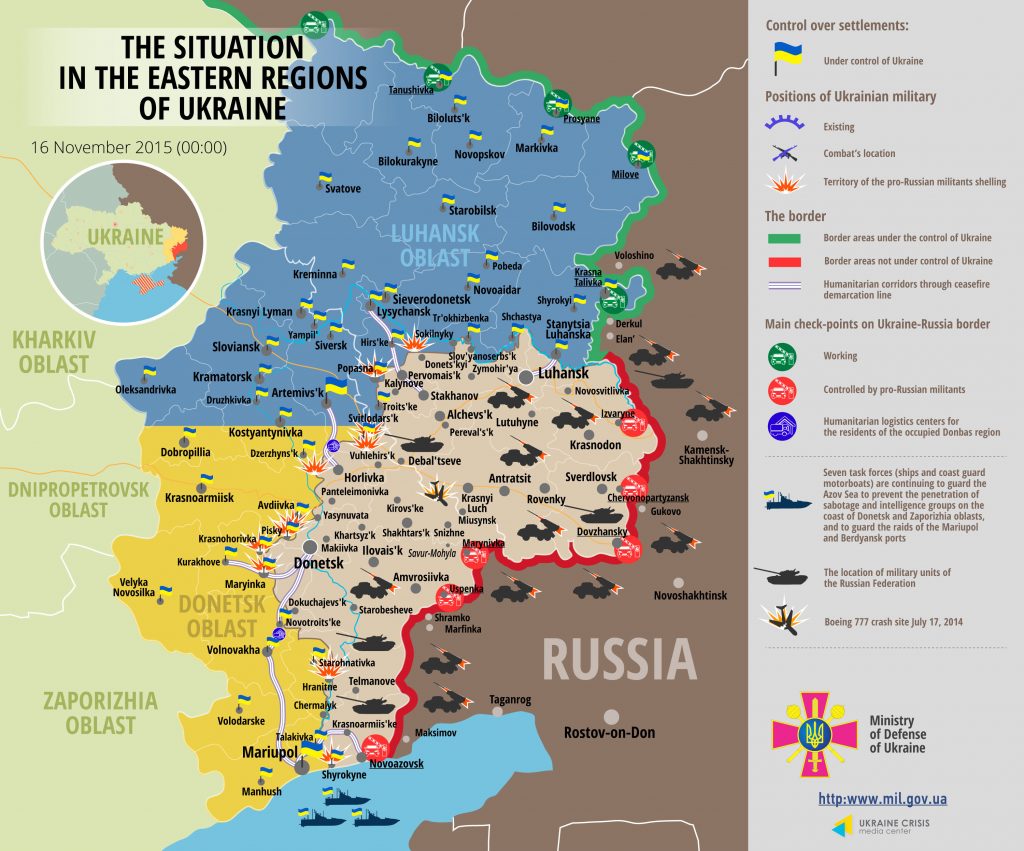 The most turbulent situation yesterday was observed in Pisky during the day time and in Maryinka in the evening. In the Luhansk sector militants fired upon the contact line positions of ATO forces on the Bakhmutska road near Novotoshkivske. "Adversary used small arms, antiaircraft mount ZU-23-2 and WWII-type 82-mm mortars," elaborated Colonel Lysenko. Near Zolote three servicemen of the Ukrainian Armed Forces hit a hostile radio-guided mine and were killed. "One hostile provocation also occurred to the south-east of Popasna. Adversary used small arms," added Andriy Lysenko. In the Mariupol sector militants violate ceasefire in particular spots, however, in contrast to other sections on the frontline conduct precision fire upon the positions of ATO forces. "Thus two such episodes occurred yesterday near Hranitne," said the ATO spokesman. Another militant provocation happened in Shyrokyne. Militants were firing with small arms for around 30 minutes towards Ukrainian positions.
Ukraine's Security Service detained the leader of one of the so called "Donetsk People's Republic" ("DPR") units near Maryinka, Donetsk region. The perpetrator was conducting racketeering and was passing the obtained money to militants. Ukraine's Security Service also detained a resident of Poltava region who enlisted in the "Russkaya pravoslavnaya armiya" (eng. – Russian Orthodox Army) militant group in the beginning of 2014, actively took part in combat actions against the ATO forces, stood guard at militant checkpoints in Horlivka and Donetsk and was moving military equipment from Russia to the temporary occupied areas. "The militant was detained when he was back to his native region for a rest. Investigation and court proceeding are awaiting him," said Colonel Lysenko. A cache with ammunition and explosives was discovered in Verkhnyotoretske, Donetsk region located on the contact line. Three antitank mines, two grenades, a TNT block, a Bickford (blasting) fuse and gunpowder were seized from the cache.