Kyiv, November 21, 2015. Militants violated ceasefire in the Donetsk sector near Novhorodske and Verkhniotoretske in the past 24 hours. Moreover, tension is increasing in the vicinity of Donetsk airport, namely near Pisky and Avdiivka. Russia-backed militants shot from light arms and grenade launchers. "At the same time, militants twice used 82mm mortar launchers north of Donetsk, shooting at our positions near Mariinka and Krasnohorivka. Militants deployed random fire, so mortars did not reach our positions and posed no threat to our troops. Nevertheless, the very fact of mortar usage use proves that militants are violating the Minsk Accords and agreements on withdrawal of weapons below 100mm" said Presidential Administration spokesperson on ATO-related issues Colonel Andriy Lysenko at a press briefing at Ukraine Crisis Media Center. Therefore, the General Staff of the Armed Forces of Ukraine and OSCE Special Monitoring Mission agreed to exchange information. "Militants located near Dokuchaevsk, south of Donetsk, shot randomly at Ukrainian troops' positions near Berezove," said the spokesperson.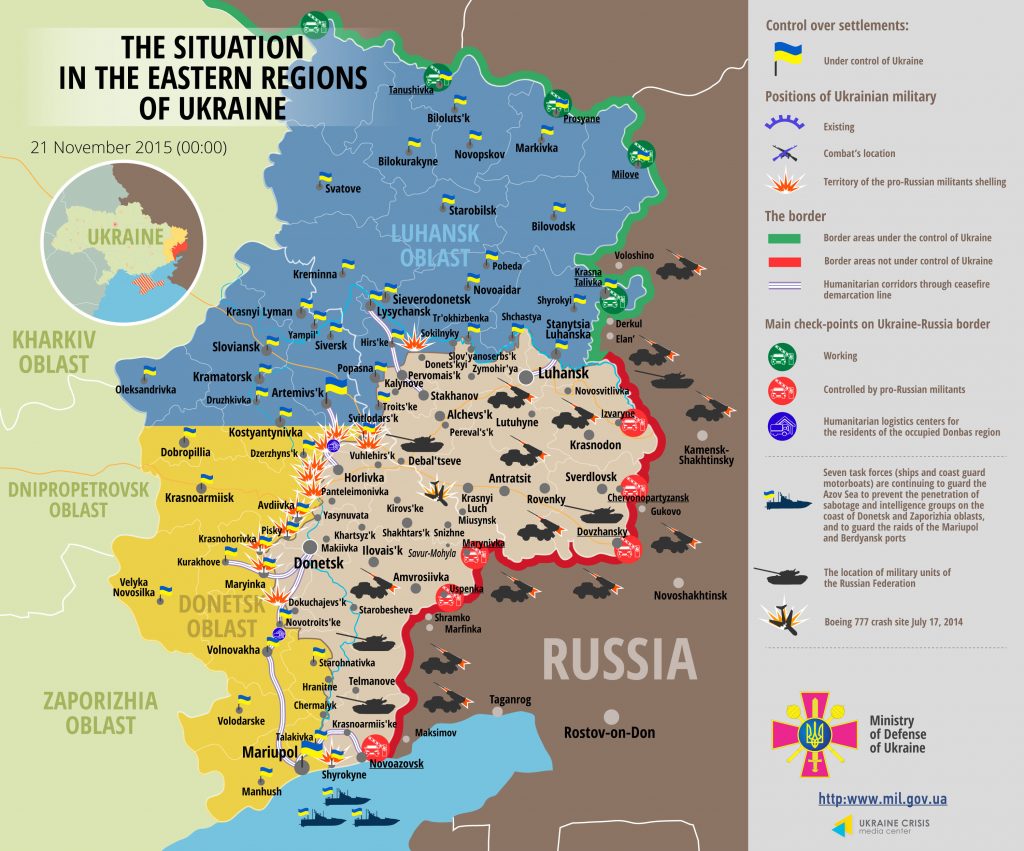 Head of the General Staff, Chief Commander of the Armed Forces of Ukraine, General Viktor Muzhenko informed members of the international mission of the fact of heavy armament use by pro-Russian militant groups – including Grad MLRS, 120mm and 82mm mortar launchers. "The General Staff of the Ukrainian Armed Forces and OSCE SMM agreed to exchange information on issues aimed at fulfilling the Minsk Accords and responding to armistice violations at the frontline," said Col. Lysenko.
Militants violated the ceasefire once in the Luhansk sector, using large machine guns on the Bakhmutivska road near Novotoshkivske. "The only place in the Mariupol sector where attacks took place was Shyrokyne village, where militants attacked  first from light arms and then from a grenade launcher," said Col. Lysenko. The Ukrainian Armed Forces incurred no losses in combat yesterday, but three troops were wounded.
Police detained a 24-year-old in Neskuchne, Donetsk region, suspecting him of involvement with pro-Russian militant groups. He went to Donetsk in May 2014, where he voluntarily joined the militants' ranks. "The criminal kept watch on a checkpoint where he illegally checked documents and inspected vehicles crossing the demarcation line. Moreover, he controlled flows of marijuana and drug taking instruments," said the spokesperson.
A militant, holder of an order of self-proclaimed 'Donetsk Peoples' Republic' with nom de guerre Grom, was detained in Slovyansk. The criminal joined the ranks of the DPR back in May 2014, when he was keeping watch at checkpoints. After the city was liberated, he fled to Donetsk and worked at in the criminal  "DPR police". The militant came from Slovyansk in late October to collect information on numbers and movements of Ukrainian Armed Forces troops and equipment. "A Kalashnikov assault rifle, 90 cartridges, two grenades with detonators, 90 cartridges, a map of Slovyansk and Slovyansk district with marked locations of Ukrainian troops were seized from the detained while searching his apartment," said Col. Lysenko. Ukraine's Security Service jointly with police detained a militant from the Vostok pro-Russian group with nom de guerre 'Malyi'. Moreover, Security Service officers detained a female informer in Chasiv Yar near Artemivsk. "The local resident was collecting information on ATO forces' locations and passing it to the enemy," elaborated Col. Lysenko.
Ukraine's Security Service detained a major, head of National Police temporary detention facility  in Starobilskyi district, Luhansk region. The criminal was trying to purchase one kilo of TNT and grenades for anunder-barrel grenade launcher. "The criminal's relative has been found to be a chief of a criminal group "LPR people's police". The major tried to escape, but was detained," said the spokesperson.
Moreover, Col. Lysenko informed that Security Service detained a LPR raider in Zmiivskyi district, Kharkiv region, who came from Russia. He planned to commit an act of terror during public events on November 21. Ball grenades F-1 and RGD-5, a sawed-off shotgun with cartridges and a so-called 'military card' and pseudo awards issued by LPR criminal groups were seized from him. Ukraine's Security Service and law enforcement officers found an arms cache with explosives in Zaporizhzhia region, not far from the railroad connecting to Mariupol.