Kyiv, December 24, 2015. No Ukrainian troops died in combat yesterday or were wounded. In the Luhansk sector militants violated armistice three times near Popasna and Troitske using Grad-P (Partizan) mobile rocket launchers. Several missiles hit residential neighborhoods. Combat activity of low intensity continues in the Donetsk sector. Svitlodarsk, the vicinity of Horlivka and Donetsk airport are the places where the situation is the most stringent. Militants mostly shoot randomly at ATO forces positions, said spokesman of the Presidential Administration on ATO-related issues Oleksandr Motuzyanyk at a press briefing at Ukraine Crisis Media Center. He also said one shelling was recorded in the Mariupol sector near Hranitne where militants shot from anti-tank guided missile launcher from the opposite bank of Kalmius.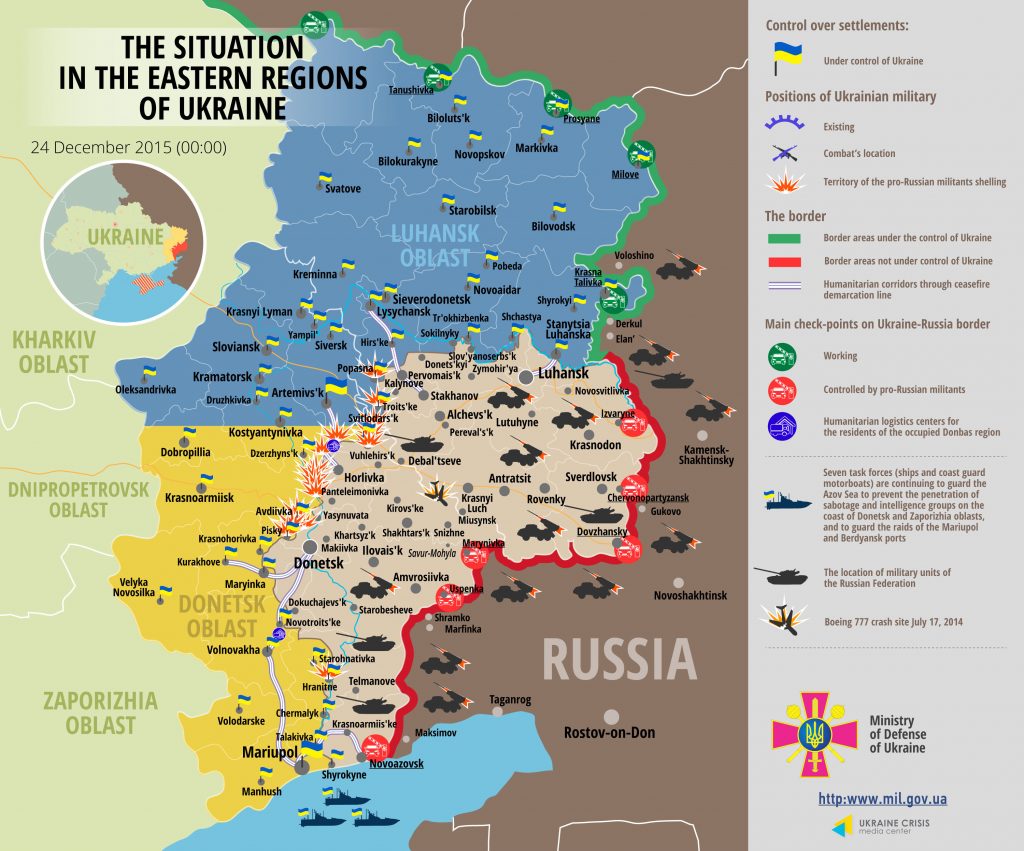 "OSCE observers visited Kominternove yesterday. According to our information, militants have not left this inhabited locality. There are at least one hundred militants. A tank and several APCs were observed yesterday, but they have not been seen there today. At the same time, is doesn't mean they were withdrawn, they might have been hidden somewhere," said Col. Motuzyanyk. He also denied that militants seized Vodyane near Mariupol. The spokesperson said that Zaichenko settlement has been controlled by militants for quite a long time. "We will continue complying with Minsk Agreements, strengthening the defense line and supply our troops with all the necessary weapons and equipment, helping them maintain their positions and stand up to militants in case active offense begins," emphasized the spokesperson.
Col. Motuzyanyk also said that Ukrainian law enforcements continue seizing illegal ammunition. Law enforcements found a cache with an anti-tank grenade launcher, two RGD-5 ball grenades and over 800 5.45 cartridges on the outskirts of Velyka Novosilka settlement in Donetsk region.
Ukrainian troops also visited Krasnoarmiysk orphan asylum and gave the children sweet treats. Moreover, Ukrainian border guards visited children from three villages in Donetsk region. "They brought young Ukrainians presents and Christmas trees. Children sincerely greeted our soldier with happy smiles and warm hugs," said the spokesperson.
International Red Cross Committee delivered humanitarian freight to Pavlopil village near Mariupol, first of all fuel to heat houses.  A school and a kindergarten do not work as a result of militants' shelling, and there is shortage in foodstuffs. According to Col. Motuzyanyk, Ukrainian troops are doing their best to make people's lives easier, delivering water and essentials.