Kyiv, February 29, 2016. The situation in the ATO zone was the most difficult in the Mariupol sector yesterday. "Intense combat activity took place in two sectors of the front: Krasnohorivka-Mariinka and Hnutove-Talakivka. Militants used 82-mm and 120-mm mortar launchers and opened sniping fire. Hostile attacks started around       03:00 p.m. and lasted till late night," said Colonel Andriy Lysenko, spokesman of Presidential Administration on ATO-related issues at a press briefing at Ukraine Crisis Media Center. Moreover, according to the intelligence, militants are enforcing their groups in this area. "According to the order given by Valeriy Asapov, general-major of Armed Forces of the Russian Federation, so-called 9th special marine motorized rifle regimen (place of permanent basing – Novoazovsk) shall be enforced by manpower, combat equipment and mechanic transport, as well as additional ammunition capacity from weapon ordnance depot," said the spokesman. He added that a flight of militants' unmanned aerial vehicle was registered near Kulykivske village in Berdianskyi district, Zaporizhzhia region.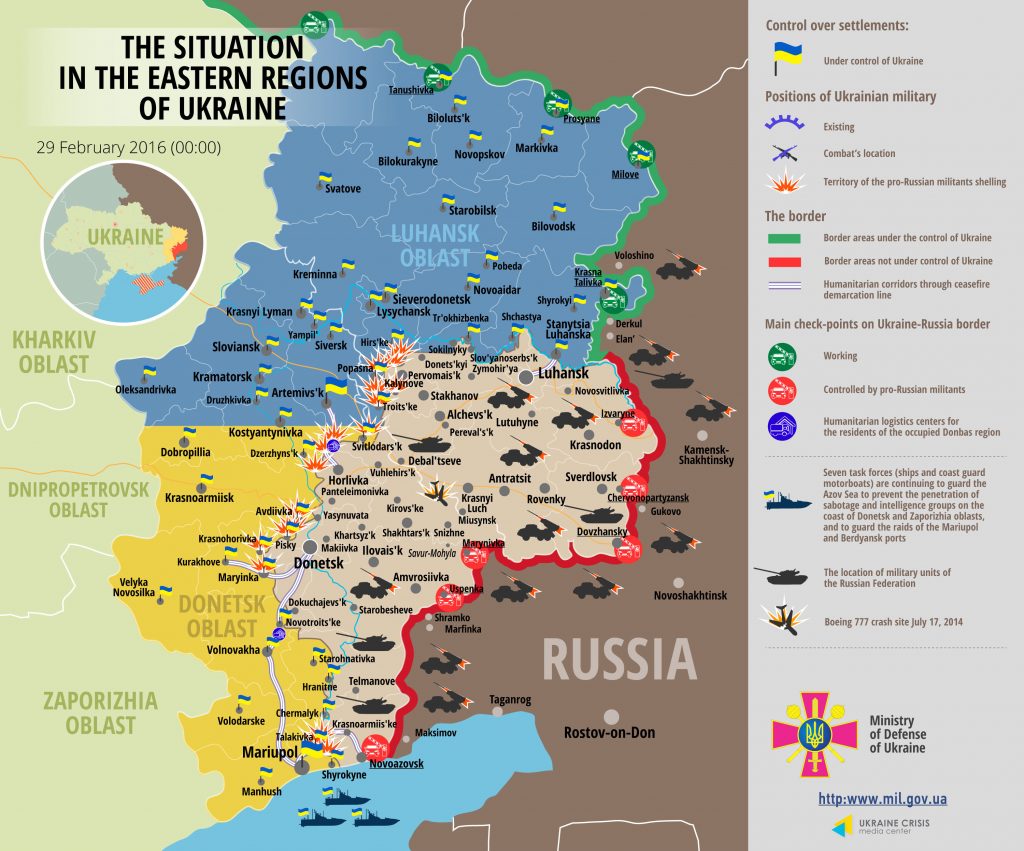 Militants were active in the Luhansk sector yesterday, the first time in a long time. "Six attacks of Russia-backed militants at our positions involving use of mortar launchers took place in Popasna district. Moreover, insurgents used small arms and grenade launchers at these strongholds," said Col. Lysenko. In the Donetsk sector, Russia-backed militant groups continue instigating active provocations at the Svitlodarsk bulge, near Horlivka agglomeration and at the Avdiivka-Pisky-Krasnohorivka line. "Militants are actively using heavy armor – mortar launchers and armored personnel carriers. Moreover, they sporadically open sniping fire. The armistice in this section holds only in the morning, till 11 a.m.," informed the spokesman.
Ukrainian Armed Forces incurred no casualties in combat yesterday.  Col. Lysenko informed of an incident that took place on February 25 in Bakhmutiv district, Donetsk region. "Two troops of Ukrainian Armed Forces, driving a truck towards the frontline, ran onto a roadside bomb. As a result of the explosion, the vehicle was destroyed and one serviceman died. Another soldier and the corpse of the killed soldier were captured by Russia-backed militants. Ukrainian authorities and military command are exerting all efforts to liberate him," said the spokesman.
According to Ukrainian intelligence, on February 28 militants of the self-proclaimed "Donetsk People's Republic" ("DPR") had two people killed and three injured among subversive reconnaissance group acting in the vicinity of Krasnohorvivka. "Moreover, as a result of careless handling of mine explosives, Sergei Dedash, a Russian citizen serving in the ranks of so-called "DPR 9th special marine motorized rifle regimen", died while laying a mine field near Sosnivske village in Donetsk region," said  Col. Lysenko.
Svativ district court in Luhansk regions passed a judgment on a militant of 'Luhansk People's Republic', who was fighting in "Kuban cossacks" gang under command of a chief with nom de guerre 'Batia'.
"The court sentenced him to eight years in prison," said Col. Lysenko. Another militant joined the Ukraine's Security Service's program "You are waited at home". He spent only several months in "Piatnashka" militant group, since December 2015, guarding militants' positions and doing fatigue duties.