Kyiv, April 1, 2016. Combat actions in the ATO zone in eastern Ukraine intensified again yesterday. "Adversary deployed several artillery batteries to the contact line and massively shelled positions of ATO forces. Fire was conducted from hostile artillery of the 122-mm and 152-mm caliber – these are howitzers D-30 and MSTA-B. Over the last day occupants fired over 100 artillery shells and over 370 mortar mines. A total weight of warheads of the above ammunition is over 6.5 tons," said Colonel Andriy Lysenko, spokesman of Presidential Administration of Ukraine on ATO-related issues at a press briefing at Ukraine Crisis Media Center.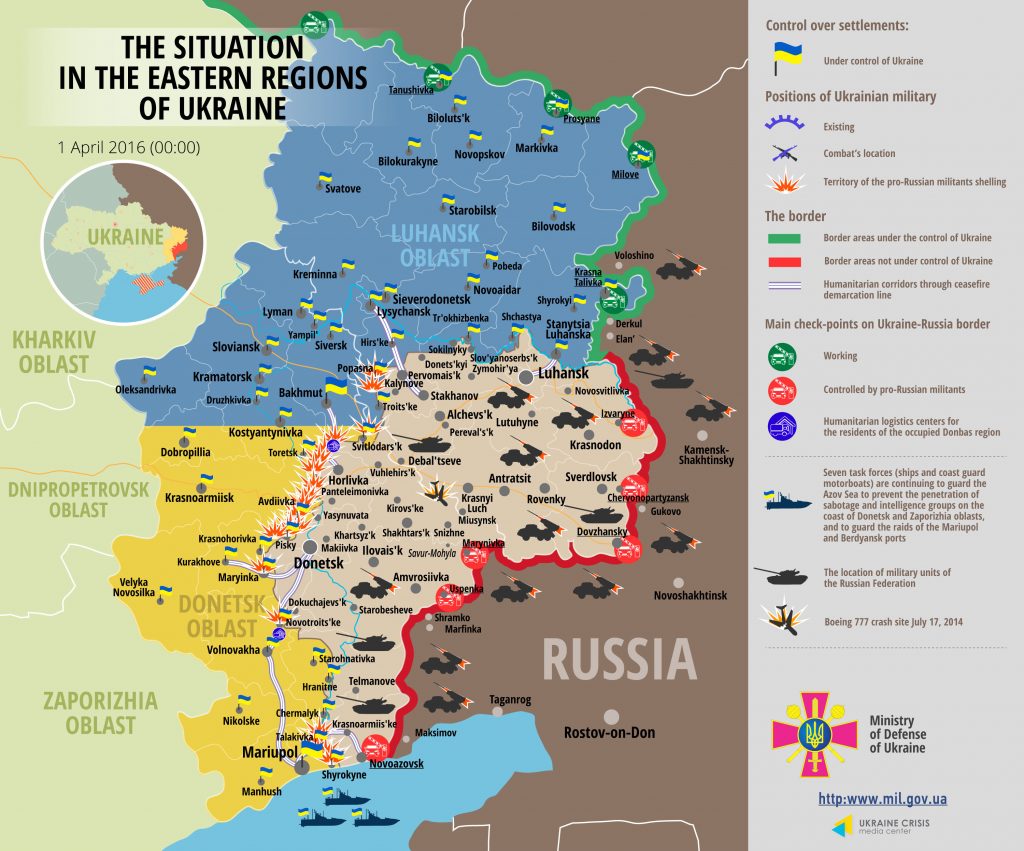 In the Donetsk sector combat actions continue along the entire contact line. A total of 47 hostile attacks occurred over the last day, each third attack was made with the use of heavy weapons. Most tense situation is observed in Zaitseve and Avdiivka, combat actions lasted there incessantly. Colonel Lysenko noted that most powerful attacks with the use of artillery and mortars took place in the morning and as the darkness settled down. Near Luhanske militants fired upon the positions of ATO forces from an infantry fighting vehicle. "Over 50 shells were fired from a 73-mm howitzer mounted on the armored vehicle over a half of an hour," noted the ATO spokesman.
In the Luhansk sector militant groups violated ceasefire four times in Popasnyansky district between 5 p.m. and 6 p.m. "Occupants used mortars, anti-aircraft mount and other types of weapons in course of their attacks. In the result of the militant aggressive actions work of the recently launched Zolote checkpoint [across the contact line] was suspended," said Colonel Lysenko. In the Mariupol sector there were 26 hostile attacks, nearly each second one was made from heavy weapons. Thus militants attacked the positions of Ukrainian troops in Maryinka, Novotroyitske as well as between Hnutove and Shyrokyne, mortars were frequently used in these attacks. ATO forces were returning fire.
"As a result of the hostile attacks in Maryinka equipment of a repair brigade that was working to fix the gas pipeline was damaged, works were suspended," noted the ATO spokesman. He reminded that due to the frequent militant attacks repair works are being interrupted from time to time, 27 thousand residents of Maryinka and Krasnohorivka are still cut off the gas supply. "In Maryinka as a result from a hostile attack a residential building was damaged. There are no casualties," added Colonel Lysenko.
One Ukrainian serviceman was killed in action over the last day and eight servicemen were wounded in action. According to the information by the Main Intelligence Directorate of Ukraine's Defense Ministry militants of the so-called "1st army corps of the DPR'" had four fighters killed in action and six wounded in action over the past several days. "Thus two militants of the so-called "5th motor-rifle brigade" deployed to Donetsk were killed in action and three militants were wounded in action; one militant of the so-called "3rd motor-rifle brigade" deployed to Horlivka was killed in action and two were wounded in action; one militant of the so-called "9th assault motor-rifle regiment of naval infantry" deployed to Novoazovsk was killed in action and one was wounded in action," reported Colonel Lysenko. He added that five more fighters from the above regiment tried to desert: "one fled to Russia, another one was detained at the border by the internal troops unit of the Russian Federation, three more fighters were detained by locals during their attempt to steal a car." Ukrainian intelligence also reports that in the so-called "2nd army corps of the LPR'" "the cases of open disobedience by mid-level commanders became more frequent. Three days ago a commission of the Center for Territorial troops of the Southern Military District of the Russian Federation Armed Forces based in Novocherkassk arrived to the so-called "2nd army corps" to investigate the incidents," said Colonel Lysenko.
The ATO spokesman also said that law enforcement staff seized an RPG-29 from a resident of Avdiivka yesterday. "He faces up to seven years in prison for illegal possession of weapons," he recalled emphasizing strict liability terms foreseen by the Ukrainian law.
Colonel Lysenko also presented the statistics of combat actions intensity in ATO over March 2016. "A total of 1549 hostile attacks and combat engagements took place in Donbas over the period in question. Thirty nine of them happened in the Luhansk sector, 1200 in the Donetsk sector and 310 in the Mariupol sector. Each fourth attack is conducted from heavy weapons including mortars, howitzers, tanks or a multiple rocket launcher systems," noted the ATO spokesman.