Militants shell positions of Ukraine's Armed Forces with light and infantry support weapons.
Armistice held at the Svitlodarsk bulge – Zaitseve – Mayorsk first in a very long time.
Kyiv, April 19, 2016. Ukrainian Armed Forces incurred no losses in combat yesterday, eight servicemen were wounded. The situation is the most difficult in the Mariupol sector. Russia-backed militant groups shelled ATO troops' positions 29 times there. "The enemy used cannons twice, mortar launchers nine times and armored personnel carriers three times. Militants' fire is quite intense: they launched over 120 mortar shells and over 30 artillery projectiles at our positions yesterday. The places of most intense hostilities are Mariinka and the outskirts of Dokuchaevsk,"informed Colonel Oleksandr Motuzyanyk, Presidential Administration spokesperson on ATO related issues at a press briefing at Ukraine Crisis Media Center.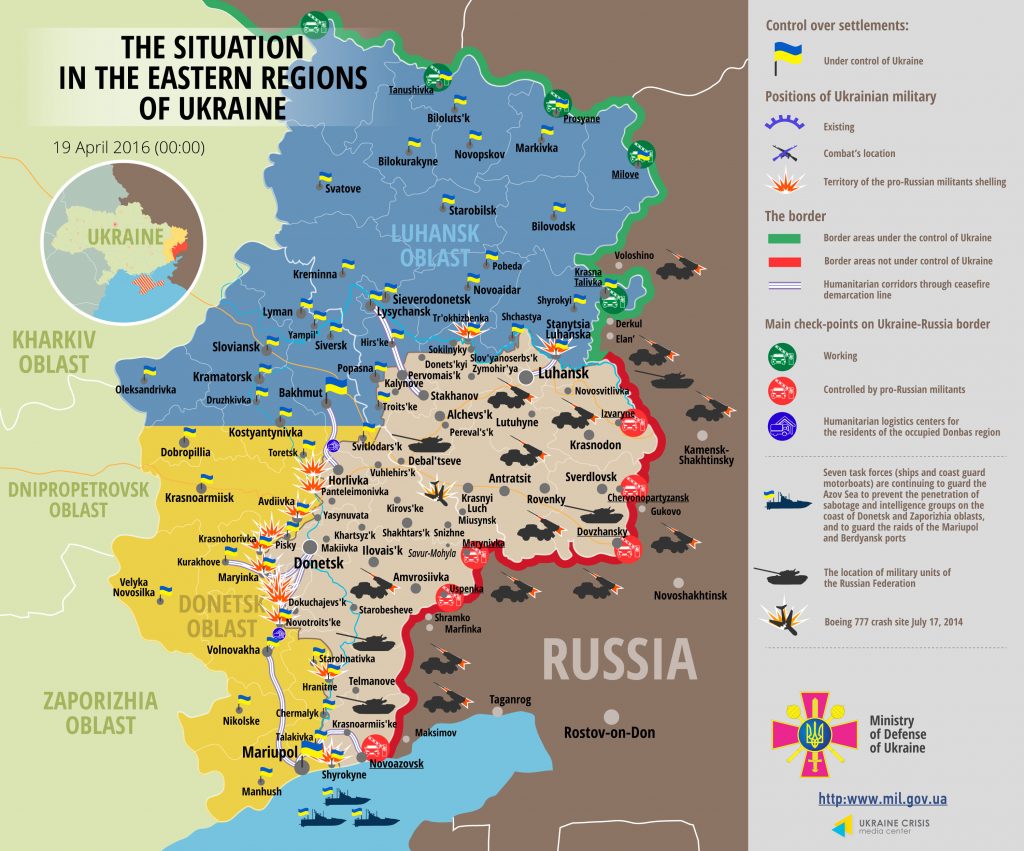 The situation somewhat subsided in the Donetsk sector. Militants shelled ATO troops' positions 11 times in this sector, using mortar launcher six times. "Combat activity took place in Novhorodske yesterday, as well as near Donetsk, in Avdiivka-Krasnohorivka area. On the opposite, the armistice held at the Svitlodarsk bulge, in Zaitseve and Mayorsk the first time in many months," said the spokesman. Militants violated the ceasefire in Stanytsia Luhanska near a checkpoint and in Triokizbenka. The total of six attacks took place.
Law enforcement officers found four weapons caches in the ATO area. The first one was found between Polovynkyne and Tytarivka villages in Luhansk regions. A hand grenade launcher, two cumulative anti-tank grenades, three propelling powders for anti-tank grenade launcher, RGD-5 grenade and large number of cartridges of various calibers were ceased from the cache. Another cache in Slovianoserbsk district contained 400 grams of explosive, seven grenades and cartridges for sniping rifle. "The access to the cache was mined with two trip wires," informed Col. Motuzyanyk. The third weapons cache was found near Vysokoivanivka village in Slovianskyi district, Donetsk region, not far from former militant checkpoint, with three grenades and over 1000 cartridges. Moreover, six grenades were found near a water reserve in Mariinka district.
Col. Motuzyanyk said that charges against two inhabitants of Donbas who used to cooperate with militants were dropped in framework of the program "You are waited for at home". "They were unloading wagons and doing other work not related to military actions," explained the spokesman.
Col. Motuzyanyk also informed that a truck carrying three tons of food for residents of temporarily occupied territories from a charity fund proceeded through Zaitseve checkpoint.